SPH Dean's Forum Takes on Guns in America
Activists say Congress, gun industry must be held accountable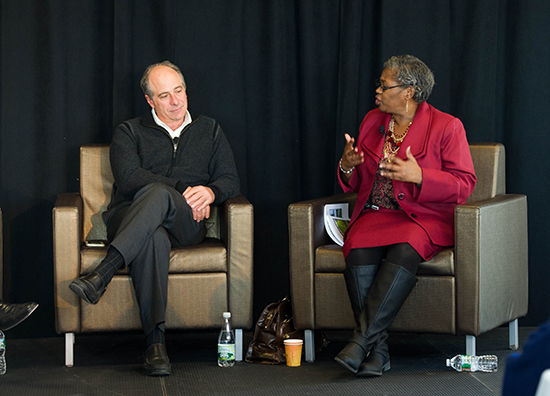 In the three years since the shooting rampage at Sandy Hook Elementary School in Newtown, Conn., left 20 children and 6 staff dead, there have been 160 school shootings in the United States, and nearly 90,000 Americans have been killed by guns.
Gun control advocates hoped that the Sandy Hook tragedy would lead Congress to pass stricter gun control legislation—that didn't happen. Last week, at the latest talk in the SPH Dean's Seminar Series on Contemporary Issues in Public Health, titled Guns in America, two leading gun control activists blamed the failure to pass tougher laws on a powerful gun industry lobby, endemic racism, and a lack of public pressure.
"The 20 six- and seven-year-olds aren't going to do it for Congress; 71 Americans wounded in their movie-theater chairs, including veterans and babies, didn't do it in Aurora, Colo.," John Rosenthal, cofounder of the nonprofit Stop Handgun Violence, said at the Medical Campus last Wednesday. "It's going to take something far worse than anything we've ever seen to get Congress to find their backbone, as long as Americans don't make it a priority."
Rosenthal and Clementina Chéry, president and CEO of the Boston-based Louis D. Brown Peace Institute, a nonprofit providing support to the families of homicide victims, urged students and faculty members to take on the "public health epidemic" of gun violence by doing research, joining forces with other schools and organizations, and putting a dent in the money flowing to the gun industry through boycotts and activism.
"The ugly little secret here, folks—I mean, this is a public health crisis, no question about it—is that it's by design, and nobody wants to recognize it," said Rosenthal, whose organization was responsible for the giant iconic billboard on the Mass Turnpike near Fenway Park that tracked gun deaths in America.
"If the BU business school or the Harvard business school wanted to do a case study on how you would actually increase gun deaths in America…you would do exactly what Congress has done," he said. "You would not require a criminal background check for all gun sales.…You would allow gun dealers to sell guns out of backpacks and car trunks and kitchen tables. You would deregulate the gun industry."
He and Chéry said that racism and class discrimination have made gun violence a niche issue that is too easily dismissed as a problem of minorities and the poor. The mass shootings in Connecticut, Colorado, Oregon, and other places have done little to change that, they said.
"Certain places in urban settings are considered hot spots, and as long as the violence stays in there, then it's OK," said Chéry, whose 15-year-old son, Louis, was shot dead in 1993 when he was caught in the crossfire between two rival gangs. "Then, when it's mass shootings, we come out as a nation and we cry and we mourn for three days and we sit up—and then we go back to business as usual."
Rosenthal said effective gun-violence prevention is "entirely attainable," as evidenced in Massachusetts. In 1998, the state became the first in the nation to require manufacturing and marketing standards for the gun industry. That same year, state law required renewable gun licensing and registration, safe storage of guns, and police discretion in handgun permitting, even after applicants pass a background check. Massachusetts has the lowest firearm fatality rate (per 100,000 population) in the country, he noted. 
"You don't have to look any further than where you live right now" to see the impact of gun-control laws, he said. "We're the model. We're the story." The problem is that other states have not followed the Bay State's lead.
"If I can't pass a background check, no problem—go to Maine, New Hampshire, Vermont, or 30 other states where it's not required to have a background check if you buy from a private dealer," he said.
Rosenthal referred to the recent terrorist attack in Paris, in which 129 people were killed, in underlining the magnitude of America's gun violence problem. "Think about Paris," he said. "Think about what the president said after the Oregon shooting: count the number of Americans killed by terrorism compared to gun violence. And that would be the equivalent of a 9/11 attack every month and a half in America. And what have we done? Nothing."
According to the US Centers for Disease Control and Prevention, the number of violent gun deaths between 2005 and 2013 was nearly 280,000.
Chéry said that in addition to the need for gun laws, more efforts are needed to deter youths from violence through "upfront prevention" programs that teach them how to cope with anger, trauma, and poverty.
She and Rosenthal both urged the audience to "follow the money" in the gun industry by identifying corporate interests and applying pressure on them. Rosenthal encouraged a boycott of one such company, Cerberus Capital Management, a New York–based investment group that owns a variety of retail chains, including the Shaw's and Star supermarkets and Osco Pharmacies, as well as the Remington Outdoor Company, the maker of Remington and Bushmaster rifles. Rosenthal said the group owns 20 percent of the gun industry.
"You want to start to impact Congress and the NRA?" he asked. "You can vote with your wallet, right here in Massachusetts."
Sandro Galea, a professor of epidemiology and dean of SPH, who introduced the panel discussion, called the issue of gun violence "extraordinarily low-hanging fruit," from the point of view of public health.
"We know what to do," he said of prevention measures, such as laws governing sales and possession of firearms, "and yet it's something we do not act on as a society."
Chéry said casting gun violence as a national public health issue could help to bridge racial and socioeconomic divides. "When we truly begin to see the value of every single child…and when we truly begin to look at this epidemic of violence as a public health concern, it is preventable," she said.
"Nobody is born with a gun in their hand."
Lisa Chedekel can be reached at chedekel@bu.edu.