Boston Common Hosts Outside the Box Once Again
More than 100 groups will perform at arts festival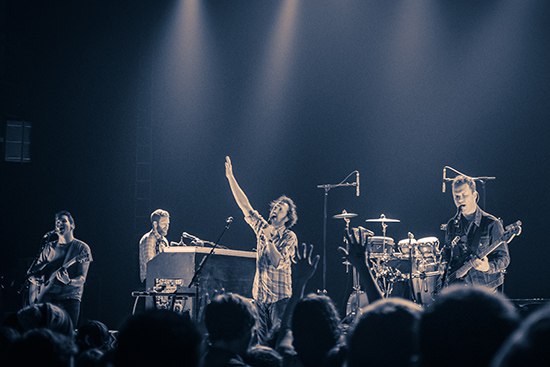 Outside the Box, the free performing arts festival founded by local philanthropist Ted Cutler in 2013, returns to Boston Common today after taking a break last year. Over the next six days, the festival will feature more than 100 performances, most by local artists and arts organizations, from classical, rock, and country music to theater, dance, and puppetry.
Curated by Georgia Lyman (CFA'99), the festival kicks off today at 5:30 p.m. with opening ceremonies that include a dramatic dance performance by the world-renowned Turkish company Fire of Anatolia and shows by the Puppeteers Cooperative, the Boston Circus Guild, Emperor Norton's Stationary Marching Band, and a collective of local dance companies. Outside the Box commissioned a percussion piece for this year's festival, which will receive its world premiere by local arts group Kadence Arts.
There will be performances by winners and local finalists from NBC's hit show The Voice tomorrow, Wednesday, July 15, a concert by the Grammy-nominated rock band the Gin Blossoms on Thursday, July 16, and on Friday, July 17, country star and Grammy winning recording artist Kasey Musgraves will perform, hosted by local radio station Country 102.5 FM. During the festival, Outside the Box will once again feature EarthFest, the long-running rock festival sponsored by local station Radio 92.9 on Saturday, July 18. Highlights will include appearances by Guster, the popular indie/alternative band that got its start at nearby Tufts University in 1992, New Politics, Atlas Genius, and American Idol finalist and New Hampshire native Alex Preston.
Among other prominent performing arts organizations in this year's festival: Boston Ballet School, Boston Gay Men's Chorus, Boston Landmarks Orchestra, Boston Lyric Opera, and Brookline's Puppet Showplace Theater. The Museum of Fine Arts will have a kid-friendly activity tent on site through much of the festival. Find a full listing of festival performances here.
Outside the Box drew 650,000 visitors during its debut in 2013. This year's festival is designed to continue Cutler's vision of making Boston's vibrant performing arts scene more visible and accessible.
"Boston is known for its medicine, its history, its academia, and its technology," says Lyman. "But the amazing thing is that there's a huge arts and culture scene here in Boston as well. A big goal of the festival is to make arts and culture the fifth pillar of the city."
The Outside the Box Festival, on the Boston Common, is free and begins today, Tuesday, July 14, at 5:30 p.m. Starting tomorrow, Wednesday, July 15, and running through Sunday, July 19, the festival's hours will be noon to 8 p.m. Find a list of all festival acts here. Take an MBTA Green Line trolley to Park Street or an Orange Line train to Chinatown.
Michelle Marino can be reached at michelle.g.marino@gmail.com.