Dark Thrills and Home Repair
Alum's film premieres Saturday on Lifetime
Viewers who tune in to the psychological thriller Fatal Flip on Lifetime at 8 p.m. Saturday won't be surprised to learn that director Maureen Bharoocha is a big fan of Alfred Hitchcock and Brian De Palma. Los Angeles–based Bharoocha's directorial debut gets terrifyingly Hitchcockian when a young couple hires a mysterious handyman to help out with their fixer-upper of a house. Viewers might be surprised to learn, however, that Bharoocha (COM'07) spent several years making short films for Sprinkles Cupcakes. Yes, cupcakes.
Since graduating from COM, Bharoocha, who grew up in a large family with an Irish Catholic mother and an Indian-Burmese Muslim father, has been directing original content for Sprinkles Cupcakes, Comedy Central, CollegeHumor, and Upright Citizens Brigade. Her screenplay Mornie, the story of the childhood death of her mother's sister, was a semifinalist at Sundance Writers Lab. At the moment, she is developing a sitcom with her comedian brother and getting ready to direct her second feature film this fall. Fatal Flip will also be shown on Lifetime on Sunday, August 30, at noon, 7 p.m., and 11 p.m.
BU Today spoke with Bharoocha about Fatal Flip.
BU Today: You cowrote the Fatal Flip screenplay—where did the idea come from?
Bharoocha: The inspiration for Fatal Flip came from a few places. I've always been a big fan of the psychological thriller: classics like Vertigo or Funny Games as well as modern '90s thrillers like Single White Female and The Hand That Rocks the Cradle. So when I was given the opportunity to write a thriller, I thought that our do-it-yourself cultural landscape was the perfect setting for a simple home invasion story.
How did you get the film from script to production—isn't that the almost impossible part?
It's not impossible when you have amazing people who believe in you. The way Fatal Flip got made is quite interesting. I had reconnected with fellow BU alum Hannah Pillemer (COM'08), who is smart, supportive, and VP of development and production at MarVista Entertainment. She had seen a short film series I had written and directed and offered me a feature-directing gig. I actually had to turn down the initial film, so Hannah suggested I write something I wanted to direct and that could possibly be our first venture together. I'm grateful she believed in me enough that she offered an alternate route to making a movie together. I then brought on the super talented Ellen Huggins (COM'07), another BU alum, to cowrite the script with me. Since Hannah, Ellen, and I all came out of the graduate film program at the same time, the process was extra special—BU ladies making movies together.
How did you assemble the cast?
I am so proud of the amazing cast of Fatal Flip. It stars Dominique Swain, Mike Faiola, Michael Steger, and Tatyana Ali. I have always enjoyed casting even though it can be quite nail-biting. I had always been a fan of Dominique's. Lolita, Face/Off, and The Smokers were movies I had seen as a teen, and I knew she'd be a great Alex, our leading lady. Michael Steger of the CW's 90210 was the perfect person to play Alex's boyfriend, Jeff. He has a warmth and presence that's hard to duplicate. He needed to be loving, but also jealous and was pitch-perfect. Of course we all know and love Tatyana since she grew up in our homes on the Fresh Prince of Bel Air. Casting her as Alex's best friend was shorthand for viewers to love and trust her. Tatyana was incredible to work with and plays my favorite character. I don't want to give too much away, but she's the Janet Leigh of this film. Casting our villain was a bit of a challenge, though. No one I saw felt like the perfect Nate the handyman to me. Nate had to be charming, disturbed, cunning, and easy on the eyes. I wanted him to be a man's man and not a pretty boy. But above all else I needed someone with the acting chops to pull off a psycho in a believable way. It came down to the wire, but as soon as I saw Mike Faiola's tape I knew he was our Nate. Mike plays the lovable dad on MTV's Awkward, so fans will be surprised with how dark he gets in this film.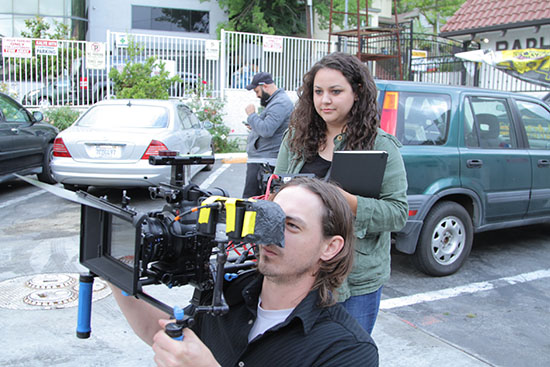 Was there much script rewriting when you started to shoot?
Ellen and I wrote the first draft of the script in one month. We then were given notes from the production company and did our rewrite in two weeks. We worked on little tweaks here and there leading up to the shoot. Then while in production on set I rewrote and added scenes during the 14 days of principal photography.
This is your directorial debut. What surprised you about directing and how long did it take to feel comfortable in the director's role?
It's funny, but I don't think of this as my directorial debut. It most certainly is my first feature film, but I have been in Los Angeles working as a director for the past seven years. Since my time at BU I have been creating digital and branded content for the Upright Citizens Brigade, Comedy Central, and CollegeHumor. I wrote and directed a short film series of 10 for the nationwide bakery Sprinkles Cupcakes, and I am also their in-house digital and social media content producer. I have been actively working on my craft by writing and directing in some capacity for what feels like forever, so I know this is what I am supposed to be doing with my life. I am so grateful I was finally given an opportunity to work in features.
What were the greatest moments of frustration, or humor, during the shoot? 
The greatest moments of frustration all centered on time. We shot the film in 14 days, which is a huge accomplishment looking back, but while shooting we were always chasing the clock and hoping we got all we needed. The greatest memory I have was the incredible crew. We shot on location in Auburn and Worcester, Mass., and the local crew we were able to assemble were rock stars. They were dedicated and worked hard hours to help me realize my vision. We also had a secret speakeasy, but I'm not allowed to talk about that…
Tell us about the editing process. How much did you have to cut, and how hard was it? 
I was incredibly lucky that I was able bring my good friend and amazing editor Sarah C. Reeves in on the project. The movie is truly great because her hands touched it. She has a great sense of pacing and a good eye for detail, and she has also been assistant editor on some of the best TV shows (24, Glee, American Horror Story, Masters of Sex, Better Call Saul, and Homeland). She's prolific. Sarah and I sat together for 20 straight days to assemble my director's cut. Since we shot so fast and I knew what I wanted, it was easier for me to sit with Sarah the whole time and tell her which shots and takes I preferred. We then worked on producer's notes for one week. In all, we had picture lock in what was essentially four weeks.
Which directors and actors do you admire and why? 
This is always a hard question for me because the list of directors I love is very long and sometimes it's just a single movie that inspires me. But here is a short list of film artists that I admire and inspire my work:
Alfred Hitchcock (Vertigo, Shadow of a Doubt, Lifeboat). His work is so vast and controlled. His films mesmerized me as a child.
Martin Scorsese (Taxi Driver, Raging Bull, Mean Streets). His work has a heartbeat and all his movies feel alive. Taxi Driver was the first movie I saw in film school that made me sit up and take notice.
Michel Gondry (Eternal Sunshine of the Spotless Mind and all his amazing music videos). The playfulness and fun his movies achieve is incredible. He also brings a sadness to his stories that I am obsessed with.
Terrence Malick (Badlands, The Thin Red Line). I love the dreamlike quality to his work. He can move characters through space unlike any other filmmaker.
Mira Nair (Monsoon Wedding, Salaam Bombay!). Her directing of actors is something I aspire to do. Also, I am half Indian, so her presence in the film world gave me inspiration to achieve my goals.
Some of my other favorite films are Alien, The Terminator, Pee Wee's Big Adventure, Jurassic Park, Reservoir Dogs, Whale Rider, 400 Blows, Ferris Bueller's Day Off, Back to the Future, The Empire Strikes Back, Mary Poppins.
Just a few of my favorite actors are Ellen Burstyn, Jimmy Stewart, Al Pacino, Sally Field, Kathy Bates, Ben Kingsley, Ryan Gosling, Michael Fassbender, Rachel McAdams, Rose Byrne, Jake Gyllenhaal, Charlize Theron, and Kerry Washington
What do you have planned for your next project?
I'm happy to say that my next project is another collaboration between Hannah, Ellen, and myself. Ellen and I cowrote another thriller, which I am directing her in this fall in Los Angeles.
Fatal Flip premieres tomorrow, Saturday, August 29, at 8 p.m., and repeats on Sunday, August 30, at noon, 7 p.m., and 9 p.m. on Lifetime.