Helping Boston-Area High Schoolers Get to College
BU announces new partnership with nonprofit College Advising Corps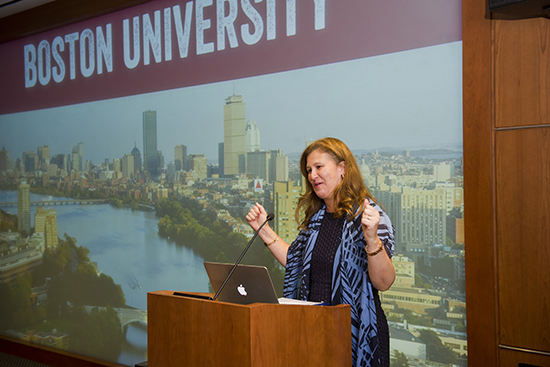 Kate Tessmann was just weeks into her new job advising Boston-area public high school students how to navigate the college admissions maze when she was approached by a junior interested in a nursing career. Tessmann sat down with her, and after reviewing her classes, urged the student to enroll in more challenging math and science classes. She also encouraged her to think about volunteering to gain some experience working directly with patients.
Tessmann (SED'13, CAS'13) is a newly minted advisor with the Boston chapter of the College Advising Corps (CAC), a nonprofit that works to increase the rates of college enrollment and completion among low-income, first-generation, and underrepresented high school students across the country by placing young college grads in public high schools as advisors. They guide students through all the steps of the admissions process, from researching colleges (both two- and four-year) to boning up on deadlines and prep work for the SATs and ACTs to helping parents fill out a Free Application for Federal Student Aid (FAFSA) form.
"I like that I can see the impact I'm having on the kids I work with," Tessmann says. "I feel useful, and I have kids knocking on my door and signing up for open office time. I definitely feel like a key part of their future."
On Monday, Boston University announced a new partnership with the CAC at a press conference attended by Nicole Hurd, CAC founder and CEO, Rahn Dorsey, the city of Boston's chief education officer, Marsha Innis-Mitchell, Boston Public Schools director of postsecondary partnerships and initiatives, and CAC advisors. Laurie Pohl, BU's vice president for enrollment and student affairs, said that under the partnership BU will serve as the host institution for the CAC's activities in Boston for at least the next three years and will partner with the CAC to raise additional funds to extend the partnership past that three-year period. CAC advisors are also AmeriCorps members and will be considered BU employees as well, eligible for the same benefits the University offers employees. The program began in Boston last year, but up until now has not had a university partner. It is also funded by the State Street Boston Workforce Investment Network (Boston WINS) and the GreenLight Fund's Social Innovation Fund initiative.
"This partnership is a continuation of BU's commitment to the city of Boston and its students," said Pohl, drawing comparisons between the CAC collaboration and other BU programs, such as the Posse Foundation Scholarship, the Thomas M. Menino Scholarship, and the Boston Community Scholars award. While the goal of the CAC is to increase college attendance rates among less advantaged students, Pohl said, she hopes advisors will encourage their students to think seriously about applying to BU.
"We want more of them here," she said. "One of the reasons we are doing this is that we need to be talking to these students earlier…We think that through this partnership, we can get more of these students on the path to BU. We will make sure they are successful here."    
Now in 14 states, the CAC has served more than half a million students around the country since it began more than a decade ago. The program points to evidence-based research to show it's working. Among the high school seniors the nonprofit works with, 23 percent are more likely to apply to college. First-generation students who meet with an advisor are 43 percent more likely to be accepted to a four-year college, and participating high schools report an average increase of $1 million in scholarships for their college-bound students.
Nationwide, the CAC reports, the student-to-guidance counselor ratio is 500 to 1. But where guidance counselors must juggle numerous responsibilities, CAC members are dedicated exclusively to helping high school students apply and get admitted to college.
Each partnering high school is paired with one CAC advisor (with the exception of Tessmann, who splits her time between two Brighton high schools, Another Course to College and the Mary Lyon Pilot High School).
All CAC advisors are recent college graduates, and therefore close in age to the high school students they work with. Katie Magyar, the director of College Advising Corps–Boston, says that where possible, the program tries to hire advisors who were first-generation college students themselves or who grew up in the community they are now serving. That kind of hands-on knowledge helps bridge a connection between advisor and advisee, Magyar says.
CAC's Boston chapter currently has 23 advisors, 3 of them recent Boston University graduates. The program—currently in 23 high schools in Boston and one in Lynn, with plans to expand to 32 schools by 2017—is a "whole school program," meaning all interested students and families are given the chance to meet with a college advisor, regardless of a student's grades or ability.
While advisors mainly work with seniors and juniors, the hope is that their presence strengthens a school's "college-going culture," Magyar says. "We want the ninth graders now to think about college and think about what they need to be doing today to prepare for that so when they are seniors on the enrollment side, they are prepared."
CAC advisors work with students to find colleges that best fit their individual interests and needs, as well as combating what Magyar calls "undermatching," the phenomenon where highly qualified, but low-income students enroll in less demanding colleges rather than more competitive schools.
Magyar says that as the CAC expands, it hopes to hire more advisors, adding that she expects many of them will be BU alums.
Students who become CAC advisors sign on for a one-year commitment (with the opportunity to extend to two years), are paid the maximum AmeriCorps stipend (approximately $25,000 per year), and receive a $5,700 education award at the end of their contract, which can be used to pay off school loans or to finance graduate school.
Before they start in a school, the CAC advisors attend a five-week summer training program, and they participate in professional development throughout the year.
"We know all too well that college attendance rates correlate more with income and zip code than they do with a student's capacity to learn, and this partnership is about changing that dynamic," Pohl said.
BU students interested in applying to become a College Advising Corps member can attend an information session being held in November on campus. Check the Career Link for more information.