Free Friday Flicks Return to Hatch Shell
Paddington kicks off series tonight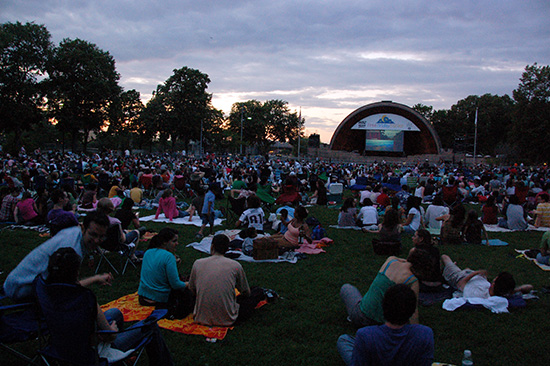 A Boston summertime institution, Free Friday Flicks kicks off its 30th season tonight at the Hatch Shell with a screening of the 2014 family comedy Paddington. Based on the popular series of children's books about an orphaned Peruvian bear who shows up in London and is adopted by a kindly family, the film is perfect family fare. So grab a friend, a picnic basket, and a blanket or lawn chair, and head to the banks of the Charles River—no wallet necessary. The film begins at dusk.
Paddington opens with the young Peruvian bear just arrived in London in search of a new home after his family's forest in Peru has been destroyed by an earthquake. His fresh start in the big city seems doomed when he finds himself lost at Paddington Station. But all is saved when the Brown family discovers him and reads the sign around his neck: "Please look after this bear. Thank you." The marmalade-loving bear goes from one adventure to the next, particularly after he catches the eye of an evil taxidermist, played by Oscar-winner Nicole Kidman, intent on having him stuffed.
New York Times film critic Jeannette Catsoulis says Paddington honors "the books' gentle spirit with whimsical humor and a genuine sweetness that little ones should respond to."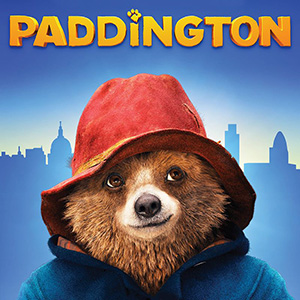 British actor Ben Whishaw (Skyfall) provides the voice of Paddington, with Hugh Bonneville (Downton Abbey) as Mr. Brown and Sally Hawkins (Blue Jasmine) as Mrs. Brown. Michael Bond, the author of the best-selling Paddington books, has a bit part as the "kindly gentleman."
Paddington Bear first appeared in 1958. Bond says he wrote the book after seeing a toy bear in a London store on Christmas Eve. He bought the bear for his wife and named it Paddington because they were then living near Paddington Station. Since then, more than 30 million copies of books about the mischievous bear have been sold, and they've been translated into 30 languages.
Free Friday Flicks, sponsored by WBZ NewsRadio 1030 AM and the Massachusetts Department of Conservation and Recreation, offers free screenings of classic and popular family-friendly films on the Esplanade each July and August Friday at dusk. Paddington begins at 8:22 p.m., giving viewers two spectacular shows to watch: the movie and a gorgeous sunset. Be sure to arrive early to snag a prime seat on the lawn.
Paddington screens tonight, July 10, at sundown, 8:22 p.m., at the Esplanade's Hatch Shell, 47 David G. Mugar Way, Boston; free and open to the public. Take an MBTA Green Line trolley to Park Street, transfer to the Red Line towards Alewife, and get off at the Charles/MGH stop.  
Additional films in the Free Friday Flicks series: Big Hero 6, July 17; E.T. the Extra-Terrestrial, July 24; Indiana Jones and the Kingdom of the Crystal Skull, July 31; Disney's Cinderella, August 7; Alexander and the Terrible, Horrible, No Good Very Bad Day, August 14; Guardians of the Galaxy, August 21, and Maleficent, August 28. Times will change, as sunsets occur earlier each week. 
Michelle Marino can be reached at michelle.g.marino@gmail.com.