"You Can Never Bury the Truth"
CFA's Our Class probes Polish town's massacre of Jews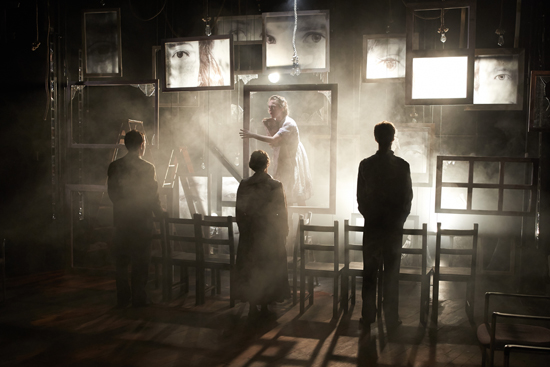 The play Our Class begins in 1941 with the story of 10 guileless Polish schoolchildren and continues to the present day. It is an horrific, unsparing tale surrounding true events—on a summer day less than a month after the start of the Nazi occupation, 1,600 Jews were massacred in the small town of Jedwabne, not by Germans, but by their neighbors and townspeople. Polish playwright Tadeusz Slobodzianek has dramatized the massacre and its aftermath in a memory play in which the dead, Catholic and Jew, speak, recall, and reflect. Inspired by the frank implication of ordinary Poles as portrayed in Jan T. Gross' controversial 2001 book Neighbors, the play has been performed in cities around the world since its 2010 premiere.
Translated by Ryan Craig, and directed by Judy Braha, a College of Fine Arts assistant professor of directing and acting, the play is presented by the Boston Center for American Performance (BCAP), the professional arm of the CFA School of Theatre, and runs through March 1 at the BU Theatre's Lane-Comley Studio 210.
Our Class chronicles once-carefree childhood friendships riven by religious tensions as Polish Jews are increasingly marginalized. Divided into a series of "lessons," the play examines the fate of these friendships from the Soviet occupation to the arrival of the Nazis, when the community's anti-Semitism escalates into an orgy of violence, from beatings and rape to the eventual rounding up and burning to death of all but six Jews. The play's title conflates those of Thornton Wilder's classic Our Town and the lesser-known, darker The Dead Class (1975), by the Polish painter, director, and absurdist Tadeusz Kantor, in which a teacher presides over a class of the departed.
"In the play we come to know these five gentiles and five Jews, who knew each other since first grade, as real people," says Braha (CFA'08). The massacre at Jedwabne, for which Poland has offered an official apology, has become emblematic of Poles turning on their Jewish neighbors during the Holocaust. In dramatizing these grim events, Slobodzianek, a Catholic whose English adaptor is a British Jew, moves audiences to ponder what they would have done under the same circumstances, says Braha, who has directed several plays about the Holocaust and the Armenian genocide. "It's not clear-cut. We see the beating hearts of these people." By humanizing both victim and perpetrator, the play is a reminder that "this could happen anywhere at any point," she says. The play also takes the audience to more recent times with its examination of how the massacre has been portrayed in television documentaries and books.
Our Class is something "greater than history," the playwright said in an interview before a 2011 production in Philadelphia. "The historic background plays a secondary role: The main theme is the hatred that people who were friends at one time started to feel towards one another." Slobodzianek, born in Bialystok in 1955, met with some Jedwabne villagers while researching the play. "I am trying to find out more about the mechanism that affected people in such a tragic way—people who found themselves in a certain place at a certain time in a weave of various social and psychological relations, of history, ideology, and religion."
The production is threaded with songs, sung by the actors unaccompanied, and composed by Francesca Blanchard (CFA'15), an accomplished folksinger and theater arts major. Born in France to aid workers, Blanchard has lived in Ethiopia, Burundi, and India, but these songs propelled her into what for her was alien territory—traditional Yiddish tunes, Polish lullabies, and klezmer works, to which she added a contemporary flavor. The tunes are melodic and doleful, she says. "After all, they are being sung by ghosts."
Our Class has been described in The Guardian as a "forceful play about communal guilt," one that proves, as one character says, that "you can never bury the truth." As written, the play runs slightly over three hours, but Braha has pared it down to under two and a half. In the ensemble cast are Maggie McCaffery (CFA'16), Lila Ghaemi (CFA'14), Julia Schonberg (CFA'13), Jonathan Vellante (CFA'16), Nicolas Chuba (CFA'16), David Keohane (CFA'13), Sam Tilles (CFA'13), Tom Wark (CFA'16), Ben Salus (CFA'16), and Eli Raskin (CFA'16).
Our Class is a featured event of the College of Fine Arts Keyword Initiative, now in its third year. The 2013–2014 keyword, transformation, explores "profound shifts and changes in individuals and society," with performances designed to create dialogue that "inspires humanity and breeds critical thinking that leads to solutions," according to Jim Petosa, director of the School of Theatre.
Our Class runs Wednesdays through Sundays through March 1 at the Boston University Theatre, Lane-Comley Studio 210, 264 Huntington Ave., Boston. Performances are Wednesdays and Thursdays at 7:30 p.m., Fridays and Saturdays at 8 p.m., and Sundays at 2 p.m. Tickets are $20 general admission, $15 for students, senior citizens, and groups of 10 or more. Members of the BU community are eligible for one free ticket with BU ID, at the door, subject to availability. Tickets and further information are available here or by calling the box office at 617-933-8600. To get to the BU Theatre, take an MBTA Green Line E trolley to Symphony or the Orange Line to Massachusetts Avenue.