Registration Opens for BU's First MOOCs
University rethinks the classroom experience, offers it globally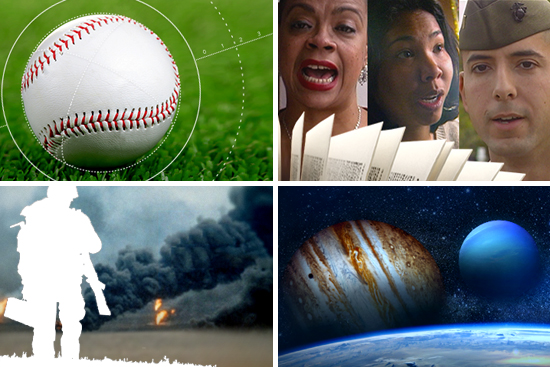 Registration for BU's first four MOOCs (massive open online courses) opened yesterday, signaling the University's official entrance into a new form of higher education that rethinks the current classroom model and offers it—free of charge—to a global audience.
"In the world of today, success comes out of being different and not just another copy of a mold," says Chris Dellarocas, director of the Digital Learning Initiative (DLI), which develops BU's MOOCs and distributes seed grants to faculty with innovative ideas for online education. "Success also depends on being able to navigate continuous change. Our challenge as a residential educational establishment is how we harness technology and innovate both on and off campus in order to produce the kind of person that could thrive in the world of tomorrow."
Dellarocas believes MOOCs will play a vital role in making that happen. Last spring, BU joined edX, becoming one of a select group of universities that belong to the Harvard- and MIT-led online platform. As part of the deal, the University will offer five MOOCs through the edX platform. Four have been chosen already and are in various stages of development. Judging by the success of other MOOCs, University officials expect tens of thousands of people to sign up for each. Dellarocas anticipates a fifth course will evolve soon through biannual calls for proposals, the next scheduled for this spring.
"We're always open to people approaching us with good ideas," says the School of Management professor of information systems. "If they have an idea that they're absolutely passionate about, they don't have to wait for the next cycle."
While all of BU's MOOCs have been taught in some form previously, none will be "a direct mapping of the course as it existed before," says DLI associate director Romy Ruukel.
The inaugural MOOC, Sabermetrics 101: Introduction to Baseball Analytics, will be rolled out in May, just in time for baseball season. Students will learn basic statistics, the computer programming language R, and the database platform SQL as they churn out their own analytics.
Andy Andres, a College of General Studies senior lecturer in natural sciences and mathematics, has taught the course at Tufts University for the past decade, but this is the first time he'll offer it through BU. Sabermetrics examines the science behind Moneyball—the book, later made into a movie, that chronicles how Oakland Athletics number-crunching general manager Billy Beane helped the struggling team rise to success.
"I run into so many people who want to learn the material and say, 'How can I take your class?'" Andres says. He would reply that they had to become a Tufts student, but he dreamed of someday making it open to everyone. With the BU MOOC, he says, "finally I can say, this is how you do it."
When not teaching, Andres moonlights as a datacaster for Major League Baseball, performing scorekeeping duties, keeping track of, and notating, every hit, pitch, foul ball—anything that happens, in fact—in Red Sox home games.
Three more MOOCs will be offered in the fall: War for the Greater Middle East, taught by Andrew Bacevich, a College of Arts & Sciences professor of international relations and history; The Art of Poetry, taught by three-time US poet laureate Robert Pinsky, a CAS professor of English and creative writing; and Alien Worlds: The Science of Exoplanet Discovery and Characterization, taught by Andrew West, a CAS assistant professor of astronomy.
Bacevich, a West Point graduate and former US Army colonel, says his course will focus on US military interventions and actions in the Islamic world since the Carter Doctrine in 1980. "By relying on military power, the United States has sought to 'shape' the Islamic world," he says. "That effort was always misguided and is proving to be a costly failure. We'll explore the reasons why."
Pinsky, an award-winning poet and the author of 19 books, will draw from his own work, use videos from the Favorite Poem Project, a program he launched as poet laureate, and assemble reading groups from all walks of life for his MOOC.
"Poetry, for me, is a vocal art—but in the voice of any reader, not necessarily a skilled performer's voice, not necessarily the poet or an actor," Pinsky says. "And as an art, poetry has a central place not only in school curricula, but in the culture as a whole. The online, digital medium is excitingly well suited to that combination of vocality and wide cultural reach."
West's Alien Worlds—among the most popular classes on campus—will explore the techniques used to discover and characterize planets outside of our solar system, but its structure will be vastly different online. The nine-week course will feature short video lectures, interviews with guest speakers, computer simulations of planetary motion, and online assessments.
Although still "slightly skeptical" of MOOCs, West sees their finer points. The open courses provide "amazing opportunities to share some of this really exciting science and results with a very different population than we typically get to see in the traditional university setting," he says. He also believes the online content being developed will make his traditional course stronger. "That to me was the biggest sell."
And that, Dellarocas argues, is the whole point. While they make higher education more globally accessible, MOOCs have "galvanized the conversation around pedagogy on campus," he says. "More faculty are thinking and rethinking the way they teach and use technology to make class time more productive."
MOOCs could someday flip the classroom experience, he says, by requiring students to listen to lectures online beforehand so they come to class better prepared for experiments, projects, or other forms of active learning. Eventually, these online courses will adapt to students' learning style, offering more assignments for those struggling with a concept or allowing those who quickly grasp a lesson to skip segments of a lecture. BU's first MOOCs have not adapted this hybrid model, but Dellarocas sees it as a distinct possibility in the future.
"Harvard and MIT are finding, now that they have the MOOCs, they can use them on campus to do lots of innovative things with existing classes," Dellarocas says. "I'm really hopeful that BU can follow" that example.