Paul Muldoon Headlines BU's Lowell Memorial Poetry Reading Tonight
Irish-born poet celebrated for his wit, use of puns
Paul Muldoon is accomplished at so many things that describing him as a Renaissance man hardly does him justice. The Irish-born poet has published nearly three dozen poetry collections over a career spanning more than four decades. He is a former BBC radio and television producer, has written opera librettos and rock and roll lyrics, and has published several children's books, a handful of translations, and two collections of essays and criticism. The 62-year-old poet is also Princeton's Howard G. B. Clark '21 Professor in the Humanities and chair of the Lewis Center for the Arts, and since 2007, New Yorker poetry editor. His collection Moy Sand and Gravel won a Pulitzer Prize in 2003.
Muldoon brings his considerable talents to BU as the featured guest at the Robert Lowell Memorial Poetry Reading tonight at Mugar Memorial Library.
The semiannual event honors Pulitzer Prize–winning American poet Robert Lowell, who as a faculty member at BU during the 1950s taught Anne Sexton, Sylvia Plath, and George Starbuck—three of the most influential poets of mid 20th-century America.
Raised Catholic in Northern Ireland during a period of enormous religious and political unrest, Muldoon says he grew up "in a context of growing discontent with received ideas about what and who was important," but was influenced as much by the hippie movement in California "as anything that happened in Ireland."
As a student at Queens University Belfast, Muldoon came under the tutelage of Nobel Prize winner Seamus Heaney. He published his first collection of poems in 1971, while still an undergraduate, earning a reputation as a precocious poet.
His poetry—celebrated for its wit, elegant use of rhyme, and cryptic use of language—has led to his being compared to another famous Irish writer, James Joyce.
Often described as an Irish poet, Muldoon, who has lived in the United States since 1987, eschews such a label. "I think of myself as someone who might, if all the gods were smiling, be lucky enough to have a poem visit me," he says. "I actually think of myself less as an active writer than as a passive medium for a poem. I'm not worried about Ireland or the United States. I don't think of Donne as an English poet or Dickinson as an American poet. They're poets first and foremost."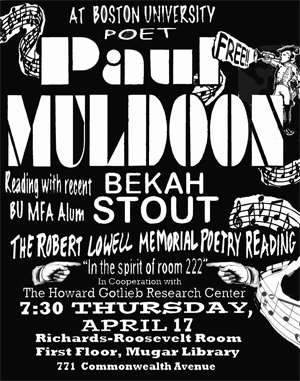 Well-known for his discipline, Muldoon says he writes every day—a poem, a song, or a critical piece. "I make no distinction between them in terms of their relative merit," he says. "Each is fascinating to me." He finds inspiration everywhere. He says he's been thinking of late about the trail of mercury left by the explorers Lewis and Clark on their trip across North America—specifically in the laxatives their party took during their travels. "I'm pretty sure that's going to get into a poem," he says. "I just need to find something to set down with that idea that will cause a chemical reaction. A little controlled explosion."
Asked how writing rock lyrics differs from writing a poem, Muldoon says that "one needs music, one brings its own music." He is, by his own account, a poor musician. "I usually say that I have two chords and that they're never the right two. But I've got a lot of what used to be called soul, and that goes a long way." While a tough critic of his own singing ability, Muldoon has nothing but praise for his "genuinely talented" band, the Princeton, N.J.–based Wayside Shrines. The band is slated to perform at Joe's Pub in New York on April 30 and has a soon-to-be-released album, produced by Paul Q. Kolderie, once a fixture of the Boston music scene. Last year Muldoon published a critically praised collection of rock lyrics for the band, The Word on the Street (Farrar, Straus and Giroux). The book demonstrates Muldoon's playful use of language in songs like "Julius Caesar Was a People Person" and "Jezebel Was a Jersey Belle." Among other topics: Charlton Heston, elephants, and lost love.
Muldoon's latest collection of poems, One Thousand Things Worth Knowing (Farrar, Straus and Giroux) is scheduled for publication next year. The title is borrowed from a 19th-century household encyclopedia and suggests, says the poet, "a capaciousness, I hope, and an attempt to cope with the business of being alive in this difficult era—the Information Age, I believe we call it."
Muldoon is still wrestling with what poems to read tonight. "I never quite know what I'm going to read since I like to keep myself on my toes, literally and metaphorically. But I'll read a few poems inspired by Robert Lowell, whom I met in Belfast in 1972. And maybe a version or two. I'm a big fan of Lowell's reimaginings of other poems."
"A superb reader of his own work, a wonderful poet, Paul Muldoon has also succeeded where many try and fail: combining the idioms of poetry and rock music," says Creative Writing Program faculty member Robert Pinsky, a College of Arts & Sciences professor of English and three-time US poet laureate.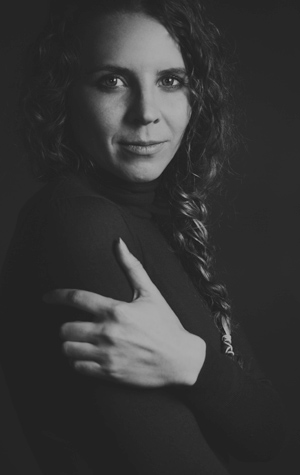 In keeping with the tradition of the event, a recent Creative Writing Program alum will read also. Former Slate assistant poetry editor and Favorite Poem Project program director Rebekah Stout (GRS'11) will read from a manuscript-in-progress. Stout's poems have appeared in Salmagundi, Poetry International, and Slate. She is currently a fellowships and arts tutor at Harvard pursuing studies in painting. In addition to her work as a poet and painter, she is a jazz singer.
"I feel fortunate because my job as a resident tutor at Harvard has given me supreme artistic flexibility," she says, "and my work with the students is a great counterpart to all of the solitary work I do as an artist."
Given her artistic interests, not surprisingly many of Stout's poems "tend to center around strong visual imagery," she says. "I'm also very interested in sound; I suppose my training as a musician has something to do with that. Once I have an image burning in my mind, sound often propels my writing." She says that may be why she is able to write only in "complete silence" and that "it takes a lot of quiet listening for me to write a poem."
Stout says that studying in the BU program shaped her as a writer in "about every way you can imagine." Prior to enrolling at BU, she had never taken a proper creative writing workshop. Music was her first love. Her undergraduate degree is in classical guitar, but after an injury prevented her from teaching and playing, she began writing poetry.
She feels fortunate to have worked in the program with "several phenomenal poets," such as Pinsky, Louise Glück, Rosanna Warren, Dan Chiasson, and David Ferry. I am thankful to every one of the them…they each have taught me something important."
"Rebekah Stout writes poems that have the assurance of myths and folk tales, along with musical grace—all in contemporary, idiomatic language," says Pinsky. "Her imaginative variety and ricocheting wit make her work fit well with that of our distinguished visitor Paul Muldoon."
The Robert Lowell Memorial Poetry Reading, featuring Paul Muldoon and Rebekah Stout, is tonight, Thursday, April 17, at 7:30 p.m., at Mugar Memorial Library, Richards-Roosevelt Room, first floor, 771 Commonwealth Ave. The event, presented by the College of Arts & Sciences Creative Writing Program in cooperation with the Howard Gotlieb Archival Research Center, is free and open to the public.
The Robert Lowell Memorial Poetry Reading is funded by Nancy Livingston (COM'69) and her husband, Fred M. Levin, through the Shenson Foundation, in memory of Ben and A. Jess Shenson.
Watch a video of Paul Muldoon reading "Loaf," from his Pulitzer Prize–winning poetry collection Moy Sand and Gravel, here.