Jamie Wyeth Show at the Museum of Fine Arts, Boston
MFA show celebrates youngest member of America's most celebrated art clan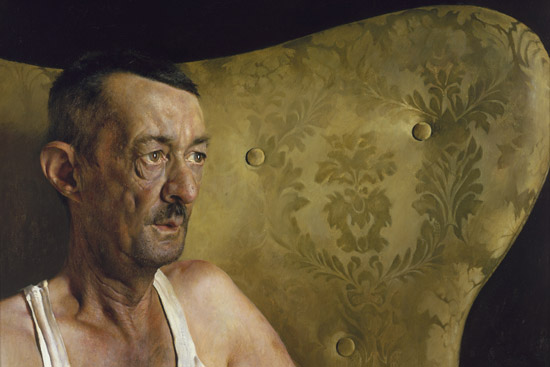 For more than six decades, painter Jamie Wyeth has toiled in the shadow of his famous grandfather, illustrator and painter N.C. Wyeth, and his even more famous father, Andrew, who died in 2009 at 91. Now, at 68, the younger Wyeth is finally getting his due in a new exhibit currently on view at the Museum of Fine Arts, Boston. Titled simply Jamie Wyeth, the show includes more than 100 paintings, sketches, illustrations, and objects using what Wyeth describes as a range of "combined mediums." It is the first major retrospective of his work.
The show begins with a series of pencil drawings made by the artist in 1952 when he was just five. These early efforts give little hint of the prodigious talent that was to follow. They reveal a typical boyhood preoccupation with subjects like the Three Musketeers and cowboys. But Portrait of Shorty, a painting of a neighbor completed when Wyeth was 17, makes clear that he had inherited his forebears' artistic talent. The painting reveals Wyeth's interest in the realist paintings of Americans John Singleton Copley and Thomas Eakins, and his fascination with juxtapositions (in this painting, Shorty's grizzled visage and T-shirt serve as a stark contrast to the elegant brocade fabric of the wing chair in which he sits). Throughout his career, Wyeth has been drawn to such visual contrasts.
By the end of sixth grade, Wyeth had convinced his parents to let him leave school. He was tutored at home in the morning, and studied with his aunt, Carolyn Wyeth—also an accomplished painter—each afternoon, a practice that continued until he was 18.
The Wyeth show is divided into sections: the first gallery chronicles his early work; a second gallery showcases paintings done while he was living in New York from the mid-1960s through the late 1970s; another room is devoted to his landscapes of Maine, where he lives for much of the year and where he continues to paint. One of the final galleries is devoted to Wyeth's landscapes of the Brandywine Valley, where he was born and continues to reside, and the final gallery is devoted to recurring themes in his work (among them, pumpkins and birds).
Two other paintings in the MFA show demonstrate just how accomplished Wyeth was at the outset of his career. The Weather Vane, a landscape of a neighbor's barn and weather vane painted when he was just 13, could easily be mistaken for one by his father, Andrew. The muted palette of grays and browns favored by Andrew was clearly an influence on the young Wyeth. Portrait of John F. Kennedy, painted when he was 20, in 1967, further reveals Jamie Wyeth's natural gifts for portraiture. The Kennedy family had asked him to paint a posthumous portrait of the president, who had been assassinated four years earlier. In preparation, Wyeth studied film and photos of JFK and accompanied his brothers Ted and Bobby on the campaign trail, where he sketched them. Wyeth's painting captures Kennedy deep in thought, one eye looking toward the viewer, the other gazing off at something unseen in the distance. When it was completed, the portrait received mixed reactions from the Kennedy family. The president's widow, Jackie, reportedly admired it, but Bobby Kennedy found it too painful a reminder of the President's demeanor during the Cuban Missile Crisis. (The MFA acquired the portrait last month for its permanent collection.)
In the mid-1960s, Wyeth began spending time in New York City, where he befriended Andy Warhol. The two men's artistic sensibilities couldn't be more different, but they became friends, and Wyeth worked out of Warhol's studio, The Factory, for a couple of years. In 1976, they agreed to paint each other's portrait. Wyeth's Portrait of Andy Warhol bares his trademark realism. He said the painting captured Warhol's frequent "deer in the headlights" demeanor—the perpetually raised eyebrows and slightly open mouth. Warhol's accompanying Portrait of Jamie Wyeth shows his friend lost in thought.
Also included among the New York paintings are several sketches and oil portraits of Rudolph Nureyev. Wyeth spent a year and a half observing the ballet star in rehearsal and in performance and was said to have been captivated by the dancer's physicality, what he described as Nureyev's "peasant force."
The landscapes included in Jamie Wyeth are drawn largely from the regions where the artist lives, chiefly the rugged terrain of Southern Island and Monhegan Island, in Maine, and the countryside of the Brandywine Valley. Wyeth has said he is attracted to Maine as a subject because it "has a lot of edge, a lot of angst." Meteor Shower (1993), an oil and essence of pearl on panel, depicts a forbidding scarecrow dressed in a 19th-century military overcoat, head turned as he looks over his shoulder (wing?) at a seacoast village under a meteor-lit sky. It is an unsettling landscape, haunting and menacing. Two recent seascapes, Ice Floe and Berg, both painted in 2012, recall the churning seascapes of Winslow Homer, who exerted a large influence on Wyeth's work. These paintings are fraught with danger. Yes, one can see land and shelter in the background, but the foreground is one of frigid waters.
The show ends with several unforgettable paintings based on a recurring dream that Wyeth had following the death of his father in 2009. In each, Wyeth's father and grandfather stand at the edge of a cliff on Monhegan Island, both dressed in foul-weather gear, as a churning ocean surrounds them. In one of the paintings, Andrew and N.C. Wyeth are joined by Winslow Homer and Andy Warhol—Wyeth's homage to the greatest artistic influences on his career. It's a fitting capstone to a fascinating show and an accomplished, distinctive, artistic vision.
Jamie Wyeth is on view at the Museum of Fine Arts, 465 Huntington Avenue, Boston, through Sunday, December 28. The museum is open Mondays, Tuesdays, Saturdays, and Sundays from 10 a.m. to 4:45 p.m. and Wednesdays through Fridays from 10 a.m. to 9:45 p.m. Admission is free for members or students with a BU ID; $25 for adults; $23 for seniors and students 18 and over; free for children ages 6 and under; free for youth 7 to 17 on weekdays after 3 p.m., weekends, and Boston public school holidays (otherwise $10). The museum is free to the public on Wednesday evenings. To get there by public transportation, take an MBTA Green Line E trolley or the number 39 bus to the Museum of Fine Arts stop or the Orange Line train or bus routes 8, 47, or C2 to the Ruggles stop.