Ha Jin Elected to American Academy of Arts and Letters
Highest US recognition of artistic merit for CAS prof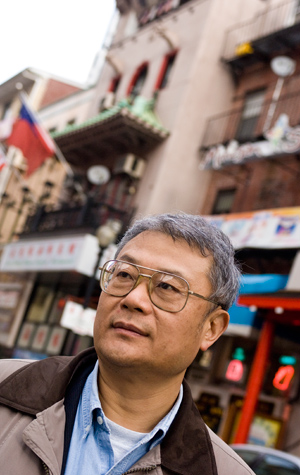 Ha Jin remembers the flames, the piles of books burning in the night. And he remembers the smoldering ash in the yard the next morning—nothing more was left of the volumes that once lined his father's shelves. "It was a common sight," says Jin, who was 10 years old when the Cultural Revolution swept through his native China. The fires always started the same way—with a knock on the door. "And then the Red Guard demanded that you surrender all your books, and everything was hauled out and burned."
The author of nearly 20 books, Jin (GRS'94), a College of Arts & Sciences professor of creative writing, was recently inducted into the American Academy of Arts and Letters. "I was very pleased, very surprised," says Jin, who joins eight other new members of the academy, writers Wendell Berry, Denis Johnson, and Tobias Wolff, artists Robert Adams, Ann Hamilton, and Bill Jensen, and musicians David Lang, and Alvin Singleton. Membership in the honorary academy is among the highest recognitions of artistic merit in the United States and is limited to 250 individuals, with new members elected only as vacancies occur. Jin was elected to the American Academy of Arts & Sciences in 2006.
Jin is modest about this accomplishment, the latest in a string of awards marking a writing career that began in the face of nearly impossible odds. When the revolution closed schools in China, 14-year-old Jin enlisted in the army and was sent to the Russian border. Determined to get an education, he pored over any book he could get his hands on, eventually making his way to college, where, at 20 and for the first time in his life, he met someone who spoke English. Learning the new language was so difficult, Jin recalls, that it made his mouth hurt. (Some of his fellow students resorted to painkillers.) Today, Ha Jin, the pen name of Xuefei Jin, writes award-winning works in English, his second language. All but three of his books are banned in his homeland.
He didn't set out to become a writer. He had a good job as a translator at a university in China, where he had completed both undergraduate and master's degrees. He came to the United States in 1985 to pursue a doctorate at Brandeis, planning to return to China and continue his career. Then, in 1989, the tanks rolled into Beijing's Tiananmen Square to quell student-led demonstrations against China's repressive regime. "I realized I had to learn to live here," Jin says. "It's a loss, but loss is a part of growth."
Jin, who had only recently begun writing in English, published his first volume of poetry a year later, in 1990. In 1999 his novel Waiting, based on his experience in the Red Army, won the National Book Award and the PEN/Faulkner Award. His second PEN/Faulkner Award came in 2005 for War Trash. His latest books are A Good Fall (Vintage, 2009) and Nanjing Requiem (Pantheon, 2011). Along the way, Jin taught for nearly a decade at Emory University before returning to BU, where he teaches a course in migrant literature and a novella workshop. "Teaching takes lots of time and energy from writing," he acknowledges, "but when I teach literature, I feel nourished and reminded of good books. It's a chance to study them carefully to see how they work."
Current BU faculty who are members of the American Academy of Arts and Letters include Robert Pinsky, a CAS professor of English and three-time US poet laureate, and Nobel Laureate Elie Wiesel (Hon.'74), BU's Andrew W. Mellon Professor in the Humanities. Alums composer Samuel Adler (CFA'48) and painter Brice Marden (CFA'61, Hon.'07) also are academy members.