Eyewitness to the Turmoil in Ferguson
STH associate dean offers theologian's perspective on racial unrest in Missouri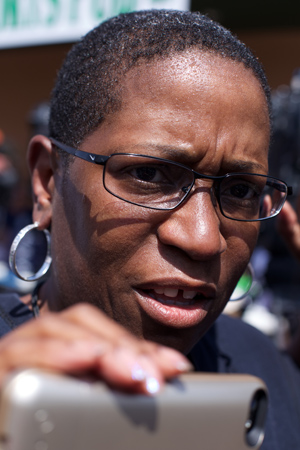 For six days last week, a School of Theology associate dean video-recorded the racial unrest that has gripped Ferguson, Mo., since August 9, when a white Ferguson police officer shot and killed a black teenager, Michael Brown. The young man was unarmed when he was killed. Day and night, Pamela Lightsey roamed Ferguson's streets, the scene of peaceful daylight protests punctuated by nocturnal confrontations that became so heated that Missouri's Governor Jay Nixon called in the National Guard at one point to help maintain order.
According to police, Brown was walking with a companion, Dorian Johnson. The timeline is in dispute, but police later alleged that video surveillance from a liquor store showed the pair stealing cigarillos. A grand jury is taking evidence to decide whether to indict the officer, Darren Wilson, while US Attorney General Eric Holder has ordered a federal autopsy on Brown and pledged a federal investigation of the shooting.
Meanwhile, the local police response to the unrest involving armored vehicles, assault rifles, and body armor has ignited a national debate over the militarization of police departments. Hundreds gathered for a demonstration in Washington, DC, Saturday evening to protest Brown's killing.
Lightsey, associate dean for community life and lifelong learning and a clinical assistant professor of contextual theology and practice, says she felt compelled to travel to Ferguson to record what was taking place there because she felt there was little of the perspective being offered by the faith community in the mainstream media. Over five days, her camera captured waves of protesters and snapshots of individuals, the latter in numerous situations—conversing or arguing with police, supporting each other, and granting Lightsey interviews. In several of the videos, she can be heard off camera offering her own perspective on the events that were taking place before her.
BU Today interviewed Lightsey—an Army veteran and an ordained Methodist elder who once pastored a Chicago church—prior to her return to Boston this past Sunday. She is one of the coordinators of a rally taking place today in Boston in support of justice for Brown. The event, titled "Hands Up, Don't Shoot," is being organized by Hands Up United and will take place in front of the John Joseph Moakley US Courthouse, One Courthouse Way, Boston.
BU Today: What made you decide to travel to Ferguson?
Lightsey: Like people around the world, I had been watching events unfold there since the day of Michael Brown's killing. I was following the crisis through every medium I could access: television, Twitter, Facebook, and some live-stream broadcasts, which I found the most helpful. I was up most nights since the protest began until early morning hours. On August 17th, I saw a church gathering [at which] some strategies for addressing the needs of the community were announced and thought to myself, "OK. There seem to be some steps towards a just resolution being negotiated. Good." And for the first night in many nights, I went to sleep early. When I woke up the next morning and saw that the police used tear gas again and that the governor was deploying the National Guard, that was it. I knew, as a black woman, as ordained clergy, and as a public theologian, I needed to go to Ferguson.
I decided to live-stream because, seeing other footage, I felt there was a void: none coming from the faith community with a commitment to placing the focus on theological priorities like justice, peace, and especially liberation theology. I thought putting my experiences online would allow my colleagues, students, members of the faith community, and the broader global audience to see what's going on from a more scholarly perspective and through the lens of a Christian leader. They get to hear the rich theology present in the black community that I knew was being articulated but was not offered on national media and other more secularly focused streams. Personally, I wanted to counter the "bunch of animals" labeling. I wanted viewers to see the complexity of thought that I knew was going on. The benefit is that I have been able to put the energy of my internal rage into a positive activity.
Besides posting your videos online, what other uses might you have for them? Can it be used in your research or in classes, and if so, how?
I am not doing research in Ferguson. I am joining and supporting a peaceful protest for justice. I am lending my support by doing live-stream broadcasts as a sort of amateur journalist. I am here also with two communications staff of Reconciling Ministries Network [a Methodist social justice group]. We've made many valuable connections in order to share stories not reported by mainstream media.
One of those interviews is about the Saint Louis police and an organization of young social justice activists called Dream Defenders. You see its executive director, Phillip Agnew, describing how police entered their safe haven—located on a local black church's property—and confiscated their supplies. That video has been viewed by close to 2,000,000 people. It was the longest and most detailed interview of that event. I'm thrilled to have been able to do that work and am pleased about the viewership, some of whom are our students at Boston University.
I do also know that the interviews and live-streams are being followed by faculty and students at other schools of theology. I'm joining a class by Skype later this month to discuss my impressions of Ferguson, so the way I am showing what's happening can be useful in classes, but that was not my intention.
What are your impressions, positive or negative, of the behavior of the Ferguson police, outside law enforcement that's been called in, and the protestors?
Let me say unequivocally, from my experience working down here, that the protest exists solely because an unarmed black man has been killed by a police officer, whom they feel has not been made accountable. My personal position has been to suspend my judgment about the guilt or innocence of the officer. However, I have each day walked with a burning righteous rage against the injustices demonstrated by the attempts to demonize both Mr. Brown and now Mr. Johnson.
As a veteran, I think the images black children are seeing of tanks and highly sophisticated weapons used against black adults is doing tremendous harm, and I question this tactic. I've been privileged to have two opportunities to speak with Captain Ron Johnson [the Missouri State Highway Patrol captain selected by Governor Nixon to coordinate the work of law enforcement agencies in Ferguson]. He was impressed the first time we talked with my being from Boston University because of our alum, Dr. Martin Luther King, Jr. (GRS'55, Hon.'59). I certainly found him to be a man who relates deeply with people. Very personable.
He is in a difficult position because he is not in charge of all these many police forces that are doing work in the area. There certainly is some questioning about whether he is just a black man sent in to calm the people and whether decisions are being made up the chain of command without his knowledge that negatively impact the black community. I was impressed by his love of the people and what I know was a herculean task.
Walking with the protestors, I did see occasions when law enforcement behavior was questionable and aggressive, but I also saw a few protestors get out of hand. As clergy, I viewed what was going on knowing that human beings just behave in ways that are not always loving. As a black woman, I found myself both fearful and enraged whenever things got tense.
President Obama has called for justice while condemning any looters. How bad has the looting been?
Well, you know Dr. King once said, "A riot is the language of the unheard." So I am not concerned with perpetuating this narrative of "looting" that gets translated into bigoted tropes. Nor do I care for the respectability politics being articulated by bourgeois blacks and those who buy into that script. My experience here in Ferguson makes me more concerned that justice prevails in Ferguson.
As a former pastor, how would you rate the effectiveness of the clergy in ministering to the situation?
I've been torn as I've observed clergy at work. They are in some ways very effective, in other ways less than stellar. I'm happy they are here, for the most part, doing good work, praying for and with citizens, providing water and food, opening their churches up to care for children while the schools have been closed, trying to negotiate for peaceful resolution. This is tremendously important work.
However, the leadership seems largely—not totally—to be black men. That concerns me as a womanist scholar and female clergy. It seems we are repeating the sexism of the '60s civil rights movement. Having said that, while the intention of clergy is that none of the protestors are harmed and that justice is had, I hope they will seek to be able to have better interactions with young black activists, who see them as being merely another oppressive arm of the state.
As an African American who has been recording the unrest, have you had occasion to fear for your safety or freedom?
There has been only one occasion that I feared for my safety. It happened Wednesday night [August 20]. A white, female counter-protestor showed up with her sign, and though well protected by police escorts, it was just a recipe for disaster. I was live streaming just feet from her when, within seconds, things got so inflamed that she had to be shoved into a police car. I was swept up in the middle of that and separated from my team, one of whom was carrying our gas masks. The police closed in and started yelling for us to get back. I thought at any minute that tear gas and arrests would start happening. Fortunately, I was able to find my way to a safe space, but my adrenaline was off the charts.
What are the most distressing things you've witnessed in Ferguson?
I've been most distressed by the police technique to require everyone down here at the protest site who is not media to "keep it moving." I have the benefit of a press pass from the group I am working with. But there have been times when I have stopped to take pictures and been told by officers to keep moving. Do you know how difficult it is to get a good picture while moving? So I do know among some—not all—police officers that there is no respect for the idea of freedom of the press, and why I thoroughly detest the "media staging area." I've seen many reporters moving about outside that space. I just don't like that it exists at all.
Many strangers have reached out to me to thank me for the perspective I have been offering of events in Ferguson. If media are not allowed to move freely about, the public just will not have sufficient information to form their opinions about what's going on down here.
Has being on the scene made you hopeful or despairing that the country will be able to deal with the race relation problems that Ferguson brought to the forefront?
I don't think Ferguson brought the plight of race relations in our country to the forefront. We have had many atrocities committed against people of color in our nation's recent history, from Eric Garner being killed by a chokehold arrest [in New York City], to a black woman being pummeled on the head by a California policeman, to the racist comments attacking President Obama and his family. It's been in plain sight. Ferguson has become, to use a theological term, that kairos moment in our nation's history, that appointed moment wherein a critical change will and must take place.
I want to thank Dean Mary Elizabeth Moore, who did not hesitate to affirm my request to travel to Ferguson, and to the School of Theology community for their support. Members of our school participated as freedom riders during the civil rights moment. Although I lament, as we celebrate the 50th anniversary of the Civil Rights Act, that our nation seems to be repeating history, I am very honored to know that I follow a list of trailblazing activists from my school.
Pamela Lightsey can be reached at ronnice@bu.edu. Follower her on Twitter at @onenabi.
You can view Pamela Lightsey's coverage from Ferguson, Mo., here.
This story has been updated to reword a sentence that might have been misleading. The fatal shooting by police and the alleged robbery are not believed to be connected. — Ed.