BU Alums Vie for $1M on America's Got Talent
Sons of Serendip compete tonight on season finale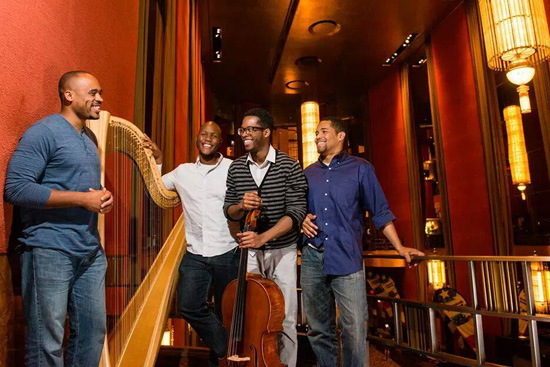 Since the season premiere of NBC's America's Got Talent last May, hundreds of performers have sung, danced, performed magic, told jokes, and in some cases mimed for a chance to win the competition's $1 million prize. Throughout it all, one musical group has resonated with audiences and judges alike. And tonight, that group, Sons of Serendip—comprising four recent BU alums—is poised to take home the show's grand prize.
The quartet, lead vocalist Micah Christian (STH'13), harpist Mason Morton (CFA'12), cellist and vocalist Kendall Ramseur (CFA'12), and pianist and guitarist Cordaro Rodriguez (LAW'12), has consistently wowed viewers with understated, soulful performances. They describe their style as a fusion of R&B, hip-hop, and classical. And now, after surviving 15 weeks of stiff competition, they are competing on the hit reality show's season finale.
Tonight's broadcast, which begins at 9 p.m., features performances by the six finalists. On tomorrow night's episode the results of viewers' votes will be revealed and a single winner crowned.
The band's name refers to the serendipitous circumstances that brought each member to BU, where they met as graduate students and eventually formed the quartet. Ramseur had had trouble deciding where to pursue a master's in performance, and chose BU at the last minute, he says, after extensive prayer and reflection. On campus, he reunited with Rodriguez, a childhood friend he had grown up with in Charlotte, N.C. Rodriguez applied to BU's School of Law accidentally—he says he thought he was applying to Boston College's law school. Christian almost decided to forgo his acceptance to the School of Theology to take a job with Teach for America, but changed his mind at the last minute. He met Rodriguez and Ramseur when he hired them as accompanists at a choral concert. "Our story helps us to feel that in some way we belong together," Christian told BU Today earlier this summer.
Morton, who earned an undergraduate degree in harp from Rice University, says Ramseur was the first person he met in Boston, and he wound up living with him and Rodriguez. He credits the University, and specifically his mentor, retired BU faculty member Ann Hobson Pilot, a former Boston Symphony Orchestra principal harpist, with giving him the confidence to fulfill his dream of playing on stage. "I came up to Boston without knowing what to expect," Morton says. "I wanted brotherhood; I got that. I wanted to perform; I got that. I couldn't ask for three better guys. BU has really helped me get closer to my dream."
The four didn't begin performing together until, at Christian's suggestion, they auditioned for America's Got Talent last spring. At the beginning, they seemed unsure whether they would stay together once their tenure on the show was over. Now, after a summer of dazzling performances that have gained them a loyal fan base, they appear to be in for the long haul. "We went into this wondering if we belong together, and I think that through the process of being on the show, we're understanding that we do," Christian said on last week's episode.
Throughout the competition, Sons of Serendip has transcended the confines of a single genre, instead choosing recognizable songs and rearranging them to showcase their considerable musical talent. From a cover of Chris Isaak's pop-rock hit "Wicked Game" to a slowed-down, classical twist on Swedish House Mafia's electronica hit "Don't You Worry Child," the four have demonstrated their versatility.
One of the quartet's most memorable moments on the show was last week's rendition of Duran Duran's "Ordinary World." Viewed by more than 150,000 fans on YouTube, the performance persuaded the show's judges, and more important, its viewers, to advance Sons of Serendip to the competition's final round. The performance garnered a standing ovation from all four judges, including resident curmudgeon Howard Stern (CGS'74, COM'76). Each judge was bowled over, calling their performance "stellar," "majestic," and "beautiful"—Howie Mandel hailed the quartet as "the most talented people we have in this contest."
Sons of Serendip's fans seem to agree. The group has more than 5,500 Twitter followers and over 11,000 likes on Facebook. And the four have been quick to engage with their growing fan base via social media. On September 10, after making it to the show's final round, they posted this message on Facebook: "Friends, we did it! We made it through to the finals! Thank you all so much for voting and for telling others about us!! You all have helped to enrich this journey and have made this such an incredible experience. From the bottom of our hearts…thank you! We love you!"
After their first appearance on America's Got Talent in June, Sons of Serendip told BU Today that they were just happy to be a part of the competition, and that while they hoped to win, they were trying to take each performance as it came. Now, with only one performance left, winning seems much more possible. "People at the beginning would say, 'It's going to be a great experience, but don't expect anything,'" Christian said on last Tuesday's episode. "And we're not expecting anything at all. But I find myself asking, 'Why not us? Why not us in the finals? Why not us to win it all?'"
In honor of Sons of Serendip, the School of Theology and the College of Fine Arts are throwing a viewing party tonight at 9 p.m. at BU Central. Show your BU pride and cheer on Sons of Serendip as they compete with the other five groups left in the final round of America's Got Talent.
The two-show finale of America's Got Talent airs tonight and tomorrow night at 9 p.m. EDT on NBC. Tonight's show features the final performances of the top six groups. In tomorrow night's episode, the competition winner will be revealed. The Sons of Serendip viewing party is tonight at 9 p.m. at BU Central, in the George Sherman Union basement, 775 Commonwealth Ave.
Samantha Pickette can be reached at pickette@bu.edu.