Behavioral Medicine's Margaret Ross Steps Down
Will remain at BU in new role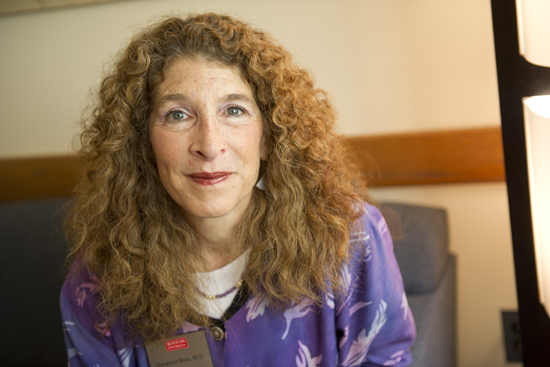 When she graduated from Bryn Mawr College, Margaret Ross copied in her yearbook a quote from The Catcher in the Rye, where Holden Caulfield imagines thousands of children in a field of rye playing dangerously close to "some crazy cliff." His job is to catch them before they fall.
"That's all I do all day," Ross copied into her yearbook. "I'd just be the catcher in the rye and all. I know it's crazy, but that's the only thing I'd really like to be."
Ross has been catching people at risk of falling off a metaphorical cliff throughout her long career as a psychiatrist, for the last six and a half years as director of Behavioral Medicine at Student Health Services (SHS). Now the catcher is retiring. Last month, Ross announced that she would step down to accept a part-time position as medical director at BU's Center for Anxiety & Related Disorders (CARD).
While her departure is bittersweet, she says, she is unabashedly looking forward to spending more time with her aging mother, her husband, and a "much hoped for" first grandchild.
"I'm here because I love it," Ross says, sitting in her warmly lit SHS office surrounded by pictures of her family, thank-you cards from students, and a well-loved couch. She says she reminds herself regularly of a former colleague's conviction that there's a lot of good to be done in retirement. "I want to see if I can remember how to do those things without working," Ross says.
Almost without working. She will continue to counsel students at Behavioral Medicine 20 hours a week while putting another 12 hours in at CARD until her permanent replacement is found. SHS director David McBride has named senior staff psychologist Carrie Landa interim director while that search is under way.
"It's the longest good-bye," Ross jokes, pointing to a corner of her office dominated by gift bags. Among the mementos is an inscribed silver bowl from Residence Life, which named December 20 Margaret Ross Day. Appreciative of the attention, she still thinks "it's hard to give a good-bye party for someone who shows up to work the next day."
Once the transition is complete, Ross will work 20 hours a week at CARD, where she will mentor Boston Medical Center psychiatry residents, assist in research projects by overseeing patients' medical conditions and treatment, continue her clinical practice, and learn about areas of psychology she previously hadn't much explored—such as general anxiety and obsessive-compulsive disorder. Eager to expand her horizons, she is pleased that she can still collaborate with many BU colleagues she also calls friends.
"We are very familiar with her numerous strengths and recognize how extremely fortunate we are to have her join our center at this time," says CARD director Lisa Smith, a College of Arts & Sciences clinical associate professor of psychology.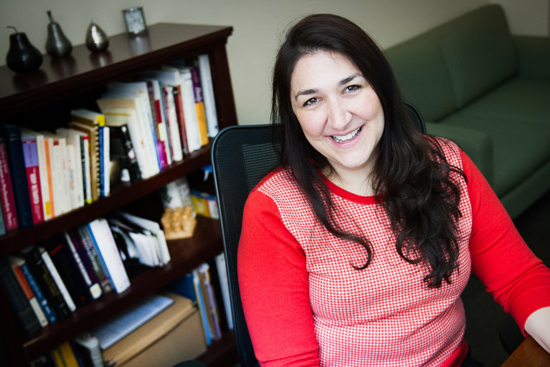 McBride says Ross' departure is a great loss for Student Health Services. Before she arrived, there was "a sit-back-and-wait-for-students-to-come approach." The two have since concentrated on community outreach to increase the health center's profile and reduce the stigma of mental health services.
"Margaret's personality and warmth made that so easy for us to do," McBride says. "I relied on her to form relationships around the University, and she did an amazing job of making us much more visible and accessible."
Ross has brokered relationships with University officials, including deans and Residence Life and Judicial Affairs staff, as well as other campus mental health organizations, such as CARD and the Danielsen Institute. She also spearheaded an Eating Disorders Team and the ADHD Task Force, mentored members of the Boston Community Service Scholars program, and advised Actively Moving Forward, a student club formed by those who have lost a loved one.
Ross says Active Minds, a student club focused on mental health issues, and Dori Hutchinson (SAR'85, '96), a Sargent College clinical associate professor and director of services at the Center for Psychiatric Rehabilitation, and the rest of the suicide prevention grant team deserve credit for elevating mental health to a place where it is an acceptable topic of discussion.
Behavioral Medicine is now a victim of its own success. Visits jumped from 8,396 in the 2007–2008 academic year to 10,495 the following year and have continued to grow, reaching 11,634 this past academic year, according to SHS data.
Ross' staff has increased accordingly, from 7 to 16 full-time employees, including those at the Sexual Assault Response & Prevention Center and Wellness & Prevention Services. More professionals are needed, she says, to meet the growing demand.
Collaboration between the primary care side of SHS and Behavioral Medicine has increased during her tenure. "Sometimes you have to communicate in a way that some college counseling centers are uncomfortable with," McBride says. "They're very protective of mental health information. We take a practical approach to that.…When we communicate, the outcome for students is better."
McBride credits Ross with shepherding her staff through challenging times, while remaining nurturing and supportive. She teaches younger staff how to set boundaries with patients, or as she says, "allow enough separation to help them not fall into a dark place." Should any counselor need help with a tough case, she encourages them to call her for advice—regardless of the hour. It's all part of her mantra: "Never worry alone."
"Margaret went above and beyond 40 hours," says Landa. "She was always available…always willing to pick up the next person if someone needed to be fit in."
Ross sees medicine as a calling (as have two of her three children). She studied biology at Bryn Mawr and earned a degree from Harvard Medical School, training in pediatrics at Massachusetts General Hospital and in psychiatry at McLean Hospital. During her last year of residency, she had a fellowship at Harvard University Health Services, where she fell in love with serving college-aged adults. From 1979 to 2002, she worked at MIT as a psychiatrist, patient advocate, and administrative director of health education. After five years as the associate director of the Adult Outpatient Department at Cambridge Health Alliance, she came to BU in July 2007.
"It just felt like I was coming home to come back to college mental health," Ross says. One of the aspects of her job she'll miss most is "the gift of having a student walk in and feel better walking out." In those moments, she gets to play catcher in the rye.