Award-Winning Poet New Creative Writing Program Director
Karl Kirchwey hopes to build connections across the University
By his own admission, Karl Kirchwey's first two years as an undergraduate at Yale University were unfocused. He took a year off to work in a record store, transferred, and then transferred back. It was then that he underwent what he refers to as "a kind of Road to Damascus moment." The English major found himself, "almost by accident," enrolled in poet John Hollander's verse writing course.
"I think he penciled my name in as an extra at the last minute," he recalls. "John not only encouraged me in writing poems and told me that I had a good ear, but he also, through the power of his own example and the way he taught and the fierceness that he brought to the discussion of literature, showed me that literature could be a vocation, and in particular, that poetry could be a vocation, that you could devote your life to it."
It was a lesson Kirchwey took to heart. Over the past three and a half decades, he has authored six distinguished collections of poems, a play in verse, and a translation of poems by the French poet Paul Verlaine. He also has an extensive dossier as an arts administrator, first as director of New York's 92nd Street Y's Unterberg Poetry Center, where he oversaw its renowned reading series from 1987 to 2000, and then as the Andrew Heiskell Arts Director at the American Academy in Rome, from 2010 to 2014—the first writer ever appointed to the post.
Kirchwey is now drawing on his impressive literary and administrative résumé as the new director of BU's Creative Writing Program. He succeeds longtime director Leslie Epstein, who remains a College of Arts & Sciences professor of English. The poet comes to BU from Bryn Mawr College, where he directed the undergraduate creative writing program and oversaw a public reading series that attracted such writers as Ian McEwen and Nobel laureates Nadine Gordimer and Derek Walcott (Hon.'93), a former CAS professor of creative writing.
"Karl thrives on interdisciplinary activity and will go out of his way to make connections with other departments in the college and with the College of Fine Arts in particular," says Bonnie Costello, a CAS professor of English, who chaired the search committee for a new director. "He is a distinguished translator and will bring foreign literature into the program. He has developed wonderful tools and syllabi for teaching creative writing and these will provide new avenues for discovery as well as sustaining the rigor and discipline that have been the standard of the program."
Costello says that in seeking a successor to Epstein, "we were looking for a creative writing director who is himself not only a skillful writer with an international reputation, but also a learned writer, ideally with extensive knowledge of the classics and foreign languages. We wanted someone who understands and values academic culture, someone who would take advantage of the intellectual and creative setting of the University rather than treat the program as a place apart."
Understanding us by looking at Greece and Rome
As a writer, Kirchwey is perhaps best known for his poems exploring ancient Greece and Rome. Growing up, he and his family vacationed each summer on the island of Lemnos in the Northern Aegean, a place he describes as "absolutely unremarkable." But the island played a significant role in Greek mythology: the god Hephaestus was thrown out of heaven by Zeus and landed on the island of Lemnos. Sophocles also wrote a play about the great archer Philoctetes, who was bitten on the foot by a snake and abandoned on Lemnos. That history made an impression on Kirchwey. "It's as if the landscape itself took hold of me," he says.
He lived in Rome as the recipient of the 1994–1995 Rome Prize in Literature, which allowed him to write at the American Academy in Rome, and again when he was arts director there. He doesn't simply write about ancient civilizations: he uses the classical world to illuminate the present human condition. "The point is not that I write poems about Greece and Rome," Kirchwey says, "the point is that I'm writing poems about us—I'm using the poems to find a way of understanding us by looking at Greece and Rome." Several poems in The Engrafted Word (Holt, 1998) use mythology and Roman history as a way to contemplate contemporary fatherhood. At the Palace of Jove: Poems (Marian Wood Books/Putnam's, 2002) is a meditation on how the past influences the present by examining ancient Greece. His latest, not yet published, collection, Stumbling Blocks: Roman Poems, is drawn from his experience living in Rome during the past four years.
The poet says that the intention of this title "is that the poems themselves should be stumbling blocks. I've said that a poem, if it's a good poem, would be a kind of verbal stumbling block. We spend so much of our lives reading the paper, skimming things, just letting our eyes slip over something. Poems don't work that way. Poems catch you up short, they make you slow down, they make you trip."
Kirchwey has received grants from the National Endowment for the Arts, the John Simon Guggenheim Memorial Foundation, and the Ingram Merrill Foundation. His first poetry collection, A Wandering Island, earned the Norma Farber First Book Award from the Poetry Society of America. He has an undergraduate degree from Yale and a Master's degree from Columbia University.
"In a period when some American poets have been concerned either with the problematic nature of language on one side, or the nuances of individual psychology on the other, the presence of historical reality in Kirchwey's work is to be honored," says Robert Pinsky, a CAS professor of English and three-time US poet laureate. "This is a tremendously accomplished, productive poet whose work successfully takes up large, important subjects."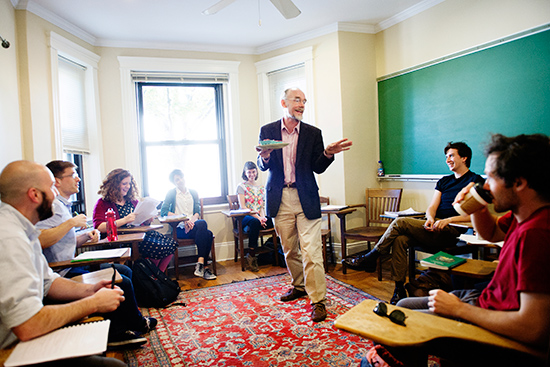 Connections between literature and other art forms
Under Epstein, the Creative Writing Program grew significantly in stature. When he became director in 1978, the fiction program had 25 applicants for 13 spots. This year, the program had 267 applicants for 10 positions, the poetry program 122 applicants for 8 positions. "Leslie gave the program rigor and discipline, and held the students to a very high standard that he and other faculty helped them fulfill," says Costello. Among the many well-known authors who graduated from the program during Epstein's tenure are Sue Miller (GRS'80), Jhumpa Lahiri (GRS'93, UNI'95,'97), Ha Jin (GRS'94), now a CAS professor of creative writing, Carl Phillips (GRS'93), and Erin Belieu (GRS'95).
Kirchwey says several things drew him to BU when he was approached about the job. He had known of BU's program and its distinction for years: as director of the 92nd St. Y's reading series, he had become friends with Walcott, Pinsky, and Rosanna Warren, formerly BU's Emma Ann MacLachlan Metcalf Professor of the Humanities. And he knew Lahiri during her tenure as a resident in literature at the American Academy in Rome.
The new director was also attracted by the opportunity to work with the Boston Playwrights' Theatre and students in the University's MFA playwriting program, which until 2008 had been part of the creative writing MFA. Kirchwey has long been interested in verse drama (his verse play, Airdales & Cipher, based on Euripides' Alcestis, won the Paris Review Prize for Poetic Drama). Among his goals is developing a close working relationship with Playwrights' Theatre artistic director Kate Snodgrass (GRS'90) and getting more poets interested in writing and reading for the stage.
As Creative Writing Program director, Kirchwey says, his first responsibility is to "continue to strengthen the program that we have," as well as to explore new possibilities for the future. He also wants to help the program "recruit as aggressively as possible" and to develop close working relationships with other University departments and programs.
"The possibility for connections between literature and other art forms is of great interest to me, and a University like BU offers the opportunity for collaborations and cross-fertilizations," he says.
A translator as well as a poet (he speaks French and Italian, reads Spanish and German, and is working on translating poems by Italian poet Giovanni Guidici), Kirchwey hopes to make a more direct connection between the program's Global Fellowships—which funds students' travel abroad—and BU's well-known Literary Translation Seminar. Having taught translation at Bryn Mawr, he would like to teach that course here as well. Translating, he maintains, enhances a poet's skills. "The experience of understanding something in another language that can't be put into English not only provides a writer with a perspective on that other language," he says, "but by trying to put it into English, gives the writer a perspective on the limitations of English. So much of translation is about problem solving."
Kirchwey laughs when asked about his teaching style. "I subscribe to the enthusiastic method," he says. "For me, the opportunity to talk about poems in the company of other people who care about poetry is huge—it's a huge privilege and an opportunity." He bemoans the way mainstream culture has rendered poetry "virtually irrelevant."
"I do feel that poetry is really undervalued," he says. "There is no reason why poetry should be so marginal except that it is possible that critics, people, do not want to take the time to read it, to understand it, or they conclude that the concerns of poetry are too minor to matter. This is, in my opinion, completely untrue." To be a poet today, a person must have recognized "some gift in themselves which cannot be satisfied in any other way," since the vocation offers little in the way of material rewards. "If you're not compelled to do it, it's much too hard to do."
As for his career choice, cemented so many years ago in that Yale undergraduate verse writing class, Kirchwey has no regrets. "The odd thing is that I don't wake up one morning and say, why didn't I become a stockbroker? A lawyer? A doctor? Why didn't I get a real job? Why didn't I do something useful? On the contrary," he says, "I feel at this stage that somebody's got to do this, somebody's got to keep this alive."