"Your Time Here Is Precious"
President Brown welcomes Class of 2017 at Matriculation
Under rain-soaked skies, the Class of 2017 made its way west on Commonwealth Avenue from South Campus towards Agganis Arena Sunday afternoon for BU's annual Matriculation ceremony. Umbrellas bumped in what for many was their first taste of fickle New England weather as the BU Marching Band led the new Terriers past cheering upperclassmen into the arena for the jubilant, pomp-filled event. With Kenneth Elmore (SED'87), dean of students, at the head, the freshmen and their families filed into the arena, where they were welcomed by faculty, administrators, and University President Robert A. Brown.
"You have achieved a great deal," Brown told the assembled students, parents, and faculty. "You have earned your place in this class." At one point in his speech Brown quoted Major League Baseball's famously malapropian Yogi Berra, advising students, "When you see a fork in the road, take it." The arena, a mile from where the Red Sox were at bat against the Chicago White Sox at Fenway Park, erupted in laughter when Brown followed up with, "I did it. I found a way to say something nice about the Yankees."
For the 3,800 freshmen and their families, it was a proud day. Representing the top 11 percent of their high school classes, the Class of 2017 is a richly diverse group hailing from 46 US states and 65 countries. More than a fifth of them are international students. "Your academic accomplishments led you here, into one of the top private universities in the United States," said Brown, whose speech embodied the theme of change, from the students' personal evolution to changes at BU and the world beyond it.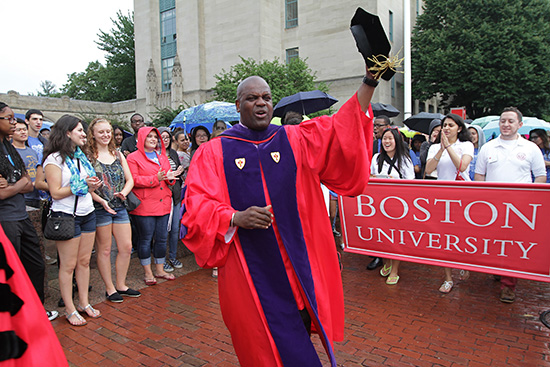 Recalling his excitement on the day of his Matriculation three years ago, Student Government president Dexter McCoy (COM'14) reminded those gathered that "who you were in high school is not necessarily who you will be in college. Now is the time to reinvent yourself." McCoy recalled the litany of his varied interests and youthful compulsion to join every club in sight. "This is an opportunity to make yourself who you want to be, no matter where you came from," he said, calling upon the newcomers to tweet their first steps at self-discovery (everything you want to do at BU) at hashtag #first2BU. He reminded them that there "is no typical BU student." The talent, drive, and vitality of BU students, McCoy concluded, is such that "if we at BU decided to change the world today, we could do that."
Welcoming the Class of 2017 on behalf of the Charles River Campus faculty, John R. Finnerty, a College of Arts & Sciences associate professor of biology and winner of a 2013 Metcalf Award for Excellence in Teaching, one of the University's highest teaching awards, told new students that they are entering a global-minded community that could "not be accused of being an ivory tower." The University, said Finnerty, reflects a "symbiosis between academic course work and worldly engagement."
The themes of self-discovery and responsibility echoed throughout the ceremony. In his invocation, the Reverend Robert Allan Hill, dean of Marsh Chapel, implored the freshmen to "balance the left foot of adventure with the right foot of prudence." As he did last year, Brown cautioned the students against underage and binge drinking, warning that in addition to lowering academic performance, excessive alcohol consumption could land students in the emergency room, compromise their safety, or result in their removal from student housing. "For some," he said, "the consequences can be much, much worse," alluding to the Boston Police Department's move this year to an arrest-first policy for students who break alcohol laws. "I ask you today to act responsibly," Brown told the assembled students and parents. "Don't take unnecessary risks."
In spite of their diverse academic paths, he said, they should all hone four skills while at BU: study the great traditions of thought that informed the world's cultures; learn "to distinguish between logical and illogical arguments"; be attuned to the struggle between self-interest and community interest; and "be scientifically literate" and mathematically literate. "You need to hone your quantitative reasoning skills to be successful in today's world," he said.
The president tempered his welcome with some sobering words about the economy, urging students to "start thinking about the challenge you will face in four years." In light of the looming pressure to find their way in the professional world, he advised his listeners not to lose sight of "the ultimate objective—having a long, professionally and personally rewarding life." And although he stressed the importance of embracing long-term goals, he also cited a list of distinguished alumni, such as Bloomberg Media Group CEO and BU trustee Andrew Lack (CFA'68), a former music major, who "sat at Matriculation events such as this one with a focus on specific careers, whose lives turned out richly different." He added, in a nod to his own trajectory, "I also know a chemical engineer who became a university president."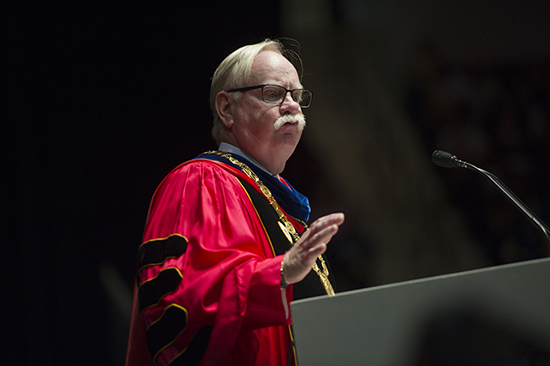 Citing BU's urban location, Brown noted the many opportunities the University offers "to engage in the community at large that go well beyond the clubs on Landsdowne Street." He noted the 850 incoming freshmen who participated in this year's First-Year Student Outreach Project, coming early to BU to perform more than 22,000 hours of community service.
Brown concluded by urging the students to "take the time to dream, to pursue your grandest goals. Your time here is a precious, hard-earned part of your life. Use it well."