Time for a Mental Health Checkup
Screenings at four BU sites for tomorrow's National Depression Screening Day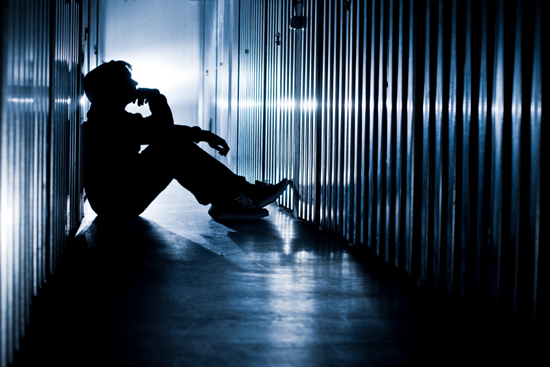 Most people go to the doctor annually to have their blood pressure and reflexes checked. But when was the last time you had a mental health checkup?
Tomorrow is National Depression Screening Day, and for the fifth year BU will hold free, confidential depression screenings. Organizers are urging everyone, not just those with mental health concerns, to spend the three or so minutes it takes to be screened. The screenings are open to all BU students, faculty, and staff.
Student Health Services Behavioral Medicine and Sargent College's Center for Psychiatric Rehabilitation will staff today's four screening sites: the GSU Link, Sargent College's Setterberg Lounge, the FitRec lobby, and on the Medical Campus, the School of Public Health lobby. Clinicians will be on hand to assess responses and speak privately to those whose answers indicate they may be suffering from depression. They will also suggest resources available around campus that can help. Screenings will be offered from noon to 3:30 p.m. on the Charles River Campus and from 3 to 6 p.m. on the Medical Campus.
"It's a checkup from the neck up," says Larry Kohn, director of development for the Center for Psychiatric Rehabilitation (CPR). "It's a way to take the temperature of your own mental health."
According to the 2012 nationwide American College Health Association National College Health Assessment survey, nearly 30 percent of students reported feeling "so depressed that it was difficult to function." The 2012 Healthy Minds Study, an annual national online survey of college students by the University of Michigan, revealed that 20 percent of Boston University students screened positive for depression or anxiety.
Margaret Ross, a psychiatrist and director of Behavioral Medicine at BU's Student Health Services, says depression and anxiety are pervasive issues on any college campus. Factors like finances, academics, relationships, and family are some of the "many stressors" that can affect people differently. "College is full of stress, and different people respond differently," Ross says. "For those vulnerable to depression or anxiety, or both, college is a time when these conditions may come to the forefront."
With so many students coping with stress and with many cases of depression going undiagnosed, screening is critically important. Of the 265 people screened last year, 65 percent showed signs of depression or anxiety, according to Dori Hutchinson (SAR'85,'96), a Sargent College clinical associate professor of occupational therapy and CPR director of services. Those numbers are up sharply from 2011, when 240 people were screened, but only 30 percent showed symptoms of depression or anxiety.
"College life is a stressful experience," Hutchinson says. "I think there are a lot of students out there experiencing some distress. Word is getting out about the importance of getting screened and that BU has excellent resources. Mental health is a big part of who we are as human beings."
Ross says that as the number of people seeking screening has increased, so too has the number of clinicians on hand who can help provide immediate resources and follow-up.
The screenings, which take only a few minutes, consist of a one-page anonymous questionnaire on topics such as eating and sleeping habits, with multiple-choice answers. A clinician reviews the answers on site, and then meets with the respondent to talk about next steps, which could include an immediate appointment or setting up a time to talk in the next few weeks. All participants are given information about counseling and other services, regardless of whether they show symptoms of depression.
In cases where depression is noted, a participant's answers can indicate whether the depression is mild or severe. Depression is defined by a combination of symptoms, such as irritability, sleeplessness, or reduced appetite. Other symptoms could include feelings of hopelessness, sadness, or failure, fatigue, a lack of interest or pleasure in doing things, an inability to concentrate, moving or speaking so slowly others have noticed, acting fidgety or restless, and experiencing thoughts of hurting yourself or suicide.
"What we're trying to do is make this so much less shameful, so much more normalized, the fact that people struggle with things all the time," says Kohn. "Sometimes you can't handle the struggles on your own; you need to talk to someone. Once you start talking about it, you can get the help you need. Depression is very treatable, but there is self- and societal stigma, and it shouldn't be that way. At BU there are so many resources for people who are having struggles."
Among those resources are Behavioral Medicine, the Center for Psychiatric Rehabilitation, and groups such as the Student Support Network, Actively Moving Forward at BU, and Active Minds at BU.
The wide availability of mental health and counseling services on campus recently earned BU national recognition for its commitment to students' mental well-being. The University is one of 30 colleges to receive a mental health "seal of approval" from the Jed Foundation, a national nonprofit suicide prevention organization. The JedCampus Seal is given based on an evaluation of survey responses submitted by colleges outlining their availability of mental health services. "What distinguishes these colleges is the breadth of their programming," says foundation executive director John MacPhee.
Each school's survey responses are evaluated in relation to a model titled The Comprehensive Approach to Mental Health Promotion and Suicide Prevention on College and University Campuses, developed by the foundation and the Suicide Prevention Resource Center in response to the persistent occurrence of student suicides, which account for 40 percent of deaths among college freshmen—about 1,200 deaths a year. Suicide is the second leading cause of death for college students, says MacPhee. (The leading cause is accidents.)
"The seal is an endorsement of the work that has gone on campus-wide over the past few years," says Ross. "Many organizations and individuals on campus have put their energies into tightening the safety net and repairing any gaps to be sure that students have access to helping services. The seal relates not only to the explicit helping resources on campus, but also the individuals and organizations that make up the very fabric of the University, including the Dean of Students Office, Residence Life, the Boston University Police Department, Facilities Management & Planning, and so many others."
BU's fifth annual National Depression Screening Day is tomorrow, Thursday, October 10, at three sites on the Charles River Campus and one on the Medical Campus: from noon to 3:30 p.m. at the George Sherman Union, Sargent College, and FitRec, and from 3 to 6 p.m. at the School of Public Health, 715 Albany St.
Those interested in seeking confidential mental health counseling can contact Student Health Services Behavioral Medicine, the Center for Psychiatric Rehabilitation, the Samaritans of Boston suicide hotline, and BU's Faculty & Staff Assistance Office.
Susan Seligson contributed to this story.