The Jungle Book Launches Huntington's 32nd season
Mary Zimmerman and team reimagine classic Disney film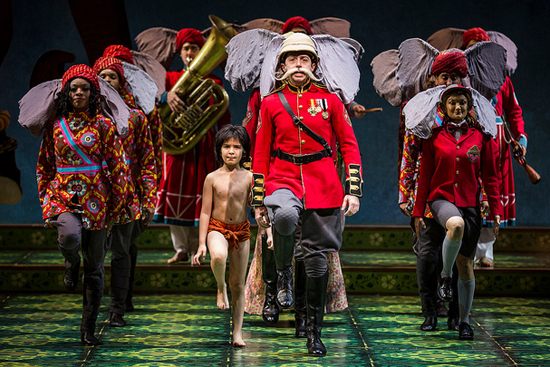 When Mary Zimmerman was first approached by Disney Theatrical Productions about adapting the classic 1967 animated musical film The Jungle Book for the stage, the Tony Award–winning director was certain of two things: she didn't want to simply replicate the beloved film—she also wanted to incorporate elements of the Rudyard Kipling stories that had inspired it. And she wanted to capture the visual and musical aesthetic of India, the setting of Kipling's book, in an authentic, imaginative way.
Zimmerman's visually and aurally dazzling production—18 months in the making—launches the Huntington Theatre Company's 32nd season tonight. Produced in association with the Goodman Theatre of Chicago, where the musical debuted this summer to critical acclaim, Zimmerman's show hews closely to the Disney film in many ways, as it chronicles the story of Mowgli, the young "man-cub" raised by animals in the Indian jungle. All of the characters that audiences fell in love with when reading the stories or seeing the film are here—King Louie, the orangutan (portrayed by Tony-winner Andre De Shields), Baloo, the bear (Kevin Carolan), and the villainous tiger Shere Khan (Larry Yando). The stage version includes the film soundtrack's beloved songs—showstoppers like "I Wanna Be Like You" and "The Bare Necessities." But Zimmerman's adaptation also has songs written for an unproduced sequel and trunk songs that the film's composers, Richard and Robert Sherman, had written years ago but never used. The songs have been given new Indian-inspired orchestrations by music director and orchestrator Doug Peck. Characters from Kipling's original stories but not in the film have been introduced. And the choreography—so central to the film—now combines elements of classical Indian dance.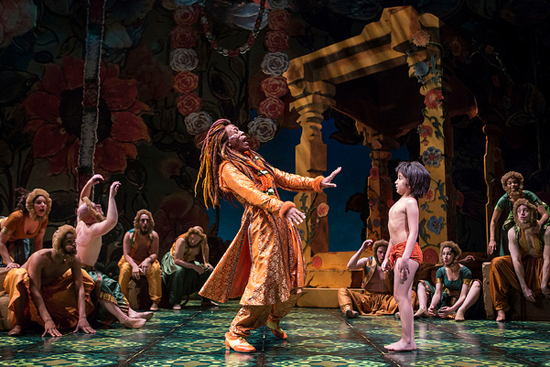 To more accurately capture the sights and sounds of India, Zimmerman and her longtime creative team traveled to the teeming subcontinent for two weeks in December 2011, soaking up the country's art, architecture, and music. They took thousands of photos that they drew on for inspiration in designing sets, costumes, and lighting. The experience was tremendous, says scenic designer and two-time Tony nominee Dan Ostling, who has collaborated with Zimmerman on numerous productions. "In India, you experience sensory overload," he says. "It just comes right at you—the layers and layers of images and surfaces and smells." For costume designer Mara Blumenfeld, the research trip was a revelation. "We, in our western aesthetic, have a much more minimalist and restrained sense of color and pattern," says Blumenfeld. "When you go to India, there's an overabundance of color and pattern and decoration."
For Blumenfeld, the biggest challenge in designing costumes for actors playing animals was giving them animal attributes without encumbering them with gimmicky theme-park outfits that would be difficult to move in. Working with Zimmerman, she tried to find one essential quality that would capture each species. For the actors playing elephants, that meant designing huge ears; for the monkeys, tails. She returned to the original Kipling stories for guidance. "He renders them with very human, anthropomorphic qualities," she says. "They're both animals and have very human characteristics."
Blumenfeld carefully studied the Disney film, noting what made each character iconic. For Baloo, it was his pear-shaped body and the way he jiggles, his center of gravity low to the ground. When it came time to design the costume for Carolan, she used hoops mounted to elastic verticals. "We call it Kevin's jiggle cage," she says. The costume "has a really fun, playful quality to it" and allows Carolan to "jiggle and sway the way Baloo does in the film." The challenge was to find a material that was pliant enough that the actor wouldn't be hurt when he rolled over, but that would be durable enough to hold up during the show's Chicago and Boston runs.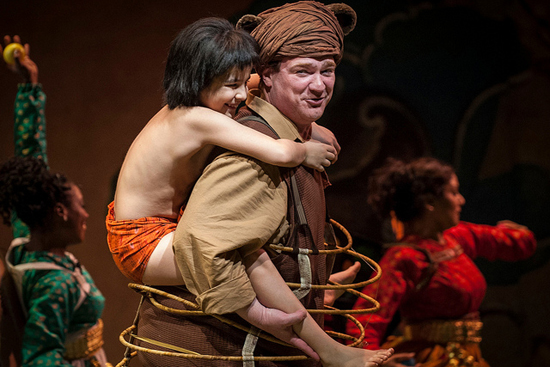 Peck—another longtime colleague of Zimmerman's—says that the research he did in India, attending music festivals, "was hugely influential in the orchestrations for the show." Indian instruments, including a sitar, a daf, a veena, a ghatam, and a doumbek, have been introduced to give all of the original songs a more Indian inflection. Peck says he had to be careful not to "alter the music in such a deep way that anyone's nostalgia of these tunes is frustrated by the experience of hearing them in a new context." Instead, he hopes listeners will be charmed by the novelty of these familiar classics being presented in a new way.
Zimmerman, famous for beginning rehearsals without a script and developing it as they go, requires a certain leap of faith from her creative team and actors. Best known for her imaginative adaptations of Ovid's Metamorphoses, which won her a best director Tony, and The Arabian Nights, her productions involve intense collaboration. "Mary's process—namely, that she brings in pages of the script each day, rather than presenting us with a completed script in advance—has contributed to my development as an artist in wonderful ways," says Peck. "I have become more of an in-the-moment artist, able and excited to have ideas on my feet, rather than preparing my thoughts in advance."
The sentiment is echoed by members of The Jungle Book cast. Anjali Bhimani, who has worked with Zimmerman many times and here plays Raksha, the mother wolf who adopts Mowgli as a baby and acts as his protector, likens working with the director to "going on an adventure vacation with one of your best friends, because it's brand-new terrain. You don't know what you're going to find, but each time you find something, it's a mutual discovery and it's made much sweeter because you're doing it with a dear friend."
Huntington artistic director Peter DuBois leapt at the chance to work again with Zimmerman, who won an Elliot Norton Award for her staging of the Huntington's Candide two seasons ago. "The notion that Mary was going to be putting all this together as a new musical was mind-blowing," says DuBois. "When I first heard the music and when I first heard Mary's idea for the show, I wanted to be part of it, because The Jungle Book is in my cultural and emotional DNA."
"My hope is that people will come to see The Jungle Book and be transported," says Bhimani. "I hope they leave the theater uplifted."
The Jungle Book runs at the BU Theatre, 264 Huntington Ave., Boston, through October 20, 2013. Tickets may be purchased online, by phone at 617-266-0800, or in person at the BU Theatre box office. Patrons 35 and younger may purchase $25 tickets (ID required) for any production, and there is a $5 discount for seniors. Military personnel can purchase tickets for $15 and student rush tickets are also available for $15. Members of the BU community get $10 off (ID required) and are also eligible for a special subscribers discount rate. Follow the Huntington Theatre Company on Twitter at @huntington.