Terriers Hailed for White Mountains River Rescue
Kilachand Honors College students revive man with CPR
It was supposed to be the perfect weekend—four BU friends from the Kilachand Honors College road-tripping from Boston to the White Mountains on "a last hoorah" campout before the start of the fall semester. The forecast called for sunny skies with temperatures in the mid-70s.
Molly Tobin (SAR'15) was thinking: "I feel like this is the safest trip I'll ever be on," considering one of her companions, Declan Bowman (ENG'15), is an outdoorsy handyman and another, Abriana Tasillo (CAS'15), an EMT. "I felt good about this, like nothing was going to go wrong."
But it did. Just hours after setting up camp earlier this month at the Ammonoosuc Campground in Twin Mountain, N.H., the four found themselves involved in a rescue that would leave them shaken, but heroes in the eyes of many.
"We just happened to be the right people at the right place at the right time," Bowman said last week, sitting in the George Sherman Union with his three friends as they spoke about their experience. "We just did what we could, and that was enough."
Tobin, Bowman, Tasillo, and the fourth camper, Forrest Rosenblum (CAS'15), felt like a swim after their nearly three-hour drive from Boston. So after setting up camp, they hopped back in Tasillo's car for the short trip to the historic Mount Washington Hotel. From there, they walked about 20 minutes to the Upper Falls of the Ammonoosuc River, a popular swimming and cliff-diving spot swollen from recent rains and notorious locally—the BU students later discovered—for swimming tragedies.
The friends stripped to their suits and jumped into the water. While some people were swimming in deep pools downriver from the rocky rapids, others climbed the bordering cliffs to jump into the frothy water below. On one of the taller rocks, Bowman met Freddy Poisson, a 6-foot-3-inch, 300-pound cliff jumper, from Haverhill, Mass. Sensing the BU junior's hesitation about jumping, Poisson reassured him, saying, "I've jumped off a hundred times," just before taking his 101st plunge. Feeling more confident, Bowman followed suit soon afterwards.
Less than an hour later, the four friends were drying off in the sun downriver from the cliff jumpers when they heard screams and saw people pointing. They crossed the stream to get a better look. Another swimmer told them that a man had jumped into the turbulent white waters to save a drowning teenager, but—after pushing the boy to safety on a nearby rock—had been sucked underwater.
Several minutes had passed when Bowman spotted "something in the water that shouldn't be in the water." It was Poisson, almost completely submerged and floating in the stream nearby. He waded in, grabbed hold of him, and started yanking him towards the shore. The rest of his friends and other bystanders followed, and they pulled Poisson out of the river.
Poisson's face was blue, foam trailed from his mouth and nose, and his eyes were dilated and foggy. Tasillo, a BU EMT who was certified in CPR three years ago, knew the signs weren't good: "My first thought was that he was dead," she said. One bystander dropped beside Poisson to start chest compressions, but Tasillo stopped him—she first needed to check for a pulse and breathing. Neither were present, so they started CPR. Still nothing.
Tobin said it was at that point that her friend became "super in charge in a really good way." Tasillo yelled for someone to call 9-1-1 and for everyone to get out of the river (some people were still swimming) as she took over the chest compressions and directed Poisson's girlfriend to give him breaths. More minutes passed, and then Poisson's chest rose and fell ever so slightly. He was alive.
Turning him on his side, Tasillo monitored his breath and his pulse and "kind of yelled at him for about 10 minutes" to ensure he remained conscious. The small crowd around the rescue team started clapping and cheered each time they heard him speak.
"'I can't breathe,'" Tasillo remembered Poisson saying. "Which is great news" she said, "because if anyone can tell you he can't breathe, then he's fine."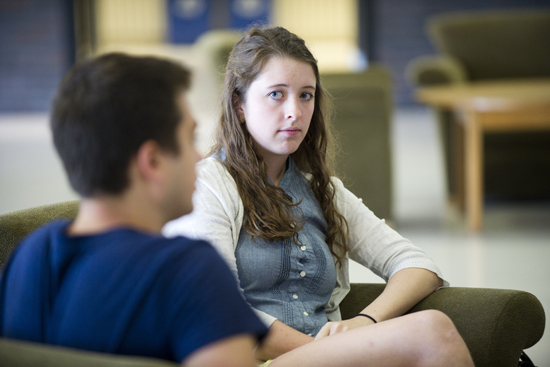 Officials from New Hampshire Fish and Game arrived soon thereafter, followed 15 minutes later by paramedics, who attended to Poisson. Once officials had interviewed the BU students, they packed up and returned to their campsite to "decompress and move on," Rosenblum said. They stuck with their original plan to stay through Monday morning, and even hiked Mount Monroe on Sunday. "We weren't going to leave," Tobin said. "We had already paid for our campsite."
But the incident lingered in their minds. "It was just weird," Bowman said. "I had never seen someone who was basically dead."
"It all happened so fast it was hard to believe," said Tobin, who wondered at the time, "Am I about to watch someone die?"
Once she returned home, Tasillo found several phone messages from reporters. One of them had been in touch with Poisson and wanted to pass along his contact information. She called him, and after a few awkward moments introducing herself, learned that although he was sore from broken ribs (a common result of CPR), he was tremendously grateful for her help.
The whole conversation, Tasillo said, felt bizarre. As an EMT, she's used to meeting people at their worst moments, releasing them to emergency room staff, and never seeing them again. "It was the first time I had a patient talk to me about what I did for them," she said. It was also the first time she'd ever performed CPR on a real person.
Together for the first time since their trip, the four friends recounted their story in fits and starts, laughing occasionally as they shared details. Tobin recalled that Bowman and Tasillo were last minute add-ons to the trip, committing just two days before they left, leaving them all to wonder silently what might have happened if they hadn't gone.
"I was just really proud of my friends," said Rosenblum.
Tobin, nodding: "I would second that."
Interested in becoming an EMT or being certified in CPR? Visit FitRec for more information about Emergency Medical Service classes, including those for BU students, the general public, and current EMTs.