STH Student Tackles Questions of Faith, Through Comics
Gaining a better understanding of what it means to be human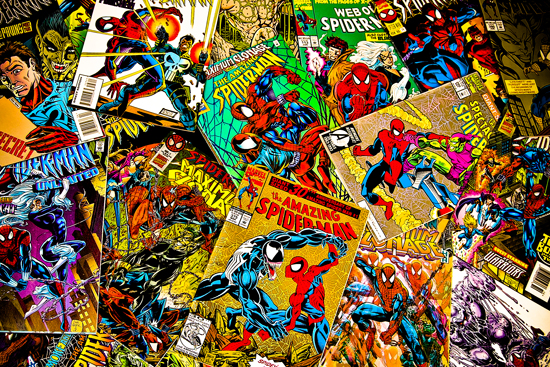 Andrew Tripp believes in the power of stories, and his favorites tackle questions about Christianity, morality, and humanity. The Book of Job is one. Spider-Man is another.
"Peter Parker is finding out what it means to be a good person and how to use your talents for the common good," says Tripp (STH'09,'16), a doctoral candidate in the School of Theology's Center for Practical Theology, of the teenager behind Spider-Man's mask. "There's a huge segment of our culture that's not religious, but has its moral cultivation met through that story."
Comic books aren't the core of Tripp's research—he's writing his dissertation about urban congregations with strong antipoverty programs—but they're far more than a side interest. The self-proclaimed nerd is fascinated by the pop-culture narratives that people explore when they turn away from the church—and in using those narratives to understand how people think about right and wrong.
"As America grows more secular, there's a need for clergy to understand how the unchurched have had their moral development," Tripp says. "When you're pastorally caring for someone, and you're helping them integrate into a healthier story, you need to know the stories that have shaped their lives."
His interest in the issue is more than academic. Raised in the Unitarian Universalist tradition, he found himself drifting away from the church at the end of high school, after his mother died. Still wrestling with questions about spirituality, he found solace in comics, where each character seemed to be struggling with issues he found familiar: Iron Man constantly battled his personal weaknesses while trying to represent peace and justice. The Fantastic Four's Thing appeared impenetrably strong, but mourned for the loss of his humanity.
"It gave me a place to play," Tripp says. "The superheroes and the comeback characters spoke to something profound about what it meant to be human."
He studied chemistry in college and took a job in information technology after graduation. But he found himself longing for the sense of community a church provided, and he joined a congregation near his hometown of Buffalo, N.Y. As he became involved with the church's committees and community service programs, he learned how the older parishioners had made service to the needy a priority throughout their lives and careers.
"Christian love can be such a nebulous term, but the Bible stories concretize what love is: feeding the hungry, clothing the naked," Tripp says. "And in a community that lives out the stories, the wisdom we have about moral discernment comes from those stories."
His "call moment," when it came, was inspired by the many members of his congregation who asked him which seminary he'd be attending—before he'd even applied. "The world was saying, 'This is for you,'" he says. After hearing the stories of the church elders, he was finally ready to begin writing his own.
Tripp, who earned a master's degree at STH before continuing on to the doctoral program, hasn't strayed far from the path that brought him to divinity school: his dissertation focuses on three affluent Boston-area churches that run homeless shelters in their sanctuaries and invite the homeless to participate in regular worship. They're taking Bible verses about economic responsibility very literally, he says, in a way that many affluent congregations do not.
"I want to see if the way they tell the Christian stories differs and affects how they live out the Christian story," he says.
Throughout his studies at STH, and his work as a hospital and hospice chaplain, he's also found a rich life beyond the page. In his conversations with parishioners and patients, he's come to value the discussions that emerge around Scripture as much as the Scripture itself. Much as The Avengers helped him develop moral reasoning, the conversations he's had have helped him refine it.
"When Scripture's only read as a book of truth statements, it reduces it. What's important isn't one side or the other; it's the discussion," he says. "When people have that conversation, the many different voices and many different minds will have a greater wisdom than any one could have."
That's not to say he'll ever leave comic books behind. He contributed a chapter to Graven Images: Religion in Comic Books and Graphic Novels (Continuum, 2010), edited by BU lecturer A. David Lewis (GRS'12) and Christine Hoff Kraemer (GRS'08), and remains an enthusiastic consumer—and critic—of the ongoing Marvel Comics movie franchises. True to form, he prefers the human struggle of Iron Man to the glamorous deities of The Avengers.
"I'm never going to be Thor," admits Tripp, referring to the superhuman strength and powers over nature possessed by Marvel's thunder god character. "But some days, I can be Iron Man."
A version of this story was originally published in the spring 2013 edition of Focus.