Senior Week 2013
Celebratory send-off begins tomorrow
After four years of team meetings, all-nighters, countless papers and exams, and an unhealthy amount of caffeine, the Class of 2013 has earned the right to celebrate its accomplishments with a week of nonstop fun. So BU has commandeered a boat, booked ska band Reel Big Fish, and shut down Fenway Park and Six Flags to all but BU seniors—all part of Senior Week 2013. It's all a lead-up to the final gathering of the Class of 2013—BU's 140th Commencement on Sunday, May 19.
While some events are already sold out, tickets are still available for the events listed below and can be purchased here. Tickets can be picked up at the George Sherman Union activities information desk, 775 Commonwealth Ave. Check the BU Senior Week Facebook page or the University's official senior class website for announcements about extra ticket availability and any weather-related cancellations or changes in venue.
Saturday, May 11
Senior BBQ
Kick off Senior Week 2013 with 3,000 of your closest friends at a massive party in Metcalf Hall. Live music will be provided by Reel Big Fish, and there will be plenty of kababs, sausages, craft beers, and ice cream sandwiches on hand. Seniors will also receive a free keychain and koozie. The Class Gift Campaign coordinators will distribute mugs to donors who have not yet picked them up. This is the perfect way to celebrate the end of finals.
The Senior BBQ is Saturday, May 11, from 7 to 11 p.m. in the George Sherman Union Metcalf Hall, 775 Commonwealth Ave. Tickets are $20. The original location was the BU Beach, but the likelihood of rain has moved the event indoors. Dress is casual. If you are attending the Senior BBQ, tweet #BU13BBQ.
Sunday, May 12
Mural Project
For many seniors, life at BU began volunteering in the First-Year Student Outreach Program (FYSOP). Here's your chance to volunteer on behalf of  the BU community one last time with SYSOP, the Senior-Year Student Outreach Program. You'll assist in painting a vibrant mural in the CFA parking lot through the BU Arts Initiative, leaving a lasting impression on the University.
Join in the painting during two shifts, from noon to 2 p.m. or 2 to 4 p.m., on Sunday, May 12. The CFA parking lot is at 855 Commonwealth Ave. Be sure to dress for a mess.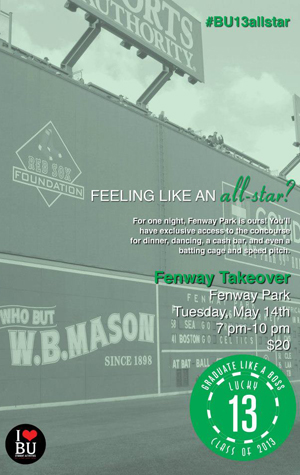 Monday, May 13
Harbor Cruise
With the city lights as a backdrop, cruise the night away on the Provincetown II. There will be a live DJ, food is included, and there is a cash bar on board.
The Harbor Cruise takes place Monday, May 13. The boat starts boarding at 6:45 p.m. and will be anchors-up at 7:30 p.m. You'll return at 11 p.m., and shuttle buses will be on hand to take you back to campus. The Provincetown II is at 200 Seaport Blvd. Tickets are $40.
Tuesday, May 14
Fenway Takeover
On Tuesday night, legendary Fenway Park gets turned over to BU's senior class. You'll have exclusive access to the concourse for dinner, dancing, a cash bar, even a batting cage and speed pitch. Take to the field and snap a picture in front of the iconic Green Monster, and enjoy sweeping views of the Boston skyline with Dean of Students Kenneth Elmore (SED'87) on the Bud Deck in right field. Doors close at 10 p.m., which leaves plenty of time to enjoy the nightlife on Lansdowne Street.
The Fenway Takeover is from 6 to 10 p.m. on Tuesday, May 14, at Fenway Park, 4 Yawkey Way. Tickets are $20. If you are attending the Fenway Takeover, tweet #BU13allstar.
Wednesday, May 15
Six Flags
If you've dreamed of having an amusement park all to yourself (that's right: no lines), then this event is for you. Enjoy an exclusive day at Six Flags New England with your closest senior friends. Your $60 ticket includes round-trip transportation, admission to the park and all the rides, and an all-you-can-eat BBQ.
The Six Flags trip occurs Wednesday, May 15. Buses leave the GSU at 9 a.m. and return between 4:30 and 7 p.m. Six Flags is at 1623 Main St., Agawam, Mass. Students must take the provided transportation because the parking lot will be closed to all other vehicles. Tickets are $60, and if you don't currently have a ticket, you can be placed on a waiting list. If you are attending Six Flags, tweet #BU13sixflags.
Thursday, May 16
808 Bash
Tear up the dance floor, sip some cocktails, and create a few final memories as Senior Week winds down. The 808 Gallery becomes your personal party space for one night.
The 808 Bash will be held at the 808 Gallery, 808 Commonwealth Ave., from 9 p.m. to 1 a.m. Tickets are $20, with a limit of four tickets per person. Seniors may be 18-plus, but any non-BU guests must be 21-plus. If you are attending the 808 Bash, tweet #BU13bash.
Friday, May 16
Champagne Reception
Cheers to the Class of 2013! Raise a glass of bubbly with President Robert A. Brown, your favorite professors, family, and friends at this annual celebration.
The Champagne Reception will be held at the Track and Tennis Center, 100 Ashford St., on Friday, May 17, at 4 p.m. Tickets are $12, with no limit on number of tickets. If you are attending the Champagne Reception, tweet #BU13bubbly.
Tweet what you're up to or what you're most excited about using the hashtags #BU2013 or #BUSeniorWeek. We don't recommend tweeting while riding the roller coasters at Six Flags.
More information about Commencement can be found on the Commencement website.
Tom Vellner can be reached at tvellner@bu.edu.