Rapture, Blister, Burn…and Laughter
Huntington brings play about women, choices, and envy to the stage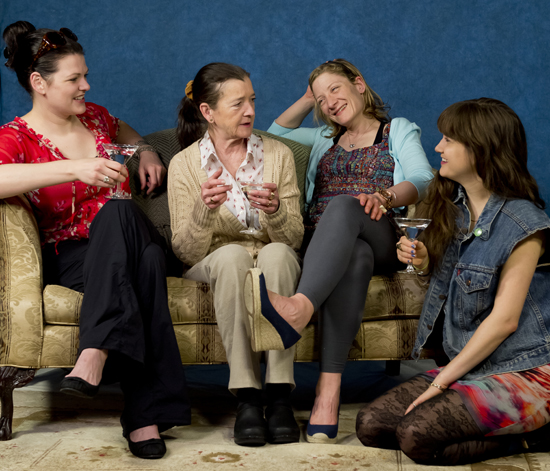 The quartet of women in Gina Gionfriddo's Rapture, Blister, Burn offers a provocative and humorous tableau of the graying of second-wave feminism and the ambivalence of its beneficiaries. Women of all ages are likely to see at least some of themselves in the critically acclaimed play, a 2013 finalist for the Pulitzer Prize, which concludes the Huntington Theatre Company's 31st season.
Praised by the New York Times after its off-Broadway debut as "intensely smart" and "immensely funny," Gionfriddo's play about marriage, feminism, and parenthood is "deeply human," says Huntington artistic director Peter DuBois, who is directing the play, which runs through June 22 at the Calderwood Pavilion at the Boston Center for the Arts.
DuBois' collaboration with Gionfriddo dates back to their graduate student days at Brown University in the early 1990s, when he directed her thesis play, US Drag. In Rapture, Gionfriddo, who explored similar themes in Becky Shaw, tells the story of two women in their early 40s who have made drastically different choices since their graduate school friendship. The central role of Catherine, a highly accomplished, but inwardly conflicted "rock star" feminist scholar and talk-show favorite, is portrayed by Kate Shindle, who was in the Broadway productions of Legally Blonde and Wonderland. Rapture begins as Catherine returns to her small New England hometown to care for her ailing but feisty mother, Alice (Nancy E. Carroll, who appeared in the recent Huntington productions of Good People and Luck of the Irish). Feeling untethered and vulnerable at what she believes is the impending loss of her only parent, Catherine reunites with Gwen (Annie McNamara), now a full-time mother of two married to Don (Timothy John Smith), the man Catherine spurned years ago when she moved to London to pursue her career. Smith had roles in the Huntington's productions of Candide and Ma Rainey's Black Bottom. Rounding out the ensemble as Don's and Gwen's cheeky babysitter Avery is Huntington newcomer Shannon Esper.
Gionfriddo says her play is the story of "women who've taken really different paths and look at each other with a lot of envy." The women gather for what is ostensibly a summer course taught by Catherine, but soon becomes a postmillennial turn on a '60s consciousness-raising session. The characters are all over the postfeminist map, colliding over the acceptability of pornography and male dominance in relationships. And when Catherine begins an affair with Don, high ideals fall prey to the messiness of real life and desire.
"I think Gina's really honest, and that's why it's an intelligent play," says New York City–based actress McNamara, whose off-Broadway credits include Gatz and A Map of Virtue. "If you want to show women, you have to show all the bad things they do to each other. It's not like Sex in the City. You don't have huge fights and make up minutes later. Catherine shows up, she's famous, she's gorgeous, Gwen has her on a pedestal, Catherine sleeps with Gwen's husband, a switch is flipped."
Women continue to be burdened by choices, but for those like Alice, in their 70s and older, feminism "was a very powerful force in their lives," says Barbara Gottfried (CAS'74), an instructor and codirector of undergraduate studies in the College of Arts & Sciences Women's, Gender and Sexuality Studies Program. And so-called second-wave feminism, set alight by Betty Friedan's seminal 1963 book The Feminine Mystique, "was a major force in the way US culture looks now," Gottfried says. Some women have managed to have it all, but for others it's been a struggle, and Gionfriddo's play reflects that, as well as showing the current generation's sense of entitlement, she says. Like Avery, one of a generation of women reaping the rewards of a battle fought before they were born, "they assume it's all going to work out, and no one's going to discriminate against them." But women still don't earn equal pay for equal work, and only privileged women actually have a real choice about whether to stay at home with their young children or not.
"It's not a level playing field," notes Gottfried, who teaches classes on women and the media. She says the character of Catherine, particularly her desperate longing to be part of a couple, reflects a powerful cultural bias against single people. Ours is a culture focused on coupling, and one in which increasingly, in a kind of postfeminist reprise of the '50s, "women are supposed to be everything—sexy, competent, and a great mother who makes great dinner parties," says Gottfried.
DuBois says that Gionfriddo has written "the new feminist play," a play of ideas that also "makes you feel incredibly happy to be in the theater." If feminism is in its fourth wave, he says, "then I think this is one of the leading documents of that wave."
Gionfriddo points out that beyond the discussion of feminism, the play is about the power of love. "All my plays tend to be about why people love each other," she says. "And why people can't love each other."
Rapture, Blister, Burn runs at the Calderwood Pavilion at the Boston Center for the Arts, 527 Tremont St., Boston, through June 30, 2013. Tickets may be purchased online, by phone at 617-266-0800, or in person at the BU Theatre box office, 264 Huntington Ave., or at the Calderwood Pavilion BCA box office. Patrons 35 and younger may purchase $25 tickets (ID required) for any production, and there is a $5 discount for seniors. Military personnel can purchase tickets for $15 and student rush tickets are also available for $15. Members of the BU community get $10 off (ID required) and are also eligible for a special subscribers discount rate. Follow the Huntington Theatre Company on Twitter at @huntington.