Penelopiad Reimagines The Odyssey through the Eyes of Penelope
CFA stages Atwood's spirited all-female tale
In Margaret Atwood's play The Penelopiad, based on Homer's epic The Odyssey, Odysseus' spouse, Penelope, is portrayed in a way we've never known her: caustic, crafty, and unflinching. The biting, often giddy romp of a play, features an all-female cast, led by Christine Hamel (CFA'05), a College of Fine Arts assistant professor of theater. The School of Theatre production runs tonight through March 2 at the Calderwood Pavilion's Wimberly Theatre at the Boston Center for the Arts.
In this contemporary reimagining of The Odyssey, which the author adapted from her 2005 novella, the dead Penelope narrates her tale from a 21st-century Hades, in a state she describes as "liplessness, breastlessness." Joined in the underworld by her 12 unfaithful handmaidens, who were hanged upon Odysseus' return, Penelope recounts her teenage marriage, her desolate Trojan War decades, and the way she outfoxed a parade of suitors during the wanderings of her husband, whose story we all know well.
Known primarily as a novelist (The Handmaid's Tale, The Blind Assassin), Atwood has also written poetry collections. She has received numerous prizes, among them the Man Booker Prize.
Atwood's play "is a wonderful blend of both classical and contemporary sensibilities," says director Elaine Vaan Hogue (CFA'97), a CFA assistant professor and head of theater arts. "Her twist on this well-known myth turns it on its head by giving Penelope the opportunity to tell her story in her own voice."
Vaan Hogue, whose wide range of directing credits includes the recent staging of The Kite Runner by New Repertory Theatre at the Arsenal Center for the Arts, notes that in Homer's Odyssey, Penelope is the faithful, if occasionally restive, wife, who for part of her husband's 20-year absence famously delays her suitors by weaving a burial shroud by day and unraveling it at night. But in the play, she lets loose, "exposing her human frailty by daring to speak without pretentiousness. Her vulnerability is revealed through her finely honed sense of humor and sarcasm," says Vaan Hogue. As reimagined by the playwright, Penelope is exceedingly entertaining.
"It is an echo of an echo of an echo," Atwood has said of her looking glass turn on the Homeric classic. "Both voices—that of Penelope, and that of the 12 handmaidens—speak from the Greek Underworld, where they are free to tell their story, and stretch credulity in The Odyssey." In the play, Penelope "wants to tell" the audience "that she's not what people thought, that other people had told stories about her, but now that she is down in the underworld she doesn't care about social convention; she's going to tell her own story," Atwood said in a 2005 Guardian interview. "Penelope was short, and people emphasized her intelligence, because she obviously wasn't as beautiful" as Helen of Troy. "By the time the suitors got around to her, she was quite old for those times, so you know they were after the loot."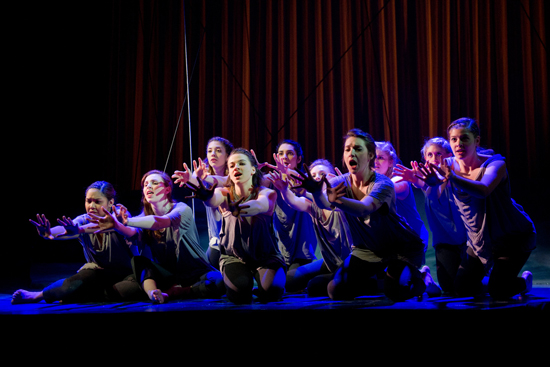 "The play spans 20 years, but its narrative arc is totally nontraditional," says Hamel, who is joined in the cast by 12 acting students. "Atwood's tone and point of view are so cheeky and wry that we can really play. Bringing these broadly drawn but oh-so-familiar male and female characters to life is joyful," she adds, and the cast delights in poking holes in "one of the most famous texts in the canon of world literature."
The Penelopiad runs tonight through March 2, with curtain times Fridays and Saturdays at 8 p.m., Sunday, February 24, at 2 p.m. (with talk-back), and Tuesday, Wednesday, and Thursday, February 26, 27, and 28, at 7:30 p.m. Tickets are $12 for the general public, $10 for BU alumni, WGBH members, Huntington Theatre Company subscribers, students, senior citizens, and groups of 10 or more. Members of the BU community can get one free ticket with BU ID at the door on the day of the performance, subject to availability. The Calderwood Pavilion is at the Boston Center for the Arts, 527 Tremont St., Boston. By public transportation, take the MBTA Green Line to the Copley Square stop or the Orange Line to Back Bay. Purchase tickets here, call 617-933-8600, or visit the Calderwood Pavilion box office.