Mixing Business and Basketball
SMG's Rashidat Agboola excels on the court and in the classroom
To gain some insight into how Rashidat Agboola approaches basketball, consider her summer 2012 schedule . The BU women's basketball power forward rose every morning at 5:30 to lift weights before going to her demanding job as a risk advisory intern for top-10 accounting firm Deloitte. She was juggling two evening classes as well, and still found time for a solo workout at Case Gym each night.
One of the Terriers' most accomplished scholar-athletes, Agboola (SMG'14) leaves nothing to chance. "It's extremely important to prepare in practice so that the game seems easier," she says. "When I was younger, going through the drills in practice was difficult for me, but I got through it and was able to increase my awareness on the court. The harder you work in basketball, the more you improve, and I love that about the sport."
That hard work paid off handsomely for Agboola last season. She led the Terriers in rebounding and blocked 46 shots, for the sixth highest season total in BU history. She was selected to the America East All-Defensive Team and All-Conference Team in the program's final year in the league, all while earning a spot on the All-Academic Team with a nearly perfect GPA.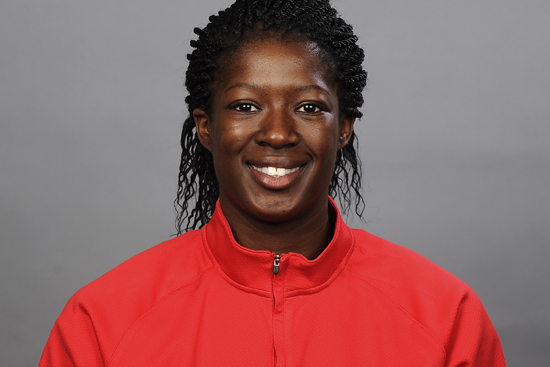 Women's head coach Kelly Greenberg says that while Agboola made an immediate first impression when the team was recruiting her, her commitment and passion for the game continue to deepen. "Watching her play in high school, we loved her energy and work ethic on the court," Greenberg recalls. "Her overall sense of responsibility as a student-athlete impressed us. She's someone who really listens—she's like a sponge that absorbs information and uses it to get better, and that meticulous approach has helped her improve on and off the court during her time at BU. Her work ethic has really put her over the top."
Given her love for the game, it's hard to imagine there was ever a time when Agboola didn't want to play basketball. She grew into her six-foot frame at an early age, and possessed a rare combination of height and quickness, but she says her father and her brother, Tunde (ENG'10)—who would later become an All-Conference player at Methuen High School and a member of the BU men's basketball team—had to cajole her into taking up the sport when she was 10. "I just wanted to be a kid," Agboola recalls. "Eventually I joined a recreational league with my friends and after one year, I completely fell in love with the sport."
Her passion for the game has made her a role model for her teammates. "When your best player is also your hardest worker, it makes life easier for the coaching staff," Greenberg says. "Our incoming freshmen hear all about Rashidat and her legendary work ethic, and when they finally see her in practice, going through drills she's done hundreds of times at full speed and never cutting corners, it just sets a great example."
"When I committed to BU, I would go to games and could see that Rashidat was a great player," says Sarah Hope (CAS'17). "When I actually got here and saw that she was great because she worked so hard during the off-season as well, I felt motivated to match that type of effort."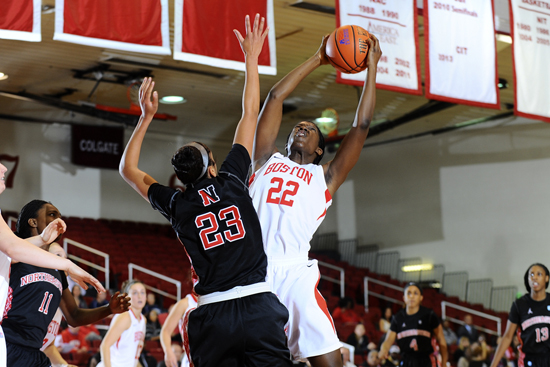 Agboola credits the team's upperclassmen when she was a freshman for inspiring her. "I was in a great position as an underclassman because I could learn from the post players in front of me," she says. "I saw how hard they worked and how that motivated everyone else. Those role models helped me understand that when you better yourself, you better the team, and that's something that's stayed with me."
Although she's known for her intensity on the court, team members say there's another side that most fans never see. "Off the court, she's more of a jokester," says cocaptain and close friend Whitney Turner (CAS'14). "She loves pranking people and her laugh is contagious. She's just an incredible teammate who keeps everyone loose, but isn't afraid to be demanding when the intensity is lacking."
Despite her love of the game, Agboola is preparing for a future where basketball will take a backseat. She has already accepted a position with Deloitte in the firm's Washington, D.C., offices and hopes to become a certified public accountant.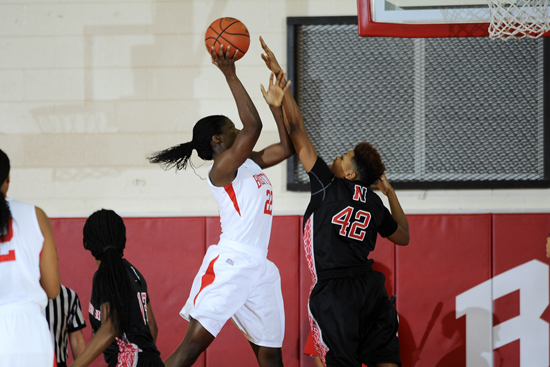 "It hasn't really hit me yet," Agboola says. "I know I'm going to miss it afterwards, but right now I'm just concentrating on this season and trying to enjoy every game we have. Hopefully, the other seniors and I can use all our years of experience and hard work to make a run at a conference championship."
As she prepares for the end of her playing career, she reflects on how her time on the court has prepared her for the future.
"Being part of this team has taught me so much," Agboola says. "I've learned how to work with people, which is going to be a crucial part of my career, and I've learned how to manage my time no matter how busy my schedule gets. It's also shown me how friends can turn into family. We've been through so much together that my teammates are really like a second family to me, and the relationships I formed with them will always stay with me."
The BU women's basketball Terriers host Yale University in the fourth game of their nonconference schedule tonight, November 19, at 7 p.m. at Case Gymnasium, 285 Babcock St. Tickets are $7 for the general public and $5 for BU students, faculty, and staff.
Nate Weitzer can be reached at nweitzer@bu.edu.