Mayor Menino a Welcome Addition to BU
Two decades of hands-on leadership seen as invaluable asset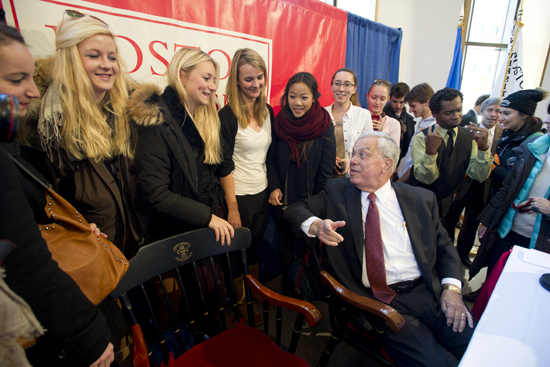 At the bottom of this story, BU Today includes a compilation of related tweets through Storify.
Students and faculty welcomed the announcement yesterday by President Robert A. Brown that outgoing Boston Mayor Thomas M. Menino (Hon.'01) will join BU in February as codirector of the Initiative on Cities (IoC), a new center that will invite leaders of cities around the world to share their hands-on knowledge with academics and scholars from BU and other universities.
Lucy Hutyra, a College of Arts & Sciences assistant professor of earth and environment, who has written often about the growth of cities, said the new initiative "provides an opportunity to bring together science and policy in potentially transformative ways."
"As a major research university in Boston, we have a responsibility to connect our scholarly research with the needs of our community," Hutyra said. "With 20 years of experience running Boston, Menino understands how policies are developed and implemented, and can help take our science to the streets and community in an effective manner. The knowledge, leadership, and innovation from this new Initiative on Cities can spread to other cities to make smarter and more efficient cities."
The IoC will also tap academic expertise in disciplines across the University, among them engineering, education, health care, law, economics, and environmental studies, and will sponsor symposia, convene meetings to support policy makers, and hold an annual meeting, where city leaders from around the world will discuss such things as urban governance and the impact of climate change. It will be affiliated with BU's Frederick S. Pardee Center for the Study of the Longer-Range Future and will study the governance and organization of the world's swelling urban areas. Graham Wilson, a CAS professor and chair of political science, will codirect the IoC.
Speaking Wednesday at the press conference announcing his appointment, Menino pointed to the University's "long history of contributing knowledge that makes a difference in the world. I look forward to playing my role in that great tradition, and making sure that our cities thrive for years to come," he said. "We are going to work together to talk about economic issues and environmental issues. We are going to take scientific talk and turn it into street talk."
Enrique Silva, a Metropolitan College assistant professor of city planning and urban affairs, said he found the new initiative "very bold and sophisticated."
"It's innovative in that it recognizes that no single discipline owns the city," he said. "It also recognizes that to work on the city, and the range of issues that the city presents, the University needs to harness the various research and disciplines that we have here. The initiative will break silos and allow us to look at urban issues much more creatively."
Natalie McKnight, interim dean of the College of General Studies and a professor of humanities, was among the crowd of students and faculty attending the press conference. "Menino mentioned that increasingly it's the case that the bulk of the Earth's population is moving into cities," she said. "That's why it's so important to study how to have sustainable and high functioning cities. As a scholar of 19th-century Britain, I've studied how London was burgeoning, but had no sewer system, so illness and disease took over. Today in major cities there are similar problems that need to be worked out."
Students at the standing-room-only event at 100 Bay State Road said they were pleased that Menino, who said a few weeks ago that he had received offers to lecture and organize conferences at Harvard, Northeastern, Brandeis, and Suffolk universities, had decided on BU.
"I'm glad that Menino chose BU," said Devon McCarthy (CAS'16). "It rocks that we got him over Harvard."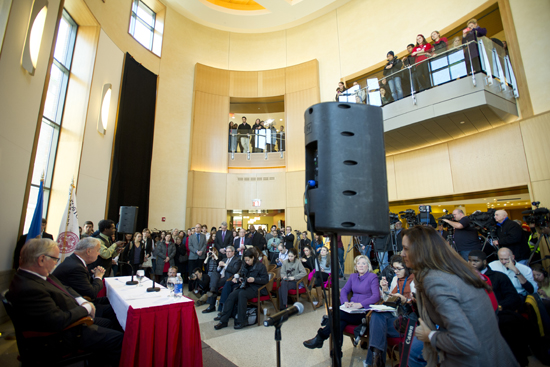 Jonathan Candelaria (COM'15), a First Year Student Outreach Project coordinator working in urban engagement last summer, said he's excited to see such a prominent political figure come to BU. "What really interests me, though, is that he'll be focusing on urban issues while he's here," he said. "Having studied some of Boston's urban issues this summer, I'm eager to see what kind of societal impact he hopes to make through the BU community."
"After being mayor for almost two decades, the wealth of experience and knowledge Menino brings will definitely enhance our campus," said Cissy Hu (SMG'14). "I think it'll be just great to have him on campus as a resource."
Harper Schmidt (COM'14) was in the crowd with fellow members of the BU Public Relations Student Society of America. "We spoke to him about his new role on campus," Schmidt said. "He invited us to come by and meet with him in his office as soon as he gets to BU."
"Someone who has had such a long and influential run as mayor of Boston and in politics in general is an incredible addition to the backbone of academia at BU," said Michelle Ortega (CAS'14). "Even though he might not be directly teaching, his presence will only enrich the perspectives available to students and bring new and refreshing ideas and questions to the forefront of discussions on campus."
Menino received an honorary degree from BU in 2001, and at the 2013 Commencement ceremonies in May he was awarded the Boston University Medallion for his service to the community. At the same time, Brown announced that the Boston Scholars Program, which awards merit scholarships to graduates of the city's public schools, would be renamed the Thomas M. Menino Scholarship Program and recipients referred to as Menino Scholars.