Lifelong Friends Compete at Head of the Charles
Brits to row for BU in men's championship eights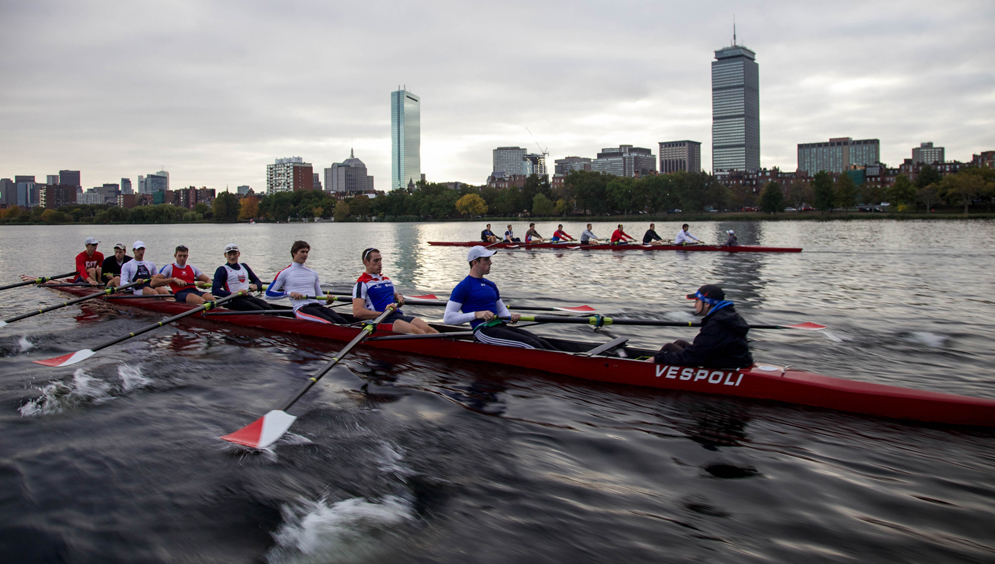 John Carter and Vassilis Ragoussis have been rowing together since they were 13-year-old students in Abingdon, England. For Carter, it's in his blood. A third-generation rower, he took up the sport at his grandfather's behest. Ragoussis says he just wanted to try something different.
As members of the BU men's rowing team, the two and their teammates have been meeting at dawn for months to prepare for this weekend's Head of the Charles, the world's largest regatta. More than 9,000 rowers and some 300,000 viewers are expected to gather on the banks of the Charles River for the two-day event, which begins tomorrow.
For Carter (CAS'16) and Ragoussis (CAS'16), rowing on a world stage is nothing new. Last summer, they won the Thames Challenge Cup at the Henley Royal Regatta in Oxfordshire, England. One of the largest regattas in the world, Henley is a five-day event pitting boats against each other, with the winner of each race advancing to the Cup Finals.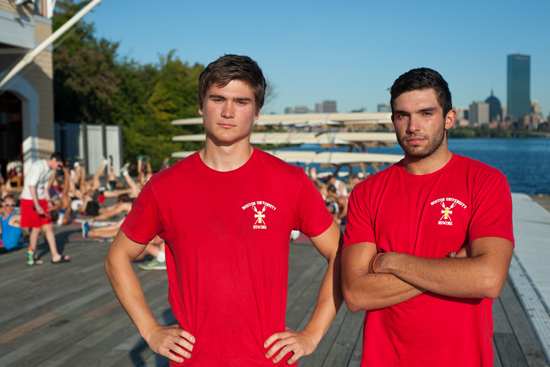 During the semifinals, Ragoussis sat in the first, or stroke, seat of the eight-man boat, and Carter rowed in the middle. "The stroke man sets up the rhythm for the race," Ragoussis says. "You have to be very cool and collected and plan the race based on what the crew is feeling behind you." Although they were trailing for nearly the entire race, Ragoussis was able to pace the boat well enough that the crew pulled away and won by a split second, eventually taking home the Cup.
During practices for the Head of the Charles, the two often ended up racing against each other, but for this weekend's regatta, they'll be in the same boat, with Ragoussis again expected to occupy the stroke seat.
The old friends say they've come a long way since their early days as rowers. "We weren't very good at first," Ragoussis says, recalling their early years at Abingdon School. "One time we rowed together in a doubles boat, and we capsized three times. At one point when we flipped over, John's feet got stuck, so I had to dive under and basically save his life, but we're much better now."
By their last year, the two were among the best amateur rowers in England. After Abingdon School, they took a year off to row for the Leander Club before deciding to attend Boston University.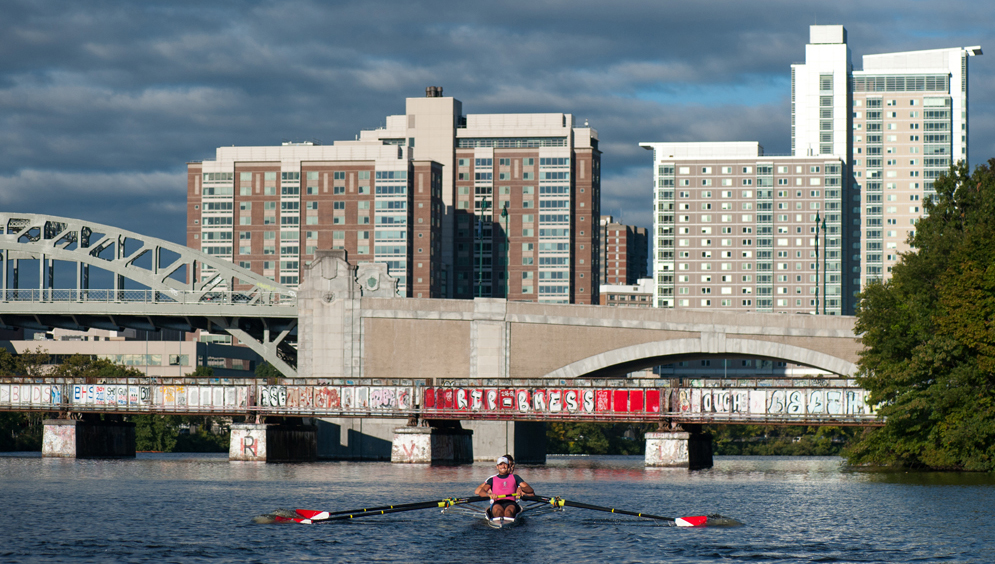 "Boston was the right choice for us," Carter says. "We definitely made the decision together, we both have our own agendas and different reasons to choose a school, but we ended up coming here and it's great to keep rowing with Vass."
Ragoussis acknowledges that blending his rowing style with that of his American teammates took some getting used to. "You have to adjust," he says. "Everyone has a different background, but when we come here, we all wear the same BU shirt and we row together."
"You have to have everyone on the same page before a race," says men's head coach and former Olympian Tom Bohrer. "If anything unexpected happens, if someone's just a little too late or early, they're working against each other."
In the days leading up to the Head of the Charles, Bohrer could be found, megaphone in hand, shouting advice from a motorized skiff. "The more run you get," he reminded them during one practice, "the more time on the glide."
Carter says that kind of feedback has been invaluable preparing for this weekend's regatta. "The coaches can see a lot more from outside the boat, so it's their job to mold us together into a crew. It's definitely a challenge, but I think they do an amazing job of integrating the foreign rowers with the Americans."
Ragoussis and Carter are among six international rowers on the team, but none has their kind of long-term chemistry. "I know exactly what I'm getting with John," Ragoussis says. "We know each other through and through, so it's really good when we're in a boat together, because we row the same and we know what we want to do during a race."
Much the same applies for Carter. "I try to copy Vass, and send that down the boat," he says. "He really sets a great rhythm for the rest of the guys to follow."
Bohrer is looking forward to seeing how his team fares this weekend and how Ragoussis and Carter perform. "We have two boats that will finish close together towards the top of the rankings in the championship eights," Bohrer says. "John and Vass definitely bring their boat to a higher level, and I've been impressed with their intensity since they arrived. It should be fun to watch."
Ragoussis says that preparing for the Head of the Charles has been one of the most difficult and exhausting experiences he's faced. And while he expects to have fun this weekend, he also wants to help the men's rowing team win. "We want to go out there and do something BU has never done before—win the championship eights."
The 49th annual Head of the Charles begins at BU's DeWolfe Boathouse tomorrow, Saturday, October 19, at 8 a.m., and continues on Sunday, October 20. The men's club eight competition begins Saturday at 2:04 p.m., the women's club eight at 2:20 p.m.
The men's championship eight race is on Sunday at 2:54 p.m., followed by the women's championship eight at 3:06 p.m. A full event schedule can be found here. All races are free and open to the public.
Memorial Drive will be closed between Western Avenue and Fresh Pond Parkway from 9 a.m. to 6 p.m. on Saturday and from 9 a.m. to 7 p.m. on Sunday for the Head of the Charles. The right lane of Soldiers Field Road westbound will be closed between Western Avenue and North Harvard Street from 8 a.m. to 6 p.m. both Saturday and Sunday.
Nate Weitzer can be reached at nweitzer@bu.edu.