LAW's Hylton, MED's Costello Named Warren Distinguished Professors
Join eight faculty in career honor
With a PhD in economics from MIT and a law degree from Harvard, Keith Hylton has melded the two disciplines in his teaching and research, using each to illuminate the other. A leader in the increasingly important field of mass spectrometry, Catherine Costello teaches and collaborates with medical researchers, pharmacologists, chemists, and clinicians around the world. For their scholarly contributions, both have been named William Fairfield Warren Distinguished Professors, joining eight other faculty in an honor that will stay with them through their careers.
"Their intellectual and scholarly contributions are exemplary and help contribute to Boston University's growing recognition as one of the best research universities in the world," says BU President Robert A. Brown in announcing the appointments.
A former tenured professor at Northwestern University School of Law, Hylton joined the School of Law faculty in 1995 and was previously the school's Honorable Paul J. Liacos Professor of Law. He is well known for his scholarship in law and economics and teaches courses in antitrust, torts, and labor law. Hylton says he was surprised, flattered, and honored when he was told of the professorship at a meeting in Brown's office.
"I already know some of the holders of a Warren chair, and one thing that's clear is at BU there are many professors who are at the top of their fields, who are the best academics in the world," he says. "I'm honored to be part of this group and will do my best to make what's good about this institution better known."
He describes the thrust of his work as nurturing a greater understanding of economic concepts as they relate to the law. "The primary function of law school is to make students think like lawyers, and sometimes a lawyer has to think like an economist; for example, when they decide whether to pursue a case or settle, that's an economic question," he says. "I look at topics that lawyers have been arguing about for a long time and try to use economics to make sense of these arguments, and try to find some theory or explanation to allow judges to better understand what's good or bad about what they're doing."
Hylton is the author of four books, most recently Laws or Creation: Property Rights in the World of Ideas (Harvard University Press, 2012), coauthored with Ronald A. Cass, a former dean of LAW. Hylton has written articles and filed amicus briefs on the function of punitive damages in cases such as lawsuits targeting Big Tobacco, an area of the law that has sparked debate among laypeople, politicians, and legal scholars. "You're talking about penalties designed to change people's behavior, and we must understand what people's motivations are and how penalties would change them," he says. "My main criticism is that the US Supreme Court has issued several decisions that cut back on punitive damages without looking very seriously at their function."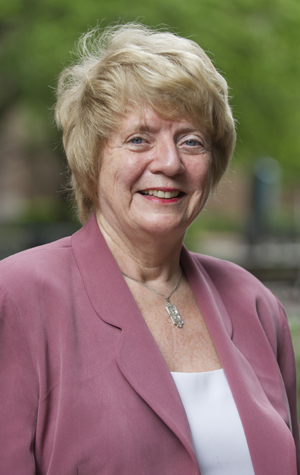 Costello, a School of Medicine professor of biochemistry and of physiology and biophysics, has a secondary appointment as a College of Arts & Sciences professor of chemistry. She arrived at BU in 1994 and established the internationally recognized BU Center for Biomedical Mass Spectrometry. She is one of four MED faculty working together to develop and apply high-end instrumentation and methods. "Having appointments in several departments is sometimes regarded as odd, but this professorship underscores the value of crossing boundaries," says Costello, whose list of honors includes the 2010 Field and Franklin Award from the American Chemical Society.
Funded by the National Institutes of Health, her lab is devoted to improving the sensitivity and applications of mass spectrometry, an analytical technique used to determine the composition of large molecules such as the proteins and carbohydrates that make up blood and other body tissues. Mass spectrometry is an increasingly valuable tool in clinical and diagnostic medicine. Used to analyze inorganic as well as organic solids, liquids, or gases, it determines the composition of compounds by ionizing them and comparing their molecular weight, or mass, before and after the process. Asked to explain her work in lay terms, Costello likes to say, "I do puzzles."
"We can look at the structure of even very large molecules and look at how they change with the development of a disease," she says. "If these molecules are on the surface of a cell, such as a cancer cell, we can look at markers that take the cell somewhere, and examine subtle differences in the structure of carbohydrates or proteins." In her years of developing and refining mass spectrometry applications, Costello, who collaborates on research of cancer, infection, and antibiotic-resistant Lyme disease, has seen the field grow exponentially. "We now have the sensitivity to do things you couldn't even think about doing before," she says. "We can look at molecular changes contributing to cardiovascular disease in people who are obese or have diabetes."
The William Fairfield Warren Distinguished Professorships are named for the University's first president, who led BU for three decades, beginning in 1873. The endowed professorships are supported by the William Fairfield Warren Fund. Among the honorees are George Annas, a School of Public Health professor and chair of the department of health law, bioethics, and human rights and a School of Law and School of Medicine professor, and James Collins, a College of Engineering professor of biomedical engineering.