Huntington Ignites The Power of Duff
Timely drama is "uniquely comic and unabashedly theatrical"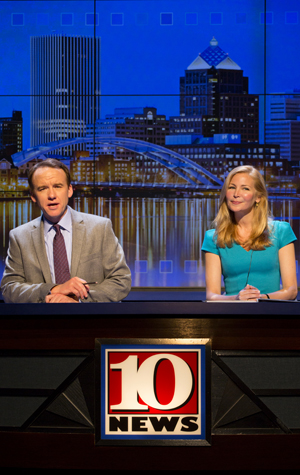 The transformative events of Stephen Belber's drama The Power of Duff are set in motion when a jaded upstate New York newscaster, jarred by his father's death, begins praying on air. It's the story of a man's journey "from isolation to intimacy—about being connected to something larger than yourself," says Russell G. Jones, who plays troubled Nigerian immigrant Joseph Andango in the current Huntington Theatre Company production.
Jones' Huntington stage debut marks his second turn as Andango in the critically acclaimed play, which runs through November 9 at the Calderwood Pavilion at the Boston Center for the Arts.
The journey of the spiritually starved Duff and how he rocks his small world as his viewer audience expands is timely, "uniquely comic, and unabashedly theatrical," says Huntington artistic director Peter DuBois, who is directing the production, staged in association with New York Stage and Film and Vassar College's Powerhouse Theater. In addition to Jones, the production features David Wilson Barnes (Capote, 30 Rock) as Duff, television and film actresses Amy Pietz (The Office, Caroline in the City) and Jennifer Westfeldt (Killing Jessica Stein, Friends with Kids), and Ben Cole, Brendan Griffin, and Noah Galvin.
BU Today recently spoke with Jones (CFA'92), who attended the College of Fine Arts for two years, from 1988 to 1990, before heading to New York to launch what has become a successful stage, television, and film acting career. A member of the LAByrinth Theater Company since 1995, he received an Obie Award for his performance as Christian in Lynn Nottage's Pulitzer-winning drama Ruined in 2009.
BU Today: This is your second time playing Joseph Andango. You performed the role this summer at Vassar and had done a reading prior to that. Is the experience different with each production?
Jones: It's completely different every time. The advantage is thinking I have a good idea how things should go, and the disadvantage is thinking I have a good idea how things should go. But every single choice is different, even if it's the same choice, because it's a different lens.
What are the demands of this role?
I play Joseph Andango, a Nigerian immigrant who has been living with HIV for double-digit years, and I come into the play because Duff does a special story on health insurance. In the play, I've recently lost my job, and I come in as a blip on a screen, but I become one of the humans Duff connects with on an intimate level. I want to be naturalistic and realistic in this production, so there's a progression of disease and a level of sickness that I have to chart. I'm in pretty good health and take pretty good care of myself in real life, and I'm playing someone on the cusp of death.
Is this an especially physical performance?
I'm a really physical actor, so all my performances are really physical. A part doesn't resonate to me as a full experience until my body has made some choices about the physical life of the character. Even in staged readings I'm physical, because that's how it works for me. Some actors are more cerebral.
The play seems particularly timely in terms of its subject matter.
The play is definitely timely right now. I think the draw for this play is about putting the value on human connection, realizing at some point in your life that what actually matters is one's relationship to other people. Everything held in esteem in today's society is created outside ourselves, so speaking to a value innate in human beings is a revolutionary idea in the world now, and that will resonate with audiences.
The play is a comedy, yet at the end many audience members are in tears.
In the writing there's definitely a balance between humor and more profound realizations about being a human being. You know, the play began as a screenplay and would work really well as a film. It has a mix of laughter and tears.
How does the play address people's spiritual hunger in today's world?
That's the most important aspect of the play. It's not talking about religion as much as it's talking about spirituality being innate to the human experience. The main character's journey from isolation to intimacy, the thing that enabled that journey, is his embracing some sort of spirituality. I just came from yoga class; when I started going I was doing the poses the teacher told me to do, but I was a mess, nothing was happening. But eventually you develop a practice, and the same is true of an acceptance of spirituality. You start with training wheels, and then you can compete in the Tour de France.
Can you talk about your experience at BU? Who were your mentors?
I came to Boston in 1988, my first time outside of Cleveland (I grew up in Shaker Heights) for any amount of time. I left at the end of my sophomore year. I decided to spend the summer in New York and just never came back. I still have friends from BU who I consider close friends, and it's been 20 years. I call myself a physical actor and the body awareness work at BU and how we approached it really resonated with me.
Jon Lipsky had a once-a-week class called Locals, and you could do whatever you wanted, monologues, or scenes, or you could sing a song or tell a story. Working that way has reappeared in different places in my life. In New York I managed this open mike event called the Lobby, which had that same feeling, that everything is okay, whatever mode of expression.
The Power of Duff runs through Saturday, November 9, at the Calderwood Pavilion at the Boston Center for the Arts, 527 Tremont St., Boston. Tickets range from $20 to $89 and may be purchased online, by phone at 617-266-0800, or in person at the BU Theatre box office, 264 Huntington Ave., or at the Calderwood Pavilion box office. Patrons 35 and younger may purchase $25 tickets (ID required) for any production, and there is a $5 discount for seniors and military personnel. Student rush tickets are available for $15 at the box office two hours before each performance, and members of the BU community get $10 off (ID required) a regular price ticket. Members of the BU community are eligible for a special subscription rate. Call 617-266-0800 for more information. Follow the Huntington Theatre Company on Twitter at @huntington.