Cute, Cuddly, Calming: Therapy Dogs Visit Mugar
Advice for reducing stress as finals approach
The end of the semester—yes, finals' time—is a perfect time to meet new friends, especially if they're the furry four-legged kind—like Georgie, an energetic yellow lab who summers in the Outer Banks, and Clark, a French bulldog who describes himself on Facebook as "the Lady Gaga of the canine community."
Clark and Georgie will be among 10 therapy dogs from Dog B.O.N.E.S (Building Opportunities for Nurturing and Emotional Support) visiting Mugar Memorial Library Thursday and Friday evening as part of an effort to help students, faculty, and staff relieve stress. The event is first-come, first-served, with each group of five visitors allowed a 10-minute session with a friendly pooch.
Ann Marie Shafer (COM'08, CFA'17), Mugar's evening circulation manager, has organized two such events in the past, and she knows how helpful it is to pet a dog at the end of a stressful day. (She had a border collie growing up and is the proud new owner of a borgi.)
Dogs have the ability to sense human emotions, Shafer says, and won't ask about your homework or unfinished projects. They also know how to relax. "They make you stop worrying about other things," she says, "and just concentrate on this fluffy adorable thing in front of you that wants nothing more than to just hang out and get belly rubs."
That can provide a refreshing break to many students, who have reason to be stressed this time of year, says Margaret Ross, director of Behavioral Medicine at Student Health Services. They need to finish all the work they may have put off until now, in addition to writing final papers and studying for exams. They may feel pressure to maintain a particular GPA because of scholarship requirements, personal goals, and family pressure. And at the same time, they want to hang out with friends before they all go home for the holidays and or with friends studying abroad spring semester.
"In a couple of weeks, there's a whole lot to do and feel," Ross says. "People respond to that often by having their bodies go into overdrive," meaning their heart rate and breathing accelerate, appetite fluctuates, and sleep patterns change. "You may not feel totally like yourself because there's so much going on."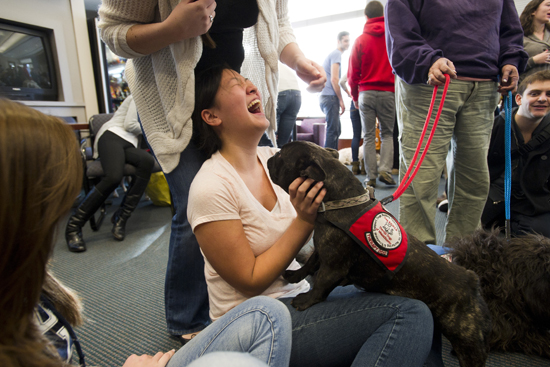 Normally, these changes are fleeting and subside once finals pass. But to get from here to there, Ross says, "the basics are the best." She and SHS wellness coordinator Katharine Mooney (SPH'12) provide some helpful reminders on how to manage stress:
Don't cheat sleep. All-nighters usually backfire and guarantee students aren't at their best mentally.
Eat three square meals a day. Vitamins are even more essential during times of stress.
Stay hydrated. Remember to bring along a drink or take a water fountain break during long study sessions.
Exercise regularly. Get outside, take a walk, or go to the gym three to four times a week to move your body and clear your mind.
Check in with friends and family, but set limits. "Say hi and let them know that you're OK and just working hard," Ross says.
Power down. "Social media can be a help or it can be a problem," says Ross. If "it's just adding to your stress, it's OK to shut devices off."
Maintain perspective or spirituality. "It's important to remember that there's a world out there and there's something out there larger than yourself," Ross says.
Practice mindfulness. Don't fixate on regrets or concerns about the future and focus on the activity at hand.
When these basic steps don't help or friends notice something is wrong, students should seek help at Behavioral Medicine. "If you're having thoughts that you don't recognize or are scaring you, then call," Ross says. "Sometimes just coming in and setting aside time to really talk about yourself can help."
That's often enough to get students back on track. But if it isn't, Ross and her staff will recommend a follow-up appointment or refer them to an outside counselor for long-term care.
"There are many doors you can go through to get help for yourself or a friend," Ross says. Student Health Services, the Dean of Students Office, University chaplains, resident assistants, and the Boston University Police Department are all important resources. "The main thing is to pick up the phone and call someone. We will get you to the right place."
Mooney also recommends visiting the wellness blog Spread the health—which is written by students and addresses topics like stress, nutrition, fitness, and sex—or attending a Stress Buddy workshop conducted by Student Health Ambassadors.
So if stress has you down, why not start managing it now? Visit Mugar Thursday or Friday night for a therapy dog session. Shafer recommends arriving early to grab a spot in line. If you don't get in immediately, you will be told the expected wait time. If you need to run an errand or grab a bite to eat, you can put your name on a list and come back for your turn.
The experience is worth the wait, Shafer says: "People definitely have told me how relaxed they were and happy to do something like this. It just takes their mind off of things."
The Dog B.O.N.E.S. Therapy Dog Teams will be at Mugar Memorial Library, Room 205, Thursday, December 12, from 5 to 8 p.m. and Friday, December 13, from 5 to 9 p.m. Students, faculty, and staff are welcome to attend. For questions about the event, email mugardogs@gmail.com.
Those interested in seeking confidential mental health evaluation, short-term counseling, intermittent long-term therapy, medication management, or referral for ongoing counseling can contact Behavioral Medicine. Other resources available are the Center for Psychiatric Rehabilitation, the Danielsen Institute, the Center for Anxiety and Related Disorders, the Samaritans of Boston suicide hotline, and the Sexual Assault Response & Prevention Center.