Bike Safety Focus of BU's Sustainability Festival
Free tune-ups today for those who bring bikes
Get a sticky note and jot this down: Bring bike to campus today. Why? Because you could score a free bike tune-up along with a helmet, lights, and other cycling swag just by showing up at Marsh Plaza between 11 a.m. and 2:30 p.m.
It's all part of Boston University's Sustainability Festival. Bike Safety, sustainability@BU, and Dining Services are hosting the festival, which will feature free food, biking gear, and information tables attended by student environmental groups and representatives from organizations like Goodwill, Next Step Living, and TechniArt. The Thursday Farmer's Market, usually held at the GSU Plaza, will also move to Marsh Plaza this week with its collection of fruits, vegetables, honey, bread, and pastries from local farmers and producers.
Festival organizers decided to focus the event on bike safety this fall following a year that saw two students, Christopher Weigl (COM'14) and Chung-Wei Yang (CAS'15), killed in cycling accidents.
"Everyone's aware of the tragedies that occurred on our campus," says Webb Lancaster, Auxiliary Services director of operations. "We're doing everything we can to make cycling, walking, and driving on our campus safer."
This summer, after working with Lancaster and his team, the city of Boston made several safety improvements to Commonwealth Avenue, including stenciling the message "Look Left for Bikes" on crosswalks across campus. The city also painted bike lanes bright green to encourage drivers to pay more attention to cyclists at busy intersections. Reflectors were installed along the left edge of bike lanes so that motorists can easily see them at night.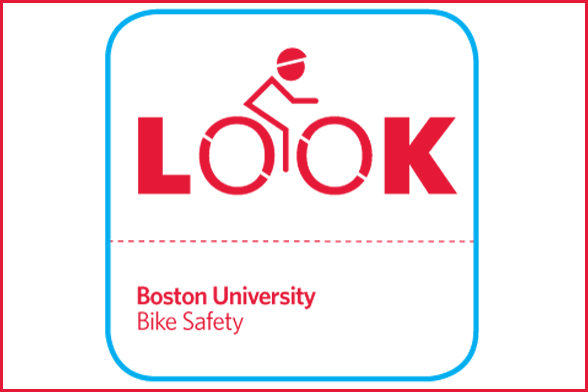 Craig Hill, Auxiliary Services associate vice president, says the University will evaluate the effectiveness of improvements, mainly by tracking the number of bike accidents. Safety advocates welcomed announcement of the improvements last March, but some thought additional measures might be necessary. Hill says one of those suggestions, removing metered parking spaces close to busy intersections, will be considered by the BU Bike Safety Committee this academic year.
This fall, Bike Safety is launching two new features that could help save lives and ensure the proper reporting of accidents. The first is a one-inch-square transparent sticker that drivers apply to their side view mirrors reminding them to "Look" for cyclists before turning or opening a door. Each BU parking permit holder was issued two per vehicle this fall. The clear clings are also available at Parking & Transportation Services, 1019 Comm Ave., Judicial Affairs, 19 Deerfield St., and local bike shops like Landry's Bicycles, 890 Comm Ave.
The second safety feature is the BU bike accident tool kit, a free mobile application that works on Droid and Apple platforms and advises cyclists how to properly report accidents. Users follow prompts to stamp the time, date, and GPS location of the accident, Lancaster says, and they're asked if they need medical assistance. They're also coached to take photos and video of the scene and gather appropriate information, such as name, license number, and insurance company, from others involved in the accident. The form can be saved, emailed, or sent to Active Frequency, the app's designer, which will forward it to BU or the city for proper record-keeping. The tool kit could also come in handy for motorists and pedestrians. Lancaster says the app will be out later this month, but that smartphone owners can visit the Bike Safety page now to request notification when the version they need is available.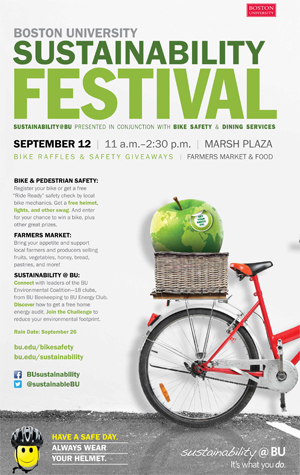 "The city of Boston has statistics on cycling accidents, but only from those cases where the police or an ambulance is called," Lancaster says. "For the most part, you don't get accurate information on bike accidents that don't result in damage to the bike or an injury."
Visitors to Bike Safety's table on Marsh Plaza can grab the "Look" clings. That's also the spot to collect a free helmet, reflectors, and a bike repair kit or become the owner of a 2013 Trek Earl, which BU will be giving away. Mechanics from Landry's, BU Bikes, Urban AdvenTours, and CommonWheels Bicycle Co-Op will be stationed nearby to service bikes free of charge. And representatives from bike advocacy groups, such as Livable Streets Alliance, Boston Cyclists Union, and Bikes Belong, will anchor information tables.
Save That Stuff, Zipcar, and Goodwill will also have stands at Marsh Plaza, as well as Next Step Living, an organization that provides free home energy audits, and TechniArt, which develops and markets products like smart power strips and lightbulbs that promote the use of alternative energy.
And sustainability@BU will be handing out reusable coffee mugs and encouraging visitors to Join the Challenge, a campus-wide campaign in which school and college teams compete for points by performing one sustainable action each month. Leaders from more than a dozen sustainable student organizations, such as the BU Beekeepers Club, Global Environmental Brigades, and the Organic Gardening Club, will distribute information about club activities.
"We're laying out a smorgasbord of opportunities for students," says University sustainability director Dennis Carlberg. "People are thinking about what they can do to get involved, and this is a chance to do it, hopefully on a beautiful day."
The BU Sustainability Festival is today from 11 a.m. to 2:30 p.m. on Marsh Plaza. In case of rain, the festival will be moved to September 26.