Ban the Tan?
FDA tanning bed warning proposed; adults-only rule could be next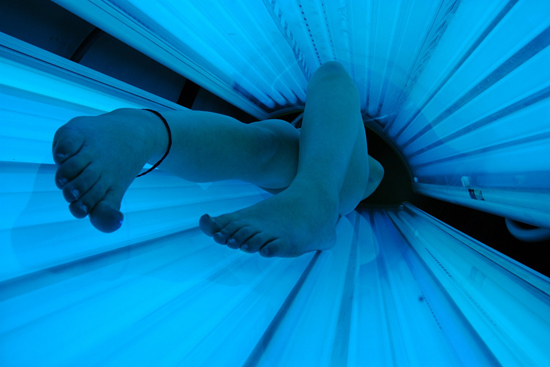 Seven years ago, when Brittany Lietz, Miss Maryland 2006, was suffering from melanoma, she blamed her cancer on obsessive indoor tanning.
Barbara Gilchrest, a School of Medicine professor of dermatology, later heard Lietz speak at a federal meeting pondering regulation of tanning booths. Now, years after that meeting, the Food and Drug Administration has proposed that warning labels be placed on all tanning beds (as is already required in some states), and the agency says its next step may be a ban on the use of tanning beds by minors.
Gilchrest represented the American Academy of Dermatology at that long-ago meeting, and she has spoken out about tanning's dangers amid industry pushback touting it as a source of illness-fighting vitamin D.
"The lifetime risk of melanoma is about one in 50 or higher for everybody," says Gilchrest. "And you considerably increase those risks if you're fair-skinned and tanning." The Boston Globe reports that 70 percent of US users of tanning salons are women between 16 and 28, and melanoma rates for girls in the 15 to 19 age range have doubled since the 1970s. While direct evidence tying those rates to indoor tanning is wanting, the paper says, most dermatologists believe it's the culprit.
Gilchrest spoke with BU Today about the FDA's proposal.
BU Today: This nationwide requirement—why has it taken so long?
Gilchrest: I guess they're busy at the FDA. I cannot explain why it should take that long. The FDA has just accepted a reclassification of sunscreens, to clarify in what way sunscreens protect or don't protect, and that was under consideration for close to 20 years.
You've said many sunscreens don't provide a lot of protection.
The revisions were to limit the SPF ratings that could be put on sunscreens. The new regulations don't allow the label to say over 50. Now you can buy an SPF 100 sunscreen. When these products are tested according to the requirements of the FDA, those protection factors are correct. However, nobody puts on that much sunscreen. The amount that testing requires is literally layering it on. Most people put on about one-fourth as much as is required by the FDA for determining protection factors.
Does Massachusetts require warning labels on beds?
They're required, and it's required that a customer be informed of tanning risks. But if you check, usually there's a little label on the UV device that maybe somebody looks at, maybe they don't. And the operators in practice don't seem to take the time to inform people of what it says on the warning label. There's not a lot of enforcement.
So how effective will this national warning label regulation be?
I'm sure not as effective as one would like. Same thing for these age cutoffs: if you're 17 and you need a note from your parents, does the operator remember to ask? Does she ask for proof of age?
Should minors be banned from tanning, and do you think the FDA will ever do that?
As a dermatologist, as a parent, I would strongly recommend to people that they not use tanning beds. In the range of destructive behaviors that young people engage in, I would put tanning low on that list, as opposed to binge drinking or drinking and driving or texting and driving.
But would you say that banning would go too far philosophically?
Probably. And I doubt we will get there.
Is there anything good to be said for tanning?
There was an international dermatology meeting in Edinburgh in May, and one of the abstracts presented was a study where the investigators showed that longer UV wavelengths of light that haven't been much studied can drop blood pressure a little bit. Unlike the vitamin D craziness, which the Institute of Medicine and everyone else has found doesn't hold water, it seems that this is a real effect. My guess is it will replace vitamin D, because that's been totally discredited. The counterargument would be that there are essentially risk-free ways of achieving the same health benefit rather than exposing yourself to a known carcinogen.
The sad thing is that tanning, whether in a booth or at the beach, really destroys the appearance of your skin. I hear it every time I see patients: women in their 30s and 40s come in and say, I wish I hadn't done that, I can't believe I did this to myself. And so a thing that they did to improve their appearance has ruined it. You know that those 16-year-olds who are tanning as much as they can are going to be very unhappy that they did that in 30 years. Destroying the appearance of your skin is just about guaranteed. But people of that age simply don't believe they will ever be middle-aged. They see that as some stupid mistake their parents made.