Alternative Spring Breaks: Orland, Maine
Building a community at H.O.M.E.
Nearly 400 students volunteered in this year's BU Community Service Center Alternative Spring Breaks program. ASB paired students with more than three dozen organizations around the country involved in environmental, affordable housing and homelessness, children's services, and animal welfare efforts. This week, we are bringing you first-person accounts of some of those trips.
After five months spent poring over color-coded Google docs and logistical blog posts, the day to embark on our Maine Alternative Spring Breaks adventure finally arrived. At 9 a.m. March 9 our group of 11 volunteers boarded a van with flannel-filled duffels and headed to Orland, Maine, our destination for the week. We snuggled in with donated bagels and watched the Massachusetts snow fade away. At the halfway point in our 230-mile trip, we stopped for a snowshoeing tour at L. L. Bean in Freeport, Maine, where we traveled through scenic trails and soaked up the sun. Little did we know at the time that it would be one of the few times during the week the sun would make an appearance.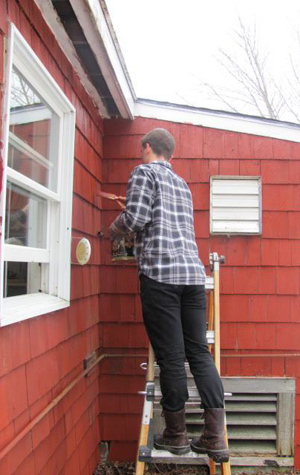 We arrived at our service site two hours later, unsure of what Orland had in store for us. We were volunteering with Homeworkers Organized for More Employment (H.O.M.E), an organization that started in 1970 as a cooperative where struggling artists and homecrafters could sell their goods. Since then, it has expanded to address the needs of low-income rural Mainers on both an economic and a social level. In addition to the crafts store, H.O.M.E. now operates five homeless shelters, a food bank, a market stand, a soup kitchen, a thrift store, a free health clinic, and a learning center that provides literacy instruction, GED preparation, and different training programs. The learning center includes a daycare center, where people looking for employment can enroll their children. The nonprofit also builds affordable housing in conjunction with a land trust and helps to rehab housing for local residents. The motto is "serving first those who suffer most."
Our service projects rotated each day, which allowed us to see firsthand the many ways H.O.M.E. helps to assist those struggling to provide for themselves and their families. Throughout the week, we heard stories from different members of the community about their lives.
Because H.O.M.E.'s buildings are heated entirely by firewood, the staff needed a steady flow of volunteers to chop and transport logs. Clint Claggett, who is H.O.M.E.'s sawyer, greeted us Monday morning wearing a hefty camouflage jumpsuit. He directed us to chop firewood and load it into a nearby truck. One of us would place the logs on a machine and Clint would split them, then we'd stack the wood in the back of the truck. The physical labor was intense, but even in the foggy weather, we enjoyed being outdoors and learning from Clint. His superhuman strength and steady disposition quickly made him a legend among our group.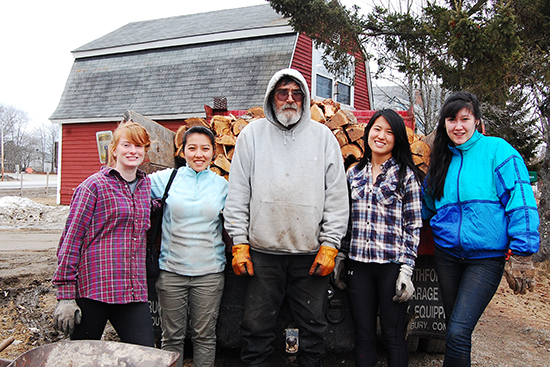 On days when we needed a break from outdoor labor, we helped with other projects. One morning, H.O.M.E. volunteer coordinator Jackie Burpee asked us to help clean out an apartment in such bad shape that it was under threat of being condemned for health violations. The tenant, a woman who had spent a lifetime caring for her relatives until they died, had been forced to vacate her home. With no place to go, H.O.M.E. gave her an apartment, but the place had become filthy.
We began by throwing away anything that was obviously garbage. The kitchen counter was our biggest terror, with a mysterious liquid coating the edges and dirty dishes stacked high. We went to work cleaning the kitchen with bleach, removing trash, and neatly boxing up stray objects. By the end of the day the apartment had been improved immensely; we could actually walk around the living room and see the wooden tabletops. We never met the woman we were helping, but we felt a wonderful sense of accomplishment being able to help someone who had given so much of her life to caring for others.
During the rest of the week, we volunteered at H.O.M.E.'s various services and shops. Those of us with a love of children assisted at the learning center day care facility, playing duck-duck-goose and guiding the kids through their worksheet packets.
H.O.M.E.'s learning center offers workshops for cooking, gardening, and craft training, including stained glass. The head of the craft shops, Roxanne Poulin, allowed a few of us into her studio each day to make frames from recycled glass that would be sold in the crafts shop, with the proceeds from the sales going to help needy local residents.
One of our favorite parts about switching from project to project was that we were able to talk with different staff members and long-term volunteers about H.O.M.E.'s impact on their lives. Some of the staff came to H.O.M.E. because they had nowhere else to go. Others said they were drawn to it because of its emphasis on living a simple life. It was easy to tell that the people who work at H.O.M.E. love being there.
Our eight days at H.O.M.E. had transformed us from complete strangers into a family. In the words of the band Edward Sharpe and the Magnetic Zeroes, home "is wherever I'm with you."
Lana Fernandez can be reached at lanarowe@bu.edu.
Read more Alternative Spring Breaks stories.
This Series
Also in
March 21, 2014

March 20, 2014

March 19, 2014