A Delicate Balance, A Doll House Staged by CFA
MFA students direct Albee, Ibsen classics
Edward Albee's A Delicate Balance premiered in 1966, when the nation was in the grip of the Cold War and still traumatized by the Kennedy assassination. But Hondo Weiss-Richmond associates the play with the aftermath of the September 11 attacks, and he selected it for his MFA directing thesis because of its enduring themes of free-floating dread and the limits of refuge sought among family and friends. Winner of the 1967 Pulitzer Prize, A Delicate Balance, he says, is "a beast of a play."
Weiss-Richmond (CFA'14) directs a College of Fine Arts production of A Delicate Balance tonight through Sunday at the Boston University Theatre Lane-Comley Studio 210. One of two students graduating from the selective MFA program in directing, Weiss-Richmond's thesis play runs in tandem with a CFA TheatreLab staging of Henrik Ibsen's classic A Doll House, a thesis production directed by Lillian King (CFA'14), also graduating from the MFA program.
In A Delicate Balance, Albee (Hon.'10) puts six characters "in a pressure cooker" and forces them to confront the consequences of their choices, says Weiss-Richmond, a Kennedy Center American College Theater Festival 2013 Distinguished Director of a New Play for directing former Huntington Theatre fellow John Shea's ERIN GO BRAGH-less. A Delicate Balance is set in the suburban upper-middle-class home of empty nesters Agnes, played by Francesca Blanchard (CFA'14), and Tobias, Ian Geers (CFA'14), and Agnes' tartly entertaining and perpetually soused sister Claire, Casey Tucker (CFA'14). The play's events turn on the appearance after dinner one evening of their best friends Harry, Joey Heyworth (CFA'14), and Edna, Holly Kapinos (CFA'14), who ask to stay with Agnes and Tobias because a vague terror is preventing them from going home. They proceed to colonize the bedroom of the couple's daughter, Julia, Hayley Sherwood (CFA'14). In the throes of the breakup of her fourth marriage, Julia returns home to find the room occupied by Harry and Edna, who refuse to leave. "This dark social comedy is about, among other intimate issues, rights and responsibilities," writes Anita Gates in the New York Times about a New Jersey revival last year.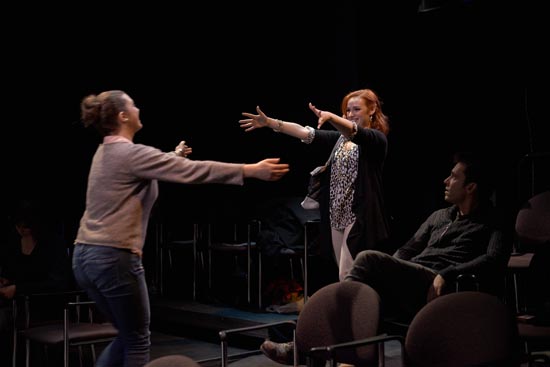 The play is normally performed on a proscenium stage, but Weiss-Richmond has staged it, working with scenic designer Marthe Hoffmann (CFA'14), with the audience on two sides in a "somewhat abstracted version of a living room"—a sanctuary that can become "a gladiatorial arena," he says. Spanning a long weekend, the play, which is in many parts laugh-out-loud funny, raises a big question, notes the director: "What is this unnameable terror we do everything we can do to avoid confronting?" Albee doesn't let anyone off the hook. Weiss-Richmond, who directed CFA's Shining City in the same theater last May, says the play is the first one he's directed that addresses some of what he felt after September 11 and its aftermath, when he felt "the world outside becoming less comprehensible."
Reportedly the world's most performed play, A Doll House is the Norwegian-born Henrik Ibsen's iconic, nonjudgmental tale of a woman suffocating in a traditional marriage who makes the decision—which startled audiences at its 1879 Copenhagen debut—to leave her husband and children in order to be her own person. The notion of a woman, married or unmarried, unapologetically seeking self-fulfillment was deeply controversial in an age when women were viewed as the property of their husbands or fathers and were unable to vote or run a business.
For her directing thesis, King decided to set the story of the strained marriage of Nora, portrayed by Shelby Hightower (CFA'14), and Torvald, Ben Stanton (CFA'14), in the present day rather than the Victorian period. She was amazed to discover that seen through a contemporary lens, the Ibsen text holds up. The only possible anachronisms—a locked mailbox and a woman not being permitted to secure a bank loan—aren't unheard of today, she says. The vague medical condition of the character of Dr. Rank, Jimmy Blackmon (CFA'14), the family friend in love with Nora, remains "tuberculosis of the spine," which in Ibsen's time was a euphemism for syphilis.
"I've loved this play forever," says King. She directed a CFA production of Antigone last April, and after graduation will be the assistant director of Rocky the Musical at Broadway's Winter Garden. As an undergraduate, she played the lead role of Nora in a play that was not intended by Ibsen to be feminist, although it has routinely stirred discussions of women's equality and domestic role. A Doll House, which could easily be a portrait of many contemporary marriages, reflects the fear, insecurity, jealousy, and love that exist in all of us, writes Elisabeth Rudin (CFA'16) in the program notes. "They make us look at the world in which we live and acknowledge all the imperfections…that we wish we could ignore." More than a century after Ibsen created this "world of sexual, fiscal, and power politics, it might be in our best interest to admit that those problems do not exist solely in 1870s Europe."
"I come back to this play and over and over," says King. In revisiting the play, she has turned up its focus on the sexual power play shared by Nora and Torvald. By shedding light on the way Nora turns submissiveness into a means of control, the playing field between them becomes more even, she says. "I think about gender a lot, especially being a woman in a largely male profession." But A Doll House, despite its obvious broad implications, is full of nuance—a story all Ibsen's own, with each character complicit in his or her way. "I like to tell women's stories," says King. "But with the play I'm telling this story."
A Delicate Balance runs through Sunday at the Boston University Theatre, Lane-Comley Studio 210, 264 Huntington Ave., Boston. Performances are tonight, Wednesday, December 11, at 7:30 p.m., Thursday, December 12, at 7:30 p.m., Friday, December 13, at 8 p.m., Saturday, December 14, at 2 p.m. and Sunday, December 15, at 7 p.m. Tickets are $12 general admission, $6 with CFA membership, $10 for students, BU alumni, senior citizens, Huntington Theatre Company subscribers, WGBH members, and groups of 10 or more. Members of the BU community are eligible for one free ticket with a valid BU ID, at the door, subject to availability. Tickets and further information are available here or by calling the box office at 617-933-8600. To get to the BU Theatre, take an MBTA Green Line E trolley to Symphony or the Orange Line to Massachusetts Avenue.
Performances of A Doll House at TheatreLab@855, 855 Commonwealth Ave., are tonight, Wednesday, December 11, at 7:30 p.m., Thursday, December 12, at 7:30 p.m., Friday, December 13, at 8 p.m., Saturday, December 14, at 8 p.m., and Sunday, December 15, at 2 p.m. The performances are free and open to the public. For more information, call 617-353-3390.