A "Convergence" of Art and Community
Outdoor sculpture exhibition transforms the Christian Science Plaza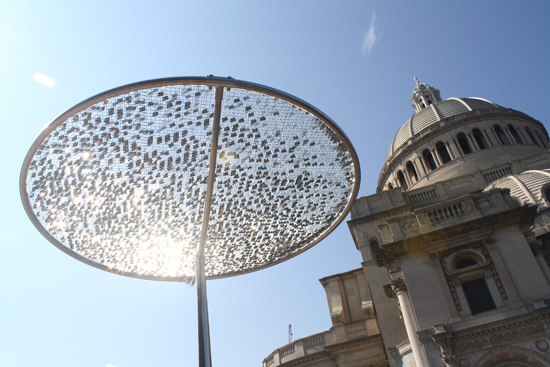 Art is alive in Boston. For starters, there's the Museum of Fine Arts, which alone has approximately 450,000 pieces in its various collections. Then there's the wonderfully idiosyncratic collection amassed by art collector and philanthropist Isabella Stewart Gardner at the museum that bears her name. The Institute of Contemporary Art houses an impressive collection of modern painting, sculpture, and photography. But when it comes to large-scale public art installations, Boston's track record is less impressive.
However, a new outdoor sculpture exhibit titled Convergence inserts three-dimensional works directly into the civic landscape. Presented by the Boston Sculptors Gallery, a cooperative of local sculptors, and the First Church of Christ, Scientist this eye-popping show, spread across the 14 acre Christian Science Plaza, offers a chance to experience innovative contemporary sculpture.
Rising from the plaza are more than two dozen pieces that attempt an impressive feat: catching the eye of passersby while having to compete for attention with the imposing Christian Science Mother Church, a remarkable Byzantine-style building; I.M. Pei's enormous reflecting pool, and a circular fountain that is nearly always filled with children during the summer months. Boston Sculptors Gallery has succeeded though, mesmerizing visitors with unique designs and concepts.
George Sherwood's Wave Cloud is one of the exhibition's standouts. A suspended circle of hundreds of metal squares that blow and sparkle in the wind, the piece entrances those who gaze up at the celestial structure. Though miniscule in comparison to the neighboring Mother Church, the work's shimmering, halo-like qualities make a big impression.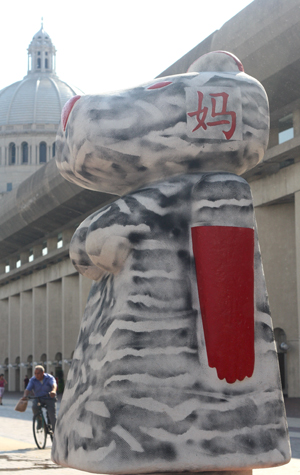 Standing at the opposite ends of the reflecting pool are Donna Dodson's Tiger Mothers. Cleverly positioned, these two tall structures, one with black stripes, the other with pink, appear to stand watch over the children frolicking in the adjacent fountain. Their maternal qualities are evident. What's more, the children love these cool cats.
Another piece that more than holds its own on the plaza is titled Poised. Made by Dodson and Andy Moerlein, the massive bird-like sculpture made of winding wires and branches towers over the area with a kind of eerie presence. Visitors are transfixed by the faceless structure in the sky, wondering what its next move will be.
Each sculpture in Convergence is inventive, not only for its distinct aesthetic but also for its resourceful use of materials. The artists used everything from Styrofoam to aluminum to plastic bags in creating the eclectic collection.
To walk among artworks in a museum is an enlightening experience. But to actively participate in an exhibition, to interact with the pieces in a public environment, is truly impactful. Rarely do Bostonians have the opportunity to view art of this scale in their own backyard. Step outside and experience the convergence.
Convergence is on view at the Christian Science Plaza, located at the intersection of Massachusetts and Huntington Avenues, through Thursday, October 31. It is free and (very) open to the public. Take the MBTA Green Line trolley to Hynes Convention Center and walk south on Massachusetts Avenue.
Tom Vellner can be reached at tvellner@bu.edu. Follow him on Twitter @tomgvellner.