A 16-Year-Old Takes On a Disease of the Elderly
For CAS student, ending Alzheimer's disease is personal
During spring break, when many students were sunning themselves on beaches or catching up on sleep, Max Wallack traveled to Los Angeles to deliver a poster presentation at the American Association for Geriatric Psychiatry's annual conference. His subject was the role that ACE inhibitors—a class of drugs used to treat cardiovascular disease—could play in preventing Alzheimer's disease. Heady stuff, especially when you consider that BU sophomore Wallack is just 16.
For the past two years, Wallack has been working in the Laboratory of Molecular Psychiatry in Aging at BU's Alzheimer's Disease Center (ADC). Several days a week, he dons a white lab coat and investigates the role that certain enzymes play in the early stages of Alzheimer's and the potential role a diabetes drug already approved by the Food and Drug Administration could play in treating the memory-robbing disease that afflicts nearly five million Americans.
"Alzheimer's is a disease that has to be fought on multiple fronts," says Wallack (CAS'15). "You can't just fight it with drugs, because these drugs aren't helping patients with their emotions. You need to make them feel like they are valuable people and that they can accomplish things. And we need to support their caregivers more. Pharmacological interventions are very important for this disease, but we can't forget these are people, and we can't forget the people who are caring for them."
Wallack knows all too well the devastating impact the disease can have on patients and their families. When he was six, his great-grandmother, Gertrude Finkelstein ("Getgrams"), lived with him and his parents after she was diagnosed with Alzheimer's. The two had been inseparable since Max was born and remained close, even as the disease ravaged her mind.
"She couldn't remember who she was; she didn't know that my father was my father and not her husband," Wallack says. "She didn't know who anybody was. But she always remembered me. Even two days before she died, when she couldn't remember anyone else, she still knew me."
As his great-grandmother's disease progressed, Wallack found himself undergoing a role reversal that most children don't confront until well into adulthood. He was becoming caregiver to the woman who had helped raise him.
"I remember one time my parents and grandparents had to leave the house, and they told her that she was going to watch me. But then they took me aside just before they left and said, 'You need to watch her.' And that's what happened. I was always looking out for her."
Shortly after his great-grandmother's diagnosis, Wallack set out to find ways to make her life easier. At six, he created what he calls his "great granny booster step"—a wooden step that made it easier for her to get in and out of the family minivan. "She told everyone, 'My great-grandson made this for me,'" recalls Wallack. "She took such pride in me."
That early invention would change the trajectory of his life.
During his great-grandmother's hospitalizations, Wallack noticed the number of Alzheimer's patients who were working on puzzles. In 2007, he started researching the role that puzzle-solving plays in helping patients, and he discovered that it not only boosted their self-esteem, but also helped slow the disease's progression.
"There's a high correlation between Alzheimer's disease and depression, because patients don't feel like they can accomplish anything," Wallack says. "Giving them that sense of achievement can help them remain functionally active."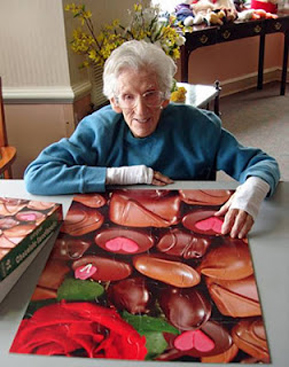 With that in mind, he started collecting jigsaw puzzles in and around his hometown of Natick, Mass., and donating them to local hospitals and care centers. He soon filled his garage. A year after his great-grandmother's death, in 2007, he launched a nonprofit, Puzzles to Remember, which supplies free puzzles to patients. Next, he started writing to puzzle manufacturers to see if they could help. One of them, Springbok Puzzles in Missouri, immediately sent some boxes, marking the start of an ongoing collaboration.
Soon, he was looking for more. "About a year later, Max called us back and said he'd noticed that when patients couldn't complete the puzzles because of the number of pieces, they'd get frustrated," says Steve Pack, president of Allied Materials & Equipment Co., which owns Springbok. "He asked if we could design puzzles that would have pictures that were pleasing to an adult and that weren't too difficult to complete."
Springbok took images they had found were already popular among their adult customers and created puzzles of 12 and 36 pieces. The company now offers a puzzle line specifically for Alzheimer's patients, and it has donated more than 1,000 puzzles to Wallack's charity. Wallack has worked with Springbok on the line, offering advice about the kinds of images and the number of pieces to use. He estimates that in the past five years, Puzzles to Remember has given more than 22,000 puzzles to more than 1,800 institutions throughout the United States, Canada, Mexico, England, France, Israel, South Africa, and Colombia.
"He's absolutely remarkable," says Pack. "His moral compass—his desire to help others—is amazing, especially in someone so young. He takes it to another level."
Wallack says establishing the nonprofit has been rewarding in a way he hadn't anticipated. "It's so amazing to see people who are constantly so sad feeling happy. Even if they can't remember doing the puzzle five minutes later, they still feel happy. They may not know why, but they feel they've really accomplished something."
While a student at Boston University Academy, Wallack's work as an advocate for Alzheimer's patients began earning him national recognition and cash prizes, including $2,500 from the Build-A-Bear Workshop Bear Hugs Foundation in 2009. He has donated at least half of the money to institutions that are passionate about helping Alzheimer's patients. By that time he also knew what he wanted to do with his future: college, followed by medical school and a career as a geriatric psychiatrist. Which brings us to how he persuaded people to hire him as a research intern, at 15, in the Laboratory of Molecular Psychiatry in Aging.
In 2009, Wallack decided to donate the Build-A-Bear prize to the Alzheimer's Disease Center. He contacted Robert A. Stern, director of the ADC's clinical core and a School of Medicine professor of neurology and neurosurgery.
Stern remembers their first meeting as "one of the most wonderful moments of my career." Impressed by Wallack's resume, he invited him to present the check in person. Wallack expressed a desire to volunteer at the center, and in 2010 spent the summer photocopying and filing. Stern, who is also cofounder of the BU Center for the Study of Traumatic Encephalopathy, invited the then 14-year-old to attend a journal club he ran, where members of his team, including PhD students, researchers, and postdocs, met to read and discuss journal articles about the brain disease known as chronic traumatic encephalopathy. "His eyes would just light up," Stern says. Wallack didn't just listen, he says, he participated.
When Wendy Qiu joined the ADC a short time later as a geriatric psychiatrist in charge of the Laboratory of Molecular Psychiatry in Aging, Stern connected the two. Qiu, a MED associate professor of psychiatry, showed him around her lab and told him about the work they were doing identifying biomarkers to help diagnose early stage Alzheimer's. Wallack was transfixed. He was determined to join her lab, but had to wait until he was 15, the minimum age for a person to work in a locked laboratory.
Wallack has never let his age stand in the way. He completed kindergarten and first grade at the same time, skipped fifth grade, and completed more than a year of BU courses while still attending BU Academy.
"Every three months, Max emailed me and said, 'Dr. Qiu, I still want to come to your lab. This is my plan when I turn 15. I hope you agree with that,'" recalls Qiu. Her staff was skeptical, but they found that Max was a quick study who took criticism well and wasn't afraid to make suggestions.
"I love the people here," says Wallack. "I love doing what I'm doing. They're teaching me procedures, they're teaching me more in depth about different parts of Alzheimer's disease. I'm not just cleaning dishes. I'm actually doing the work."
"Max is growing into a fabulous man," says Stern. "I'd been concerned that he was pushing himself too quickly, that he wasn't smelling the roses enough. But he seems to have a balance in his life."
Away from the lab, Wallack is indeed a typical college student. He spends time playing Ping-Pong, pool, and video games. This summer, he hopes to get his driver's license (he's been too busy to take the written portion of the test).
Now a neuroscience major at BU, Wallack says he plans to earn an MD and possibly a PhD, so that he can care for patients and their families and pursue laboratory research. "I would like to be somebody who is in charge of really helping combat this disease," he says. "This is what I want to focus my life on."
Asked what he thinks his great-grandmother would have made of his accomplishments, he smiles shyly. "I think she would've had the same glowing smile that she had when I was six, and I made the great granny booster step."