Visiting Frederick Law Olmsted's Fairsted
Home of father of American landscape architecture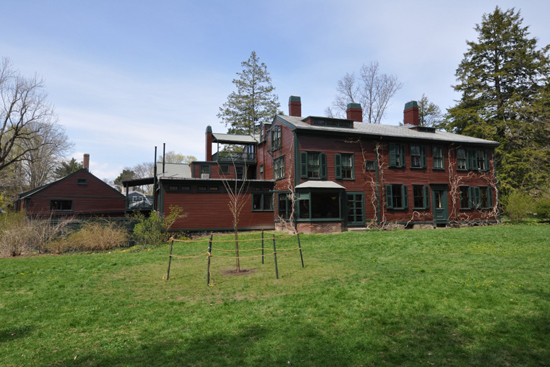 Frederick Law Olmstead is regarded as the father of American landscape architecture and is credited with introducing the notion of "public parks" to the United States. He designed or codesigned New York's Central Park and Prospect Park, Boston's Emerald Necklace, Rock Creek Park in Washington, D.C., and the entire park systems for Louisville, Ky., and Buffalo, N.Y. What many don't know is that his home and his landscape design firm—the first of its kind in the world—are open to the public less than three miles from campus.
Olmsted was born in Hartford, Conn., in 1822 and spent much of his childhood exploring nature. He worked as a surveyor, writer, and farmer before applying for a job as superintendent of a brand-new park in New York City—Central Park. Despite having no formal training as a landscape architect, Olmsted was asked by English-born architect Calvert Vaux to work with him on the design competition for the park; their design was selected in 1858. For the next 40 years, Olmsted would transform urban landscapes, including the grounds surrounding the U.S. Capitol, the Biltmore Estate in North Carolina, and the master plans for the University of Chicago and Stanford University.
During a trip to England in 1850, Olmsted was greatly influenced by a visit to Birkenhead Park, a public park in Liverpool. He was a fervent believer in the healing power of nature, and wondered why America had no parks designed for the enjoyment of all, regardless of class.
In 1883, with Central Park and Prospect Park completed, Olmsted began work on the Emerald Necklace, a series of linked parks and wetlands spread across seven miles in Boston. He moved his family and his landscape design firm to Brookline, Mass. The house and connecting office building was christened Fairsted.
In the wake of Olmsted's hospitalization for dementia in 1898, his sons John and Frederick, Jr., continued their father's work. At its height in 1930, Olmsted Associates employed 70 designers and draftsmen. Between 1883 and its closing in 1980, the firm designed an astonishing 6,000 projects, including some of America's most prominent parks and college campuses.
Since 1980, the buildings and surrounding property have been open to the public. Today, Fairsted is known as the Frederick Law Olmsted National Historic Site and is administered by the National Park Service.
The expanded summer hours at the Olmsted site, 99 Warren St., Brookline, are Wednesday through Sunday,  from 10 a.m. to 4 p.m., with 60-minute guided tours starting every hour on the hour (except noon). Admission is free. By public transportation, take the MBTA #60 bus to the intersection of Boylston (Route 9) and Warren Streets in Brookline. Follow Warren Street 1/8 mile to the site. Or you can take a Riverside Green Line D trolley to Brookline Hills station, turn right and follow the sidewalk to Cypress Street and continue across the Boylston Street intersection. Turn right on Walnut Street and left on Warren Street to the intersection with Dudley Street.
This article was originally published July 10, 2012.