Tenure Awarded to 24 Professors
"A proud moment for the BU community"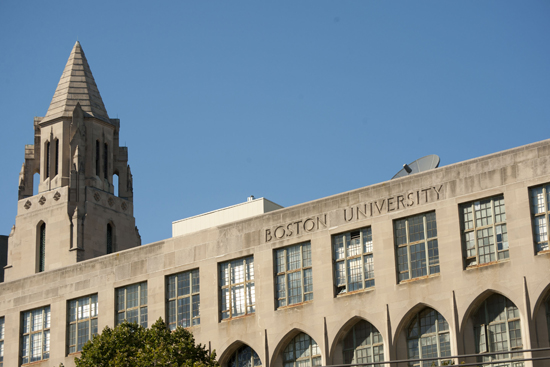 Wiebke Denecke's research takes her far into the past, to examine the cultural, intellectual, and literary history of ancient China and Japan. Uri Tzvi Eden has his sights trained on the future, as he develops mathematical models to analyze neural pathways, an understanding that could build a foundation for treating degenerative diseases like Parkinson's. And Robert D. Sloane, a specialist in international human rights, is immersed in the present-day legal challenges faced by asylum seekers and the limits of criminal prosecution under international law.
They are 3 of 24 Charles River Campus faculty who have been newly promoted and tenured. Denecke is now a College of Arts & Sciences associate professor of Chinese, Japanese, and comparative literature. Eden has been promoted to associate professor of mathematics and statistics at CAS. And Sloane, one of only three U.S. citizens in the last 20 years to receive a diploma in public international law from the Hague Academy of International Law, has become a tenured School of Law professor.
BU confers tenure based on faculty members' teaching, research and publication, and community service. The award of tenure includes promotion from assistant to associate professor. This year's crop of tenured professors represents seven schools: CAS, the College of Engineering, the School of Social Work, LAW, the College of General Studies, the School of Management, and the School of Theology.
"These promotions mark an especially proud moment for the BU community, as we've had the pleasure of watching these talented women and men develop from junior faculty into scholars and teachers of national impact and recognition," says Jean Morrison, University provost. "From engineering and science to the humanities, mathematics, finance, law, and theology, these faculty members have fulfilled the promise we saw in them as they began their careers at Boston University. They are producing substantive research and scholarship and excelling as teachers in their classrooms. We see great things ahead for their careers and we are pleased that those careers will be spent here at BU."
In addition to Denecke, Eden, and Sloane, tenure has been award to the following:
Linda Helen Doerrer, CAS associate professor of chemistry, division of materials science and engineering
Doerrer and her research team, the Doerrer Group, specialize in synthetic inorganic chemistry. Both within BU and beyond campus, the group collaborates with physicists, materials scientists, and engineers on the characterization of compounds. Among Doerrer's honors are a 2005 Henry Dreyfus Fellowship and the 2002 Emily Gregory Award for Excellence in Teaching and Service, Barnard College.
François Gourio, CAS associate professor of economics
An expert on macroeconomics, risk, and finance, Gourio studies a range of economic areas from credit risk to disaster and recovery to tax reform.
Douglas Kriner, CAS associate professor of political science
Kriner, director of undergraduate studies, studies American political institutions, the dynamics of the separation of powers, and American military policymaking. He's the author of several books, including After the Rubicon: Congress, Presidents, and the Policies of Waging War (University of Chicago Press, 2010).
Hengye Man, CAS associate professor of biology
Man is conducting research probing the regulation of synaptic transmission in nerve cells, the mechanism underlying higher brain functions such as learning and memory.
Sarah T. Phillips, CAS associate professor of history
Phillips (GRS'04), director of undergraduate studies, teaches 20th-century U.S. political history and environmental and agricultural history. She is the author of This Land, This Nation: Conservation, Rural America, and the New Deal (Cambridge University Press, 2007), and has written widely on antebellum agricultural reform and transatlantic agricultural developments. She is at work on a new book, The Price of Plenty: From Farm to Food Politics in Postwar America.
Carrie J. Preston, CAS associate professor of English
Preston specializes in feminist theory and gender studies as well as dance. Her interest in the multidisciplinary influence of a form of Japanese theater dance will be the subject of a book titled Learning to Kneel: Noh, Modernism, and the Pedagogies of Transnational Performance. She received a Peter Paul Development Professorship in 2007.
Björn Reinhard, CAS associate professor of chemistry, division of materials science and engineering
Reinhard heads BU's Nano-Bio Interface Lab, which develops tools for nanotechnology, functional engineering at the molecular level. He is a winner of a 2010 CAREER award from the National Science Foundation.
Pamela Templer, CAS associate professor of biology
Templer studies the ecology of tropical and temperate forests, probing the effects of plant-microbial interactions, and the effects of winter climate change on forest productivity and health. Templer is a recent winner of a National Science Foundation CAREER award.
Hatice Altug, College of Engineering associate professor of electrical and computer engineering, division of materials science and engineering
Altug teaches photonics and is researching nanoscale photonic materials and devices. She's the recipient of many awards and honors, including a 2011 Presidential Early Career Award, a National Science Foundation CAREER award, the Photonics Society Young Investigator Award, and a Peter Paul Career Development Professorship.
Sean Andersson, ENG associate professor of mechanical engineering, division of systems engineering
Andersson is working to boost the potential of scanning probe microscopy, which uses a physical probe to scan the surface of a specimen. His research also focuses on developing methods for handling the complexity of robots operating in real-world environments.
Harold Park, ENG associate professor of mechanical engineering, division of materials science and engineering
Park specializes in computational nanomechanics and nanomaterials, including graphene, perfect, super-strong, one-atom thick sheets of carbon that scientists believe will replace silicone. Park received a National Science Foundation CAREER award in 2007.
Tyrone Porter, ENG associate professor of mechanical engineering and biomedical engineering
Porter hopes his research will push the application of ultrasound technology in new and exciting directions, including testing the growth of cancer and drug delivery through microscopic carriers.
Muhammad Zaman, ENG associate professor of biochemical engineering, division of materials science and engineering
Zaman heads BU's Laboratory for Molecular and Cellular Dynamics, which focuses on the interface of cell biology, systems biology, and medicine, including studies of why cancer cells spread. Zaman and his team are also devoted to developing innovative solutions and technologies to improve the quality of medicine in the developing world.
Katherine Yanhang Zhang, ENG associate professor of mechanical engineering and biomedical engineering, division of materials science and engineering
Zhang studies the mechanical behavior of soft biological tissues. Using experimental techniques and advanced computational modeling, her research integrates knowledge of biology with the complex fields of nonlinear solid mechanics, and finite element modeling. Her findings could provide important insights into the relationship between microscopic biological processes and the effects of disease on tissue mechanics. Zhang received a National Science Foundation CAREER award in 2010.
Marah Curtis, School of Social Work associate professor of social welfare policy
Curtis directs her scholarly interests toward public policy on the well-being of children and families, with particular emphasis on housing policy, incarceration, and poverty. She is codirector of the Social Welfare Analysis Colloquium Series. Curtis is a recipient of a Peter Paul Career Development Professorship.
Hyeouk Chris Hahm, SSW associate professor of clinical practice and social research
Hahm studies HIV and other sexually transmitted infections among Asian Americans. Her other interests include Asian American acculturation, health risk behaviors such as smoking and binge drinking, and health status, as well as health care utilization among people with mental illness.
Evgeny Lyandres, School of Management associate professor of finance
Focusing on all aspects of investment, Lyandres has published studies in the areas of venture capital, private equity funds, strategic IPOs, and target leverage.
Kristin Collins, School of Law professor of law
Collins' research interests include gender and the law, legal history, federal courts, and civil procedure. Her current research focuses on the origins of family welfare policy and the legal construction of the family and gender in early 19th-century administrative law. Collins was a senior fellow at the Institute of Democracy in South Africa in Cape Town. She received a Peter Paul Career Development Professorship in 2007.
Lynn O'Brien Hallstein, College of General Studies associate professor of rhetoric
Hallstein teaches rhetoric, communication, and gender studies and is the author of White Feminism and Contemporary Maternity: Purging Matrophobia (Palgrave Press, 2010). She has research interests ranging from cultural studies to feminist theory to contemporary understandings of motherhood.
Christopher Boyd Brown, School of Theology associate professor of church history
Brown specializes in the Renaissance through the Reformation and Counter-Reformation to the period of Orthodoxy and Pietism. He teaches interpretation of ancient texts in the Renaissance and Reformation and the relationship between learned theology and lay piety at church, schools, and home in the Protestant and Catholic reforms. He's the author of Singing the Gospel: Lutheran Hymns and the Success of the Reformation (Harvard University Press, 2005).
Shelly Rambo, STH associate professor of theology
A constructive theologian, Rambo has teaching interests that include Christian thought, feminist theory, feminist theology, religion and postmodernism, and literature and religion. She's interested in how classical themes in the Christian tradition interact with contemporary discourse around suffering, trauma, and violence. She is the author of Spirit and Trauma: A Theology of Remaining (Westminster John Knox Press, 2010).