Sandy Brings Wind, Rain, Time to Study
Students hunker down; a tree falls on Cummington Street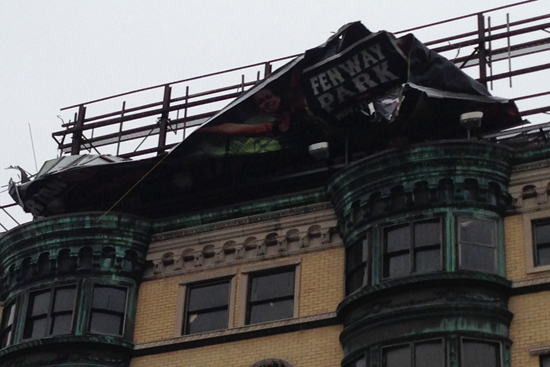 Sandy has arrived. On the Charles River Campus, billowing winds blew sheets of rain across a deserted Commonwealth Avenue, as students hunkered down in their residence halls. Despite the blustery weather, University officials report a relatively quiet day. David McBride, director of Student Health Services, says his office saw no uptick in visits, and BU Police Chief Thomas Robbins says he had no reports of injuries. By late afternoon, when winds were approaching their height, one fabric billboard was blown from its mooring atop a six-story building in Kenmore Square, closing outgoing lanes of Commonwealth Avenue for several hours. Two blocks away, a 30-foot-tall tree leaned heavily into the two-story building at 111 Cummington Street.
Elsewhere on campus, University administrators are consulting with officials from transportation and public safety departments, weighing the many factors that influence a decision to continue the closure of Boston University for another day. Peter Fiedler (COM'77), vice president for administrative services, says an update on that decision, originally expected by 8 pm, is now expected by 9 pm.
"Many people think we just sit down, look at the weather, and make a decision to close the University," says Dean of Students Kenneth Elmore (SED'87). "It doesn't work like that. The decision is a lot more complex. The weather is just one consideration. We have to know that people will be able to get to school. We have many students who don't live on campus. We have faculty and staff who have to be able to get here safely. We also carefully consider advice from officials in local government and from people who really know about weather patterns. We take all that into consideration before we make a decision to close the University or open the University. The main thing is always to keep as many people safe as possible."
Because the impact of the storm is expected to peak this evening, Dining Services will deliver meals at 5 p.m. to the Residence Life offices at Danielsen Hall, Myles Standish Hall, Kilachand Hall (formerly Shelton Hall), the Towers, and 518 Park Drive on South Campus. Take-out meals will be available until 7:30 p.m., or as long as supplies last.
Dining halls will be open at 100 Bay State Road, Warren Towers, and West Campus. The George Sherman Union is closed. Dinner at the Florence & Chafetz Hillel House dining hall will be served from 4:30 to 6 p.m. Extreme Pita, Warren Towers Late Night, and Late Night Kitchen at 100 Bay State will all be closed tonight. Small retail shops are closed. Mugar Memorial Library closed at noon. Student Health Services is open as usual. FitRec will be closed. The BU Bus is not running, and the MBTA suspended all service as of 2 p.m.
For updated information regarding the Medical Campus, call the emergency communications hotline at 617-638-6886 or visit the BU Medical Center emergency communications website.
The National Weather Service expects Hurricane Sandy to make landfall in New Jersey this evening, then follow a northward path through Pennsylvania and into upstate New York. Meteorologists warned that the storm would bring powerful winds and heavy rains to Boston today, and they predict calmer weather on Tuesday, with temperatures in the mid-60s and winds blowing about 25 miles per hour.
Students are urged to make sure that they have flashlights and extra batteries on hand and are warned not to use candles, which are prohibited in student residences. For those who live in campus residences, RAs will have a limited number of flashlights. Students living off-campus are urged to buy flashlights and additional batteries. Emergency officials also urge people to have adequate supplies of food and water on hand, as well as essential medicines and a change of clothing. More information about hurricane preparedness is here.
David Zamojski, assistant dean of students and director of residence life, asks students to take precautionary steps to protect belongings from water damage. Zamojski recommends that students close and lock windows while it is raining, remove electronics and books from windowsills, bookshelves, and window walls, and take items off of the floor. Students whose property is damaged by water are asked to inform their local Residence Life office (hours: 9 a.m. to 5 p.m., Monday to Friday, and 7 p.m. to midnight, seven days a week) or call the Facilities Management control desk at 617-353-2105. The control desk is open 24 hours a day, 7 days a week. Additional maintenance staff will be on duty throughout the storm to assist students.
The Boston University Police Department has put a Hurricane Incident Action Plan in place, and if necessary, will issue emergency alerts using the BU Alert System. Those alerts are sent via an email blast and banners on the University's homepage, BU Today, and the BU Emergency page.