Inquiring Minds: Exercise and Mental Recall
Research says fit body makes for fitter memory
Boston University's Undergraduate Research Opportunities Program (UROP) has supported the research of more than 1,500 students since 1997. This academic year alone, under the direction of Thomas Gilmore, a College of Arts & Sciences professor of biology, more than 200 scholarly pursuits, from modeling the structure of space-time to treating social anxiety disorder to deconstructing Woodrow Wilson's vision for world order, were funded. That number will soon swell. Jean Morrison, University provost, announced last week that UROP's funding would double next year, to more than $1 million.
This week, in conjunction with Undergraduate Research Week, BU Today presents the research projects of four students or student teams in the series "Inquiring Minds."
On your next trip down memory lane, don't walk—jog. Physical fitness bolsters the brain's power of recall, BU researchers have found.
Corroborating studies elsewhere, Andrew Whiteman (CAS'12) says that exercisers performed significantly better on memory tests he recently conducted through the Undergraduate Research Opportunities Program. Working with him were Chantal Stern, a College of Arts & Sciences professor of psychology, and Karin Schon, a senior postdoctoral associate.
The BU team is among those researchers pioneering the study of mental activities governed by the hippocampus, a small but essential warehouse of memories in the brain, says Schon, who became interested in the topic after taking up running and seeing her own mental alertness spike.
Their study tested 28 subjects, most BU students or young alumni. The team measured subjects' cardiorespiratory health by putting them on a treadmill and outfitting them with a breathing mask to record oxygen and carbon dioxide concentrations, a common measure of fitness. They also had subjects keep a diary of their exercise habits for a week or so. Then the subjects were given various memory tests.
In one, they viewed pictures, and 15 to 20 minutes later saw a larger set of images—half of which they'd seen before, half new—and were asked to record, on a scale, how confident they were that each image was old or new. Results showed that "our more aerobically fit people were much better able to say, with higher confidence, that they had seen a greater proportion of the images before," says Whiteman. Specifically, people who were just medium-fit (not athletes or endurance-trained) remembered 73 percent of the pictures, compared to 67 percent recalled by sedentary and low-fit subjects.
In another test, subjects viewed pictures of faces and accompanying names, and then were shown the pictures again to see if they could match them to the names. The hippocampus controls that memory, says Stern; Schon says it's a particularly ripe area to explore because recalling names is a typical, everyday task, one with which people grapple as they age. Again, fit people made fewer mistakes than the sedentary.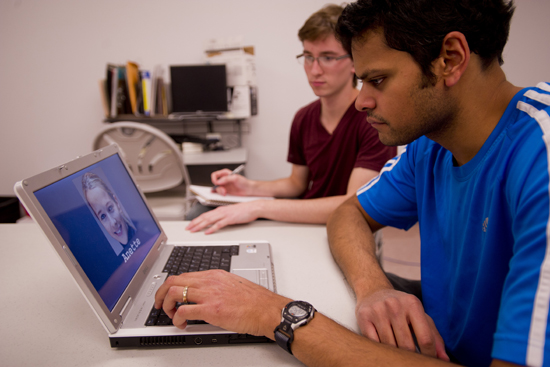 Fitness probably strengthens memory for a simple reason, according to the researchers: previous studies have shown that exercise promotes neurogenesis, the growth of new neurons, in the hippocampus. As part of its project, the BU team draws subjects' blood to test for a brain growth protein before doing memory testing. "When I went to college, I was taught you were born with all the neurons you're ever going to have," says Stern. "Now we teach people, well, there is also this process of neurogenesis."
The study did not include subjects with impairments such as dementia. However, studying healthy aging, including good memory, could yield insights for treating impaired people, says Stern.
Subjects' fitness levels spanned athlete to couch potato. "We actually want to not just get the extremes," says Schon. "We want to get everything from very sedentary, very poor aerobic capacity to somebody who's endurance-trained."
The researchers presented their findings earlier this month at the annual meeting of the Cognitive Neuroscience Society in Chicago. Schon says she'll be pursuing the investigation with older subjects, focusing on the effects of exercise on the aging brain. Meanwhile, the idea that a fit body begets a fit mind is finding corroboration elsewhere, including a recent University of Dublin study similar in method to BU's.
All of which, says Stern, "makes you want to go the gym."
Tomorrow, in the final installment of "Inquiring Minds," two students explore the role Jewish doctors played during the Holocaust.
Interested in applying for a UROP grant for fall 2012 funding? Apply here. More information is available by calling the Undergraduate Research Opportunities Program at 617-353-2020.