Cold or Flu? Don't Ask for Antibiotics
They won't help, and can hurt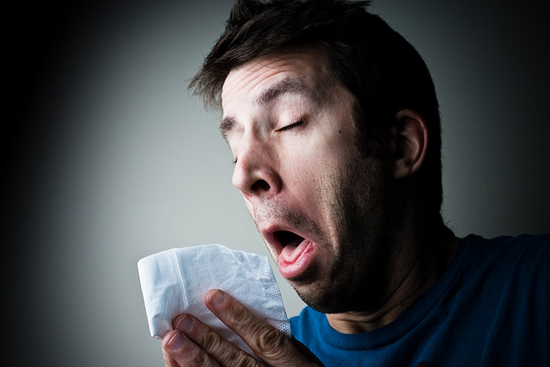 Adding their voices to a national campaign, BU health officials are greeting flu and cold season with a warning against using unnecessary antibiotics.
Most illnesses in the chilly-and-dark months come from viruses, and antibiotics cure bacterial, rather than viral, infections, says David McBride, director of Student Health Services. That means that all those colds, flus, runny noses, nonstrep sore throats, and most coughs and bronchitis that students bring to the infirmary can't be helped with antibiotics.
"We do often see students and their families who are accustomed to calling their doctor and getting a prescription for antibiotics over the phone," says McBride. He notes that for the most routine sinus infection (sinus infections being a common student complaint at this time of year), studies have shown that "placebo and antibiotics do about the same in terms of the person getting better."
With Student Health Services treating thousands of upper respiratory tract infections every year, he says, "we want to practice good, evidence-based medicine."
And the evidence is that "antibiotics are vastly overprescribed," says Wayne LaMorte, a professor at both the School of Medicine and the School of Public Health. "A large proportion of the inappropriate prescriptions result from upper respiratory tract infections," especially during this time of year.
"Antibiotics have no effect whatsoever on viral infections," LaMorte says. It's not just a problem of doing no good; needless antibiotics may do harm. "There can be side effects from any medication, including antibiotics, and there is no value in being exposed to a medication one doesn't need," says M. Anita Barry, director of the Boston Health Commission's Infectious Disease Bureau. And rampant antibiotics use has increased drug-resistant bacteria, leading to what the Society for Healthcare Epidemiology of America (SHEA), the Infectious Diseases Society of America (IDSA), and the Pediatric Infectious Diseases Society (PIDS) say has become a "critical threat to the public health of the United States."
"We at Student Health Services have seen an increase in the incidence of antibiotic-resistant bacterial infection," McBride says. That issue isn't confined to campus, but is "a major problem in the United States and throughout the world," says Barry. "Some bacteria are becoming increasingly resistant to our currently available antibiotics, and relatively few new antibiotics are in the development pipeline."
Washing your hands for an entire minute—longer than most people do—and using hand sanitizer throughout the day are good flu preventives. Should you get the flu, here's McBride's advice: drink lots of liquids, stay in bed, and take cough and pain medicine.