BU Sells Hotel Commonwealth to Sage Hospitality
Luxury hostelry revitalized Kenmore Square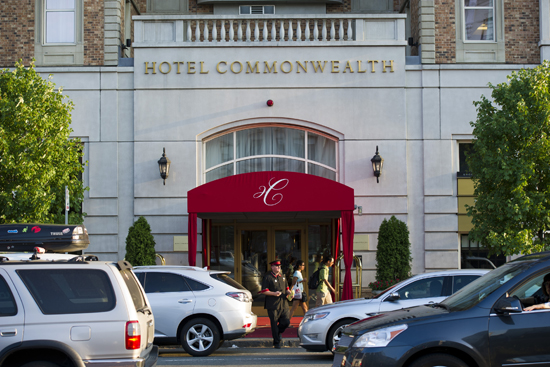 SOLD: Large Back Bay residence, 149 RMS, BALLPARK VU. European-style with luxury appointments in sizzling neighborhood. Kitchen with award-winning food service. Convenient access to public transportation, snazzy retail shops (some in-house) and restaurants (ditto).
BU sold the four-star Hotel Commonwealth this week to a partnership of the Denver-based Sage Hospitality and the investment firm Fundamental Advisors LP for $79 million in a deal that includes the leases for hotel tenants, notably its restaurants, and the parking lot.
The sale capped an era in which many observers applauded the influence of the 10-year-old hotel, with its 1,500-square-foot luxury suite and room amenities—red roses, artisanal cheese trays, chocolate truffles—on Kenmore Square's formerly seedy character.
Sage owns and runs hotels under such brands as Westin, JW Marriott, Sheraton, Doubletree, and Hilton. It also runs its own independent hotels and several restaurants.
"The sale is aligned with Boston University's long-term interest in improving Kenmore Square as a commercial gateway to the Charles River Campus," says Gary Nicksa, BU's senior vice president for operations. "Sage Hospitality shares our vision of continuing to support the ongoing transformation of the square into a vibrant destination."
Nicksa says the University has always considered Kenmore Square to be a commercial area and not an academic or a research space. BU sold the building while retaining the underlying land, which it will lease to Sage, "a fairly common way of selling commercial real estate," he says, and one that allows the University to "maintain a long-term interest in the ongoing development of Kenmore Square." BU first bought property in Kenmore Square in 1982.
Nicksa says proceeds from the sale will be invested in the University's endowment and will support its academic mission.
Sage Hospitality CEO Walter Isenberg, whose company runs 60 hotels in 18 states, says the Commonwealth "fits perfectly into our strategy of acquiring high-quality lodging experiences in top hotel markets in the United States." He says BU "created one of Boston's finest hotels, and Sage will build off of that strong foundation to take the hotel to the next level."
Barry Bloom, a School of Hospitality Administration associate professor, says Boston is one of the nation's hottest hotel markets, with the seventh highest occupancy rate for U.S. cities. In 2011, the occupancy rate here topped 71 percent, while the national average is 60 percent.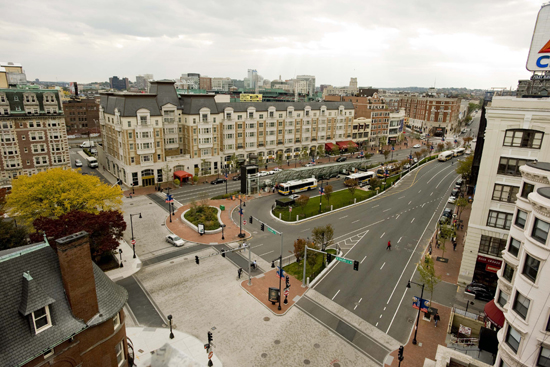 Bloom says interest in the hotel may reflect the market's belief "that Kenmore Square, as a recently revitalized neighborhood, has a significant potential upside." In that context, the Commonwealth gleams especially bright, he says, and its managers have done an excellent job keeping top-notch facilities and guest service. The hotel has been rated number one among 73 Boston hotels in TripAdvisor.com's rankings. The hotel has been praised in Travel & Leisure and Conde Nast Traveler, and its restaurants and bar have wowed Boston Magazine as best brasserie and late-night dining (Eastern Standard), best upscale seafood restaurant (Island Creek Oyster Bar), and best upscale bar (the Hawthorne). The three will continue to be run by their current leadership, Sage Hospitality says.
Upgrading Kenmore Square had been a priority for the University as far back as 1986, when head shops and noisy nightclubs pockmarked the area. The University opened Barnes & Noble at BU, Boston's largest bookstore, and the notorious Rathskeller—a punk-rock club that featured future superstars, but fueled party-hearty rowdiness—shut down in 1997.
The Hotel Commonwealth, after a false start that had the city demanding, and the developer agreeing to, design changes (the initial façade had wags dubbing the garish gargantuan "Disney World"), became a veritable Taj Mahal in the neighborhood, while Kenmore Square was reborn as an R&R dining and shopping hub.