BU Goes to the Grammys
Marsh Chapel musicians perform on nominated CD
Sunday's Grammy Awards telecast will include lots of music's familiar faces: Foo Fighters, Lady Gaga, Adele, Scott Jarrett, Justin Blackwell…
OK, you won't see the last two during the show, airing on CBS at 8 p.m. Jarrett (CFA'99,'08) and Blackwell (CFA'09)—Marsh Chapel's director and associate director of music, respectively—are competing in the Best Choral Performance category, which is being awarded during a nontelevised ceremony earlier in the day. Only pop music winners will be announced during the evening broadcast, Jarrett says.
Jarrett and Blackwell won't be in Los Angeles for the awards. Instead, they'll be performing in Florida with Seraphic Fire, the Miami ensemble on whose Grammy-nominated CD they jointly play a piano. Their shared keyboard is the lone musical instrument on the CD, an hour-long rendition of Johannes Brahms' Ein Deutsches Requiem, Op. 45.
Composed by the German maestro in the 1860s, this Requiem features former Marsh choral scholar Teresa Wakim (CFA'05) singing soprano. Two others—a baritone and Seraphic Fire conductor Patrick Quigley—round out the performers.
For the recording, made last June, the Marsh duo sat side-by-side at the keyboard. "I sit on the left side of the bench," says Jarrett, "and Justin sits on the right side and plays the top notes. I play the bottom notes." (This duet style of playing was a favorite of Schubert's in his compositions.) But it's hardly the only unusual thing about Seraphic Fire's Requiem.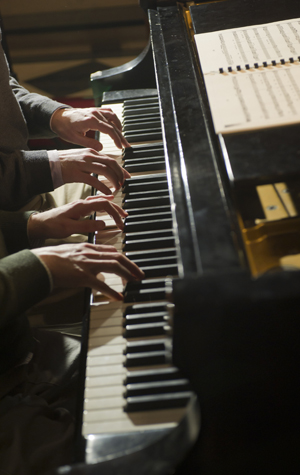 "Anybody who has sung in a choir knows the Brahms Requiem," Jarrett says. "It's one of the top five great masterworks of the choral orchestral repertoire. However, this piece is for a big chorus and a big orchestra, and that's how most people know about it. Brahms made a different version for piano four-hands. We have documentation that the Brahms Requiem's first performance in England was this version in somebody's salon." Seraphic Fire's rendition "brings to light the possibility that this piece—which otherwise in everybody's mind exists in a symphony hall with a big orchestra—also has a small, intimate quality about it."
"For me," says Blackwell, who is also Marsh's organist, "the part that most came alive in this recording was that with a large orchestra it's more difficult to make nuance. That is something that this CD has."
The collaboration with Seraphic Fire came about through Jarrett's friendship with conductor Quigley. The two met at a conference several years ago, and "I think I've done at least one performance with them every year" since, Jarrett says. Blackwell had played once with Seraphic Fire as well, although the CD is the first time either had been invited to record with the group.
"We referred to them as 'the orchestra' during the recording session," Quigley says of his two pianists. "Both of them are such amazingly stellar musicians. They both know the orchestral score so well, they were able to bring out things and make the piano sound like 80 instruments."
As members of the Grammy-bestowing Recording Academy, which includes musicians, producers, and engineers, Jarrett and Blackwell were able to vote on the initial ballot for nominees, choosing five picks in various categories. (Yes, they voted for themselves.) An academy committee whittled the top vote-getters down to five nominees per category.
Blackwell will play organ at Sunday's Seraphic Fire concert, and Jarrett will assume baton duty for Quigley, who'll be in L.A. for the Grammys. Their competition for the award includes Beyond All Mortal Dreams—American A Cappella (Hyperion Records), Kind (2L), Light & Gold (Decca), and The Natural World of Pelle Gudmundsen-Holmgreen (Dacapo Records).
Win or lose, Jarrett says, they've already scored an honor with this, their first nomination for music's top prize. "Once you've been nominated for a Grammy, you can't take that away."
Still, Blackwell is not yet crowing about the honor on his résumé: "I don't want to jinx anything."
See winners here after Sunday's broadcast.