All-You-Can-Eat Ice Cream for a Great Cause
Annual Jimmy Fund Scooper Bowl ends today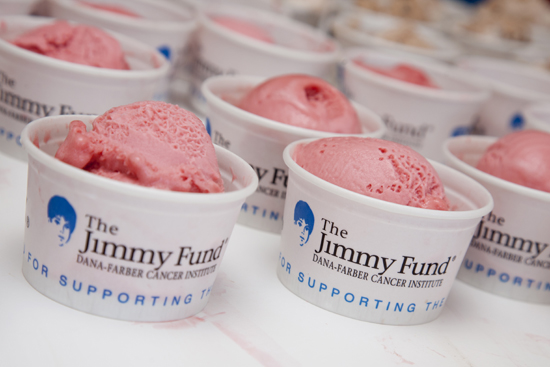 For 30 years, the Jimmy Fund Scooper Bowl has marked the unofficial start of summer in Boston. The three-day ice cream festival, which ends today, draws 60,000 ice cream lovers to Boston's City Hall Plaza each year, with proceeds going to support the Jimmy Fund. Since 1948 the Jimmy Fund has been raising money to support the fight against cancer in children and adults at Boston's Dana-Farber Cancer Institute and to help improve chances of survival for cancer patients around the globe.
The nation's largest all-you-can-eat ice cream festival had humble beginnings. On a hot day in June 1983, four ice cream vendors spent six hours doling out limitless scoops for $1 per person as part of the New England Dairy Festival. Hendries Ice Cream founder Don White came up with the idea of donating the ice cream proceeds to the Jimmy Fund. Today's Scooper Bowl festival is now an independent, three-day event featuring 10 of the area's largest ice cream companies: Baskin-Robbins, Ben & Jerry's, Breyers, Brigham's, Byrne Dairy, Ciao Bella Gelato, Edy's, Friendly's, Hood, and SoCo Creamery. More than 10 tons of ice cream, frozen yogurt, and sorbet will be consumed. Visitors can choose from classic flavors like strawberry and coffee as well as more exotic fare like passion fruit sorbet, mission fig, and salted caramel ice cream.
All of the participating companies donate ice cream, labor, scoopers, and products to the festival, which has raised more than $3 million for the Jimmy Fund since its inception.
So grab a spoon and join the fun before the festival comes to a close. There's no better way to welcome summer than with a big ice cream cone (or two, or three).
The Jimmy Fund Scooper Bowl runs through today, June 7, from noon to 8 p.m., at City Hall Plaza, near the Government Center T stop on the Green Line. The event takes place rain or shine. Tickets can be purchased online here or at the door. Tickets are $10 for adults, $5 for children aged 3 to 9, free for children under 3. Groups of 15 or more receive a discount of $2 per ticket. Visit the website for more information.
Erin Thibeau can be reached at ethibeau@bu.edu.