Skating for a Championship
Women's hockey season opens tonight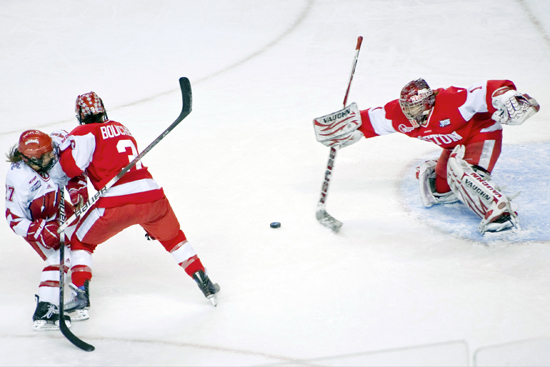 Coming within one victory of a national championship title leaves a sports team hungry—and determined.
The number two–ranked BU women's ice hockey team did that last season, losing to the University of Wisconsin Badgers 4-1 in the Frozen Four championship game. That loss, says goalie Kerrin Sperry (CAS'14), makes the team's mission for the upcoming year simple.
"We expect to play hard enough to win a national championship. We didn't come away with what we wanted last year. It's about time we do," she says.
The Terriers embark on that goal tonight at 7 p.m., when they open their season against the seventh ranked University of North Dakota Fighting Sioux at Walter Brown Arena.
This is only the Terriers' seventh season as a varsity sport—but they have been in contention for the championship from almost the beginning. After finishing the 2010–2011 campaign with a 27-7-4 record, team members believe they're ready to take another step forward this year.
"Last year we had the skill, but this year we have the experience as well," says Sperry. "We know what it takes, we know how to get there and how to succeed at that level."
If the Terriers are to match or surpass last season's success, they need to overcome the loss of some of their most talented players. Forward Jillian Kirchner (SAR'11), who was the team's third-leading point scorer, and last year's captain Holly Lorms (SMG'11), who was also an outstanding defensive forward, graduated in May. And Catherine Ward (GSM'12), who led the Terriers in assists last season and captured the Women's Hockey East (WHEA) Best Defender award, is ineligible to play this season.
Defenseman Kasey Boucher (SMG'12), one of this year's three assistant captains, acknowledges that such talent is difficult to replace, but says she's confident the Terriers are up to the task.
"Losing players like that is not something that you want to do, but we can overcome it and work as a new team," Boucher says. "We have some great incoming players. We can't look at the past and be like, oh, I wish we had her. This year, we have a lot of strength in a lot of areas."
The Terriers return to the ice tonight with a number of talented athletes. WHEA All-Star forward Jenn Wakefield (CAS'12), last year's top scorer and newly appointed team captain, will lead the offense. The Terriers single-season record holder for most goals and points, Wakefield netted 32 goals and 22 assists in 34 games last season.
Fellow forward and assistant captain Marie-Philip Poulin (SED'14) (left) will work to improve upon an impressive freshman campaign that saw her score 47 points and receive the WHEA Rookie of the Year award and a WHEA All-Star appearance.
And Sperry will be back in net after being named to the WHEA All-Rookie team, as well as earning the league's Goaltending Champion honor. Sperry had a sparkling 1.63 goals against average last season, to go along with a strong .929 save percentage.
Head coach Brian Durocher (SED'78) knows well how much talent is at his disposal, but says he's warned his players against complacency.
"We're returning a good volume of players here," Durocher says. "Our defense is returning minus Ward. Up front we lost three good players who were also leaders, but we've got three pretty solid players coming in. We have plenty of reason to be optimistic, but we realize we have a target on our back."
That target is the product of the Terriers' preseason rankings. The team finds itself atop the WHEA coaches poll, earning six of eight first-place votes, and is ranked as the second best team in the nation by U.S. College Hockey Online (USCHO), the influential website devoted to college hockey.
"We were selected first in the WHEA preseason poll last year, so this is not a foreign location for us, but when you compound that with the final game last year, the target is bigger and everyone is excited to beat you," Durocher says. "The rankings don't win you any games and don't intimidate anyone, they just get more fired up to play you."
Boucher knows that the Terriers' high preseason rankings will have opponents gunning for them, but says she believes such fierce competition will be beneficial in the long run.
"Our coach always tells us to play like an underdog, because underdogs always play hard," she says. "Every game we play we're going to play against good teams. It's good to have that pressure because it will force us to go hard and never get too cocky. Every game will be a battle."
A look at the Terriers' schedule confirms that. During the regular season, they'll play seven games against the other three teams in last season's Frozen Four, including two in October against the defending champion Badgers. They'll also face challenges in the WHEA, as USCHO ranks two other league members—Boston College and Providence—as fellow preseason Top 10 programs.
Durocher acknowledges that his team's relentless schedule will pose some significant obstacles for the Terriers, but says his players wouldn't want it any other way.
"It's a challenge, but that's why we play the game," he says. "Kids come here because they want to be a part of a great institution and part of a program that plays at a high level of competition, and we provide them with that."
Boucher agrees. "My team and our coaches have high expectations for this year," she says. "Obviously we can't bank off of what we did last year, but we have a lot of talent and the potential to go far."
For her part, Sperry projects even more confidence. "We know other teams are going to be coming for us," she says, "and we're gonna be ready."
The Terriers begin their season tonight, Friday, September 30, when they take on the University of North Dakota Fighting Sioux at Walter Brown Arena at 7 p.m. Tickets are $5 for the general public, $3 for BU students, faculty, and staff. Tickets may be purchased in advance here or at Brown Arena one hour before the game.
Ben Carsley can be reached at bcarsley@bu.edu.