Red Hot Hockey: Terriers, Big Red Renew Old Rivalry
BU, Cornell to face off Saturday at Madison Square Garden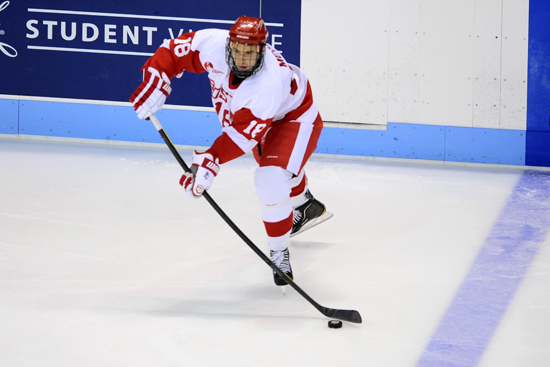 The third edition of Red Hot Hockey will pit the BU men's hockey Terriers against the Cornell Big Red in front of a packed house in Madison Square Garden on Saturday. Named for the color the two teams share, the nonconference game reignites an old rivalry.
Playing in front of intense crowds in massive venues is nothing new for either team, but Terrier defender Adam Clendening (MET'14) acknowledges that playing in the Garden will be different.
"I've been to the Garden but never played there before, and it's what everyone dreams of, to play in that kind of a game," he says. "I'm just trying to treat it like any other game, but you have to know how important it is."
Held every other year, Red Hot Hockey aims to introduce a fierce, long-standing rivalry to a new generation of college hockey fans. Before the Terriers left the Eastern College Athletic Conference for the America East in 1984, BU and Cornell faced off in countless conference battles. From 1967 to 1977, the two programs each won five ECAC titles, and they accounted for five national titles from 1967 to 1978.
Terrier forward Wade Megan (CGS'11, SHA'13) is looking forward to lacing up for the rivalry.
"I played in it as a freshman and it's unbelievable. The atmosphere in there is pretty special," Megan says. "There's going to be a lot of energy in the building and I'm looking forward to it."
The players aren't the only ones excited about the rivalry—many alumni are looking forward to the game as well. The BU Alumni Association and the Friends of BU Hockey are sponsoring a Pep Rally at Madison Square Garden two hours before the game, with the Stanley Cup, in the possession of the Boston Bruins for the first time since 1972, scheduled to make an appearance as well.
The Terriers and the Big Red head into their much-anticipated matchup with similar records. Coming off a three-game winning streak, BU is 6-4-1 on the season, while Cornell is 5-2 and has won four in a row. BU finds itself ranked 15th in the nation, and Cornell isn't far behind, at 17.
Megan, who has netted six goals and an assist so far this season, says the Terriers know Cornell is a worthy adversary, but have to focus on their own preparation.
"I think it's just as much about us being ready to play as it is worrying about what they're going to do," he says.
"We need to be physical, be the first ones to the puck and to drive to the net. If we turn the puck over as little as possible, we'll be fine," Clendening predicts. "Our skill will take over the game as long as we play it the right way and with the right intensity."
Despite their current winning streak, the men's squad has had an up-and-down season thus far. The Terriers have beaten some of the nation's top teams, including the University of New Hampshire, the University of Denver, and Boston College, all ranked in the top 15 when they faced off against BU. However, they have also suffered some surprising losses, to the likes of unranked University of Massachusetts–Lowell and Holy Cross.
But after wresting a victory from Vermont last Friday and one from UNH on Saturday, Megan believes the Terriers' early-season woes are behind them.
"This past weekend we made some big strides in the right direction, and we need to build off that and keep it going," he says. "I think it's a lesson learned as far as just being mentally prepared for every game. We certainly have the skills to play with anyone, and I think we're gonna like the results."
Clendening, who leads Terrier defensemen with 7 points and 31 shots this season, sees it the same way. "We realize what type of game we need to play and how intense we have to be every night," he says. "We're starting to buy into that and the results have paid off."
The BU Terriers and the Cornell Big Red face off on Saturday, November 26, at 8 p.m. at Madison Square Garden. Tickets for the game range from $25 to $250 and can be purchased online through Ticketmaster. The Boston University Alumni Pep Rally begins at 6 p.m. Tickets for that event are $20 and must be purchased by calling 617-353-5261.
Ben Carsley can be reached at bcarsley@bu.edu.