Men's Hockey Terriers: Continuity Is Key
As season begins, experience is on their side
The BU men's ice hockey team launches its season tomorrow night with a bull's-eye on its back. The Terriers are ranked 6th in the country by USA Today and 10th by United States College Hockey Online.
Their home opener against the University of New Hampshire Wildcats will be the start of what promises to be a fiercely competitive Hockey East battle. But that's not the only challenge. The Terriers' schedule is relentless. And they have the task of recovering from the 2010–2011 season, when the team, one of the youngest in the program's history, came up short.
But the 2011–2012 squad has something that last year's team sorely lacked: experience.
"We're comfortable with each other, there's a lot of camaraderie in the locker room, and we're a tight-knit group off the ice as well," says captain Chris Connolly (MET'12). "Being that much older and being more mature can only help us this season."
Connolly, one of only five players remaining from BU's NCAA championship 2008–2009 team, says last year's 19-12-8 record was a decent outcome given the team's youth. But he was disappointed by the Terriers' failure to make the NCAA tournament and their elimination in the Hockey East quarterfinals at the hands of Northeastern.
"The ultimate goal is to get back on top and win a national championship, because there's nothing that compares to that feeling," Connolly says. "At the same time, I just want to be able to improve on last year and take a step in the right direction."
Head hockey coach Jack Parker (SMG'68, Hon.'97) concurs with Connolly's assessment.
"It was a solid year for us because we were third in Hockey East, with a young team in a difficult league, but we didn't go anywhere near where we'd like to," Parker says.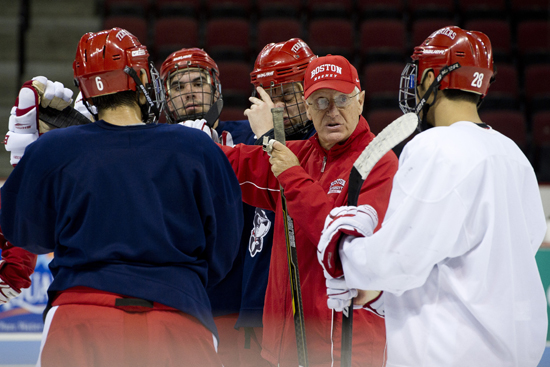 Fortunately, the team heads into the new season with a number of advantages. The Terriers lost only three players from last year's roster: forward Joe Pereira (MET'11) and goalie Adam Kraus (MET'11) graduated, and defenseman David Warsofsky (CGS'10) signed with the Boston Bruins in June.
Among this season's returning players are all seven of the Terriers' top scorers from last year and five of their six most experienced defenders.
Connolly was captain last year also, so he's familiar with the role. He's the first two-year captain since Jack O'Callahan (CAS'79), a member of the legendary "Miracle on Ice" U.S. Olympic team that won a gold medal in 1980. Connolly finished last season tied for second on the team in points, with 28, trailing only newly appointed assistant captain Alex Chiasson (CAS'13).
Forward Charlie Coyle (CGS'12), last year's Hockey East Rookie of the Year, was drafted 28th overall by the San Jose Sharks in 2010 and has been listed as the 20th-best prospect in the National Hockey League by the site Hockey's Future. And top goalie Kieran Millan (MET'12), a runner up for Hockey East Player of the Year honors last season, returns as well. Millan, a 2009 draftee of the Colorado Avalanche, holds BU's single-season record for saves and was named the Terriers' Most Valuable Player last season.
Beyond the Terriers' stars, there is no lack of talent on this season's team. Of the 26 players on the roster, 13 are NHL draftees, and a 14th—Ben Rosen (CAS'13)—was invited to the New York Islanders minicamp earlier this year.
Parker says that while talent is obviously important, it's only one of the factors that will determine the team's success this season. "Talent doesn't win," Parker says. "There's not a team in this league that doesn't have talent. Attitude and effort are what win in this league."
Connolly agrees, and says that what will determine the Terriers' success is how well they play in late winter and spring. "We have to make sure our team is playing our best hockey at the end of the year, and that's something that's hard to achieve," he says. "It usually works out that the team with the older players can make more of a run come playoff time. Hopefully we're playing our best hockey come April."
Parker says he is confident that the Terriers will be able to maintain a high level of play all season.
"Last year's team was the youngest team I've ever coached, both as far as class year and age," he says. "We had 17- and 18-year-olds playing against 24- and 25-year-olds, and the long season wore on them. Some who had great starts fizzled at the end. But I think the best thing that happened to us is that we got older this summer. We've been through the war a bit, and that in and of itself will make us a better team."
The Terriers begin their season tomorrow, Saturday, October 8, when they take on the University of New Hampshire Wildcats at 8 p.m. at Agganis Arena. Tickets are $19 for BU students, faculty, and staff, and $26 for the public. Tickets may be purchased ahead of time here or at the Agganis Arena ticket office.
Ben Carsley can be reached at bcarsley@bu.edu.