Unoriginal Sins
(Re)Defining plagiarism in the digital age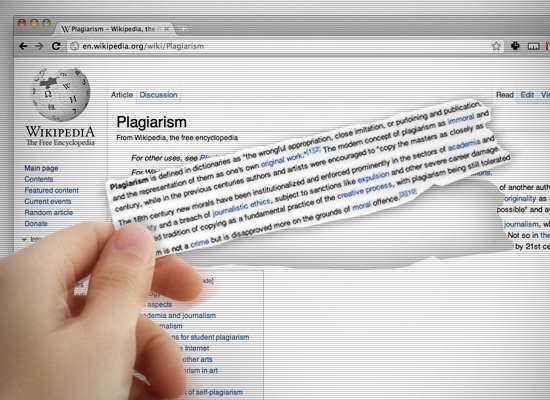 In an introductory writing course early in his teaching career, John Regan received a student paper on the Equal Rights Amendment. The first three pages were mediocre. But on the fourth page, the voice changed, growing more sophisticated. Regan wondered about that. Then he noticed a website address at the bottom of the page the student had clearly forgotten to delete: www.schoolsucks.com. It belonged to a popular essay mill.
"The student said he had run out of ideas and needed help," says Regan, a College of General Studies senior lecturer in rhetoric. "I had another student from New Jersey, I think his name was Vinnie, and he started writing in an Australian dialect in the middle of a paper."
That particular homework helper site, whose catchphrase is "download your workload," is one of thousands, many with far more legitimate-sounding names, just a mouse click away for every college and high school student. A study published last summer in the Annals of Internal Medicine showed that one in 20 residency application essays submitted to Harvard's training programs at Brigham and Women's Hospital contained plagiarized material. And beyond campus, a disturbingly laissez-faire attitude gained national attention last month.
An obscure magazine named Cooks Source, in tiny Sunderland, Mass., published a Virginia blogger's piece about medieval apple pies without permission or payment. When the miffed writer, Monica Gaudio, complained to editor Judith Griggs, she received an email that read, in part: "… honestly, Monica, the Web is considered 'public domain' and you should be happy we just didn't 'lift' your whole article and put someone else's name on it! It happens a lot, clearly more than you are aware of, especially on college campuses and the workplace."
In this age of file-sharing, mashups, Wikipedia, and music sampling, has the practice of borrowing without asking become more pervasive? More acceptable? Is Griggs right? Yes and no, says Susan Blum, an anthropologist at Notre Dame University and author of My Word! Plagiarism and College Culture (Cornell University Press, 2009).
"I think we are probably in a fuzzy place," says Blum. "Standards are always changing and evolving. The ones we have now have not been eternal. They were born in a certain moment in time, when authorship and copyright were being established, mostly in England. So those of us who are writers, or who operate in the academic context, have a certain set of practices that we would probably all agree upon, but those are not necessarily universally shared."
Case in point: German writer Helene Hegemann, all of 17 years old. Last winter, she copped to lifting passages in her best-selling and award-nominated novel on Berlin club life. Instead of hanging her head, she defended the practice, arguing that she mixed the borrowed material and placed it in a different and unique context. "There's no such thing as originality anyway, only authenticity," Hegemann said at the time.
Former longtime Boston Globe reporter and books section editor David Mehegan (GRS'11), a doctoral student at BU's Editorial Institute, covered several plagiarism scandals at Harvard, and he worries that attitudes like Hegemann's will soften resistance to literary theft. "She implied that in this modern age, the whole idea of authorship is antiquated," he says. "I think there's this idea out there that this is OK. That's very tempting for young people."
Closer to home, a CGS student blamed lifted material on her cousin, who had written the paper for her. In another case, a College of Communication student handed in a paper comprising two web pages pasted together, with three original sentences tacked on. Rachel Johnson (MET'11), who is writing a master's thesis on plagiarism, says the belief that the internet is a public domain, free for all, is definitely growing. "Plagiarism is changing, and how it's changing, people just don't understand. It's really hard to tell students who have been downloading free music all day that this is bad."
Find out what students think about plagiarism on campus in the "YouSpeak" video above.
Digital natives
It's clear that there are more plagiarists cribbing online than in traditional fashion, but is plagiarism more pervasive now than ever? The experts don't agree, and the few study results are mixed. It's certainly easier to do. Type "custom papers" into Google and 19.8 million results are returned, with sites charging from a couple of bucks to $35 per page. Or log onto Craigslist, where countless "editors" are willing to help students meet their term paper needs. Regan, who is on the editorial board of Plagiary, a scholarly online journal about plagiarism, says the majority of students don't plagiarize, and those who get caught usually do confess.
According to surveys conducted between 2006 and 2010 by the Center for Academic Integrity, based at Clemson University, about 40 percent of 14,000 undergraduates admitted to cribbing a few lines for their essays and papers. And those who saw copying and pasting from the web as "serious cheating" stood at 29 percent, a 5 percent drop from the 34 percent earlier in the decade.
Last year at BU, the office of student academic life at the College of Arts & Sciences, with 7,200 students the University's largest school, recorded 56 incidents of plagiarism, with 10 cases going before the academic conduct committee. Steven Jarvi, CAS associate dean for student academic life, says that not all situations rise to the hearing level. Stressed, time-crunched professors sometimes opt to "keep it in-house" and impose a grading penalty, particularly for first offenses. All grading sanctions are recorded with Jarvi's office. In the 2008–2009 school year, there were a total of 39 cases, and the previous year there were 50. A decade ago, during the 2000–2001 academic year, the number was 28. Jarvi notes that the grading penalty option was not available at that time, so all the cases went to hearing.
The College of General Studies, a two-year school that enrolls 1,300 students, sees two to six cases of plagiarism a semester, typically toward the end of the term, according to Stacy Godnick, CGS assistant dean. Godnick isn't sure whether the practice is on the uptick or detection has become more effective, but she acknowledges that the internet factor has made combating it "an uphill battle."
"In this digital age, everything is perceived as common and shared information," she says. "Traditional research and academia are bucking up against the Wild West of the internet, which encourages sharing, cutting and pasting, and sound bites. It's a different mentality."
Online research has certainly reshaped the relationship between students and source material by, among other things, erasing the tactile, physical process of scholarship. Haunting library stacks in search of sources reinforces the countless individual contributions made to the academic canon. Holding a book with somebody's name printed on the spine and flipping through the pages is not the same as highlighting text on a computer screen. Stealing something you can't hold is different from pocketing a DVD at Best Buy. The speed of search engines and copy-and-paste functions also shrinks time for reflection.
"Internet plagiarism is so quick and clean that we don't have to ruminate and feel guilty," says Jason Stephens, an assistant professor of educational psychology at the University of Connecticut, where he teaches classes on human learning, academic motivation, and research methods. "Academic dishonesty and plagiarism, morally speaking, are small potatoes, and there are certainly more things to worry about with American youth. But it's like death by a thousand cuts. The fact that a lot of the kids think it's wrong but they're doing it anyway, that's the character issue that I worry about."
So are up-and-coming brains being hardwired to plagiarize, or at least to feel fewer qualms about it?
"All of this technological usage is doing something to the brains of the users," says anthropologist Blum. "I don't know if borrowing is such a fundamental skill that it could be a part of the hardwiring, but certainly I think there are cultural differences, perhaps generational, about the nature of intellectual property."
Regan (above), who has run plagiarism workshops for BU faculty, points out that computer software was originally designed for the business world, but by now "you would think that Microsoft Word could have something in the document that would come up and say, 'You need to cite this.' Students raised in the digital age may be wondering, if documentation is so important, why isn't it showing up in our software?"
The proliferation of essay websites has led to detection software like Turnitin.com, which checks uploaded essays against its database of some 40 million papers catalogued over the past 14 years. The site also uses an algorithm to scour the web for matches against uploaded work. The mills have responded by offering custom-essay services, or at least claiming to.
In 1997, BU took a legal shot at the paper mills after several students in a summer session turned in essays purchased online. The University hired a law clerk and a paralegal to pose as students seeking papers. Once the "undergrads" received the prepared essays, complete with course number and professor's name on the title page, BU filed a federal lawsuit against eight essay mills in several different states, arguing that their services devalued the University's degree programs and constituted mail and wire fraud. The suit was dismissed for procedural reasons in 1998, but Massachusetts has since made it illegal to sell research material for academic credit. In response, many sites post disclaimers that their content is for informational or comparison purposes only.
Shifting culture
It's not just students who borrow without asking. Vice President Joe Biden, historians Stephen Ambrose and Doris Kearns Goodwin (a Pulitzer Prize winner), even Helen Keller, all admitted to plagiarism. Former President George W. Bush's recent memoir, Decision Points, has come under scrutiny for passages allegedly lifted from the books of his advisors and mashed-up strands of previously published reportage.
Rachel Johnson's interest in plagiarism grew out of her job as an assistant editor in BU's Marketing & Communications department. She noticed one day that parts of the text submitted by a BU staff member for one of the schools' websites clashed in tone and style with the rest of the site. Johnson googled some of the phrases and found they'd been lifted without attribution from a book about BU. It wouldn't be the last time she'd have to insert sources into submitted copy.
"I feel a lot of it is laziness," Johnson says. "But we're in an academic environment where we would not tolerate that from a student. If we turn around and do it ourselves, our credibility is lost."
The most common excuse for plagiarism, at least among students and journalists, is deadline pressures. Scholars tend to blame sloppy assistants, as well as confusion over research notes. Sometimes the defense beggars belief. Take Kaavya Viswanathan, who as a Harvard freshman scored a lucrative deal with Little, Brown in 2006 for her novel How Opal Mehta Got Kissed, Got Wild, and Got a Life. Soon after its much-praised debut, numerous passages were shown to bear a striking resemblance to the work of young adult novelist Megan McCafferty. Viswanathan said the similarities were unintentional, claiming she possessed a photographic memory, and as an admirer of McCafferty, had internalized her prose. Several reporters covering the case noted that the 17-year-old college student was carrying a full course load while trying to meet her deadline. Mehegan suspects that deadline pressure pushed the author over the line.
"There are those who say that unconscious plagiarism is possible," Mehegan (below) says, "but it seems to me that if it's possible, then it's a kind of a mental illness. If you don't know the difference between what someone else said and what you said, then there's a problem with identifying yourself."
Stephens says some students, undergraduate and graduate, are so ignorant of the nature of scholarship that they don't know what an original source is and when it should be cited.
"Scholarship is about building knowledge," he says. "Very few people come up with truly original ideas out of the ether. That's not how academics work. Students think that when they're told to write a paper, they're supposed to come up with something fantastic—an original, groundbreaking idea. But scholarship is like bringing your little rock to the mountain and putting it on the top of the heap. So giving credit where credit is due becomes a much easier and more feasible prospect when you have that view of what it means to build knowledge."
The view of plagiarism also varies depending on what part of the world you're from. Many African countries, for example, have deep oral traditions, with the idea of information belonging to everyone. Plagiarism is still a foreign concept in parts of the global community, which has been known to cause problems for international students on American college campuses. In China, Blum says, standards of attribution are applied unevenly in classrooms and in some cases, it's not expected.
"Until recently, in China, students especially would never dare say anything original," Blum says. "Their task was to locate the most authoritative work on a subject, which meant something some grown-up had published. Their paper was a collection of other people's work, so they were never evaluated on the same basis as, let's say, an academic professor or writer. What they were being asked to do was what we would consider plagiarizing."
According to an essay mill writer quoted in the November 12, 2010, issue of The Chronicle of Higher Education, English as a second language students are among his top clients. And in some young minds, payment equals ownership. In her research, Johnson says she came across a case at BU where a student was busted for turning in an essay mill paper, but argued that he shouldn't receive a failing grade because he'd paid good money for the essay.
Stephens, who is heading up a three-year intervention project in Connecticut high schools to encourage academic honesty, says the fundamental culture of education has changed over the decades, from a pursuit of self-discovery and world awareness to a race for success and the material trappings that come with it.
"Education has become much more of a commodity," he says. "You could argue that in the late '60s and the '70s, education stopped being seen as an end in itself, but as a means to an end. It's about performing, about getting the degree, getting into grad school, so then I can get that big house. It's like a business now. The administrators are paid like CEOs, they act like CEOs, and tuition dollars are outrageous. With that kind of mentality in place, it's not about learning. I had a student who was not satisfied with his grade say to me, 'I'm a client.'"
Crime and punishment
While BU has a code of responsibility for the academic community, it doesn't have a unified statement on plagiarism, as schools within the University have traditionally operated independently. One of President Robert A. Brown's efforts has been to make BU a more seamless and uniform entity, Godnick says, and an effort is under way to establish a University-wide academic conduct code that will, in part, define plagiarism and establish a policy for adjudication. Until now, however, specific definitions and penalties have been left to individual schools, which can cause confusion for students taking classes in different schools.
The current CAS statement on plagiarism is taken from the 1963 revised edition of Harold Martin's and Richard Ohmann's The Logic and Rhetoric of Exposition. It runs more than 30 paragraphs and covers an ocean of infractions and examples—failing to footnote, paraphrasing without attribution, excessive collaboration, copying somebody's else's work, even self-plagiarizing. However, there is no internet-specific section or examples, although Jarvi says he hopes to incorporate those in time for next summer's freshman orientations and include an educational component targeted at shorter attention spans.
CAS students who get caught plagiarizing often appear before the academic conduct committee, typically a ten-person board comprising four or five faculty members, several administrators, and two or three students, including Adrien Smith (CAS'11) (above). Punishments range from probation to suspension to expulsion. Last year, CAS handed out four two-semester and one three-semester suspensions, all for second offenses, along with a handful of lesser punishments, such as single-semester probation.
"There is a lack of understanding of where the boundaries are and a sense that people can borrow more from the web with less credit due," Smith says.
The archaeology major's desire to serve on the committee grew out of the frustration she felt in high school, when she saw some fellow students plagiarize while others toiled. She doesn't think plagiarism is a huge problem at BU and says most of the cases she's heard were a result of last-minute panic, but adds, "there is also a sense, at least among the students we see, that with internet sources, you are less likely to get caught using someone's essay you found deep within the recesses of the web rather than something from an academic journal the professor might be familiar with."
Chris Walsh (GRS'00), associate director of the CAS writing program and an assistant professor, chairs the committee. "I tell my students, you've got to plan ahead, and when the temptation is there you've got to ask yourself, why are you in college?" he says. "Turning in a plagiarized paper is like paying somebody else to work out for you."
Walsh cautions professors against having students use plagiarism detection sites like Turnitin.com as a deterrent, because that can establish an atmosphere of distrust in the classroom.
"Some writing programs have all their students submit papers to Turnitin.com," he says. "That kind of horrifies me, because of the implication, even the name of it—Turnitin. You turn a paper in and you turn yourself in at the same time."
The first-year writing program at CAS comprises WR100 and WR150, which most BU undergrads are required to take. Walsh says the amount of time devoted to explaining what plagiarism is varies among professors, but several 15-minute sessions per semester are typical. Online tutorials are being explored. Johnson thinks it would be helpful to have an awareness campaign on campus, similar to bike-safety and sustainability initiatives. Regan and other plagiarism watchers urge professors to design specific assignments that deter the practice, resisting set topics or a single far-off deadline and breaking the writing process into components with separate due dates.
And when it comes to knuckling down in front of a blank document on the computer screen, Mehegan offers some advice from his newsroom days.
"Never have anything in front of you when you're writing," he says. "Even if you're just doing a story and you have a pile of notes, you can't write it with your face in your notebook. Of course, you'll have to go back and make corrections. But thoroughly research your sources, read them, and then put them down and write the damn thing."
Caleb Daniloff can be reached at cdanilof@bu.edu. Nicolae Ciorogan can be reached at ciorogan@bu.edu.