Nightlife: T's Pub
Comm Ave institution is back, promising to be "the place to meet"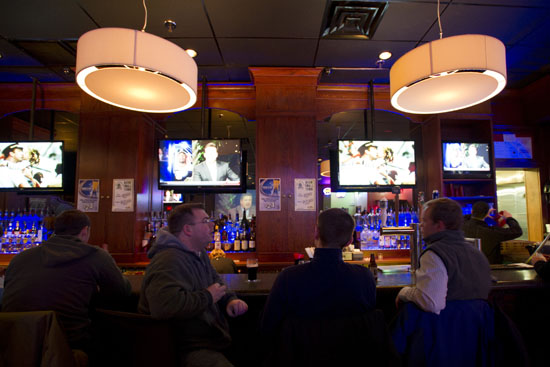 When T's Pub closed two years ago, after nearly 30 years in business, fans saw it as the end of an era. Famous for a welcoming atmosphere that attracted both neighborhood and campus types, an ample beer list, and multiple TV monitors, T's was the perfect place to watch a game.
Now, for the good news: T's is back. The space, most recently called 973 Commonwealth, closed in late summer, and the new owners, seeking to re-create the casual, friendly atmosphere of the original T's, have restored the name.
Fans of the old T's won't be disappointed. The new T's has everything they loved about the old: for starters, it's still the perfect place to watch a game, with 14 monitors ringing the brightly lit room and a 12-foot projection screen giving die-hard fans a chance to see everything, regardless of where they sit.
Then there's the beer list. Bottled beers run from $3.75 for Bud to $4.25 for Corona. Draught beers can be bought by the glass or pitcher. Pitchers run between $12 and $15. T's also has an extensive craft beer list; Original Sin Pear Cider is $6 a glass and a hearty Samuel Smith oatmeal stout is $6.50.
The food here, like the room it's served in, is unpretentious. If foie gras is your thing, T's is not. What you will find is classic bar food. Chicken wings anchor the menu, a terrific buy at $17.95 for a bucket of 30. We had the buffalo wings and they came—as promised—extra spicy, with a side of zesty blue cheese dressing for dipping. Other appetizers include a salty spinach and artichoke dip ($6.95), gravy fries ($4.95) (yes, they really are smothered in gravy), and veggie spring rolls ($5.95). If sodium and cholesterol are an issue, look elsewhere.
The rest of the menu is just as straightforward. The burgers are ample and prepared several ways. We had marinated steak tips ($11.95), which were cooked to order, and a Caesar salad with steak ($10.95).
The night we stopped by T's, the room was packed with hockey fans dining before a game at Agganis Arena. The room was noisy and jovial, but emptied once the game began, leaving the space to a group of neighborhood regulars. The service was excellent, almost too speedy for our liking. We could have used a bit more of a breather between the appetizers and the main course.
T's offers sports trivia night each Monday at 8:30, attracting a mostly young (21 to 25), predominantly male, crowd. With 25-cent wings and $1 hot dogs, it's the perfect place to watch Monday Night Football.
But you don't have to be a sports fan to have a good time at T's. The pub offers karaoke night on Tuesdays starting at 10. And each Thursday there's a general trivia contest starting at 8:30 p.m., where you can test your mettle on nonsports subjects.
If you're looking for a romantic night out or for somewhere big on atmosphere, T's Pub is not the place to consider. But if a cold beer, some hot wings, and a chance to watch the game on a big screen are what you're after, it won't disappoint.
T's Pub is open 7 days a week, from 11:30 a.m. to 2 a.m. T's takes American Express, Visa, and MasterCard, but not Discover.
973 Commonwealth Ave., Boston, Mass. 02115
617-254-0807
John O'Rourke can be reached at orourkej@bu.edu.
This is part of a weekly series featuring Boston nightspots of interest to the BU community. If you have any suggestions for places we should feature, leave them in the comments section below.