Flavors of Afghanistan Come to Allston
Ariana offers affordable, authentic tastes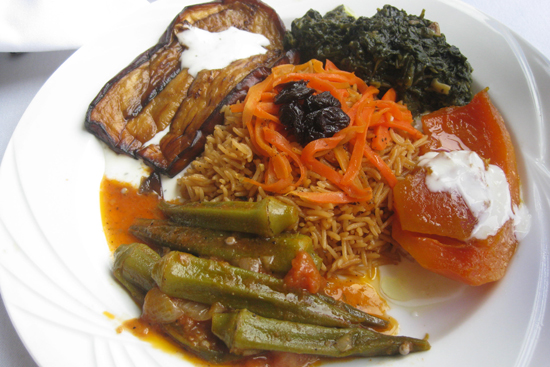 The lower stretch of Brighton Avenue in Allston is a melting pot of down-to-earth, affordable restaurants. You can dip into a massive bowl of Vietnamese Pho at Le's or try Japanese hot-pot dining at Shabu Zen. You can savor a plate of rigatoni alla puttanesca at Carlo's Cucina Italiana, order a Taiwanese red curd mochi bun at Yi Soon Bakery, or sample Nepali Masu Kothe dumplings at Mt. Everest Kitchen.
Newest to the mix is Ariana, the second Boston area restaurant to offer food from Afghanistan (the other is Helmand in Cambridge). Now open in the space formerly occupied by the Indian restaurant Dawat, Ariana offers traditional Afghan food in a sit-down, fine-dining setting—without the fine-dining prices.
The space is small and the décor is simple, warm, and welcoming, with yellow walls, dark wood accents, white tablecloths and sapphire-blue stemware. A large wine rack hugs the corner of the entrance, and jars filled with spices provide exotic accents.
The meal begins with a basket of warm, crispy flatbreads accompanied by three sauces: spicy chile, yogurt cucumber, and jalapeño, cilantro, walnut.
Many meat appetizers (also listed as side dishes) can be ordered as vegetarian dishes, without the ground beef. A plate of four appetizers with rice, the "vegetarian special" is a worthy sampler. The best of the group is Kaddo, pan-fried baby pumpkin that's baked and served with yogurt garlic sauce. It's sweet but not cloying, and showcases the pumpkin's mellow flavor. Also tasty is the Sabzi, garlicky chopped and sautéed spinach, and Bamiya, tender okra pods in a rich tomato sauce.
Standout entrees include Dopiaza—chunks of grilled leg of lamb, yellow split peas, and garlicky mushrooms. The dish is topped with vinegar-marinated onions, which provide a bright contrast to the rich lamb and savory peas.
In the Koufta Challow, flavorful beef meatballs swim in a spicy tomato sauce with sundried tomatoes, hot peppers, and green peas. A chicken dish, Mourgh Challow, is served in a sauce of yellow split peas, yogurt, cilantro, and curry.
Since the entrees are so sauce-heavy, most are served with pallow or challow rice—highlights of the dining experience at Ariana. The rice is boiled, seasoned with spices (pallow: cardamom, cinnamon, nutmeg, cumin, and black pepper; challow: cumin) and baked with canola oil. Fragrant and nutty, the rice melds beautifully with every sauce.
For dessert, try the Bucklawa, the Afghan interpretation of classic Baklava. It's rich and dense, its layers of pastry studded with chopped pistachios, almonds, and walnuts and drenched with honey caramel. It is as indulgent as it is satisfying.
Most of the entrees are around $13, largely affordable for such well-executed, quality dishes.
In a neighborhood with an abundance of eclectic, moderately priced restaurants, the fledgling Ariana merits a place on the favorites list.
Ariana, 129 Brighton Avenue, Allston. 617-208-8072.