Alum Helps Foil Times Square Bomber
Bad feeling leads to congrats from Obama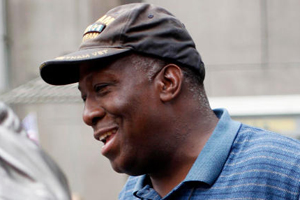 A seasoned Manhattan street vendor who was blocks away from the September 11 attacks on the World Trade Center, Duane Jackson had a bad feeling Saturday evening when he noticed a driverless Nissan Pathfinder idling at a busy bus stop in front of the Times Square Marriott Marquis hotel. Jackson (MET'76) left his handbag stand on 45th and Broadway to see if what walked like a duck and quacked like a duck was really a duck. It was. One day and several TV appearances later he was on the phone with President Obama, who offered effusive thanks for Jackson's role in foiling a potentially lethal bomb attack.
"I'm constantly looking at the street and traffic, so when I turned around and saw the car I immediately walked to it," says Jackson, who earned his BU degree in urban planning and is a cofounder, with other BU alumni, of the Golden Decade Foundation, which mentors and provides scholarships and internships for college students from minority communities. "The keys were in the ignition and I saw the car was running so I looked inside."
At that moment, he says, two mounted police officers rounded the corner of 45th and asked if the car was his. "When I said no," Jackson says, "we all looked inside and then the smoke starting coming out."
Anticipating that the car was about to go up in flames, Jackson, a disabled Vietnam veteran, next did what any sensible New Yorker would do — he moved his car out of the way. And that's when a sound like firecrackers sent pedestrians, many of them on their way to Broadway shows a half hour before curtain time, running in all directions.
Within minutes, a fleet of police, firefighters, and bomb squad experts arrived, and the area was cleared for several blocks. Jackson, who started his handbag business 21 years ago after an eclectic career in advertising, was unable to pack up his merchandise and drive home to Westchester, where he lives with his wife and teenage son, until 4 a.m. Sunday.
Sleepless and exhausted, he, along with his wife, son, and 27-year-old daughter, was whisked back to Manhattan in a town car for an appearance alongside Mayor Michael Bloomberg on Good Morning America.
"They put us up at the Millennium Hotel," says Jackson. "My wife is a big fan of Robin Roberts."
After that it was Fox and Friends, the Fox evening news, and Inside Edition, with a string of interviews with print and radio reporters wedged in between.
Jackson says that while the family was being ferried to the Inside Edition interview, things got a bit strange. A pair of plainclothes police intercepted the car to bring Jackson to the precinct to look at some photos to see if he could identify the driver of the Pathfinder. "I told them, okay, fine, but I didn't get a look at the guy," Jackson says. As they drove up to a nondescript building in an unmarked cruiser, "it just didn't feel right," he says. He found out the real reason he was there after he was inside and shaking hands with an FBI field director.
Jackson was then led to a conference room with a secure landline — and the president on the other end.
"We talked for two or three minutes," he says. "He thanked me, told me he was proud of me and my diligence and attention to detail, which helped avert a great disaster." Then Obama asked, "What do you sell out there?" Jackson told him handbags — and golf clubs, which is odd but true. After the conversation, Jackson says, he was kicking himself for not suggesting that he and the president play some golf the next time they both happen to be on Martha's Vineyard.
Jackson is one of two street vendors being lauded for warning authorities about the suspicious Pathfinder. T-shirt vendor Lance Orton, 57, also a disabled Vietnam veteran, received a call from the President Sunday thanking him for his help in alerting police.
Late Monday night, authorities arrested Faisal Shahzad, 30, a Pakistani-born U.S. citizen, at New York's John F. Kennedy International Airport, moments before he was about to board a plane to Dubai. U.S. Attorney General Eric Holder told reporters that Shahzad has provided useful information to investigators. On Tuesday, security officials in Pakistan reported that they have arrested seven or eight people in connection with the bombing attempt.
Susan Seligson can be reached at sueselig@bu.edu.