Green, Green, and More Green
The Arnold Arboretum transports you out of the city, in the city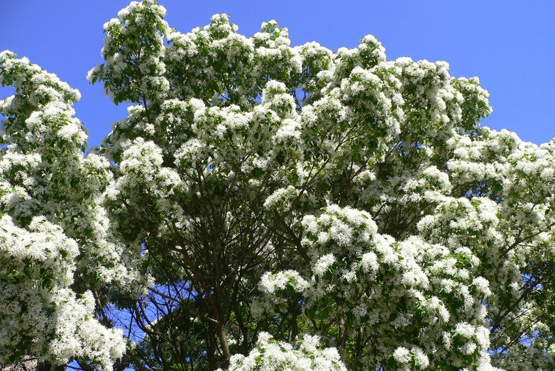 For students with green tendencies, having little money and no car can put a serious crimp in adventure plans outside the city. However, a quick escape from the hustle and bustle is a lot closer than you think.
The 265-acre Arnold Arboretum, in Jamaica Plain, is owned by the city of Boston and leased to Harvard University, which maintains the grounds and conducts horticultural research. It's home to more than 15,000 plants, which according to the arboretum constitute one of the largest and best documented woody plant collections in the world.
This green oasis is perfect for picnicking and exploring. Given how wet the month of June was, the arboretum seems almost jungle-like, and the late spring highlights still beckon, like climbing hydrangeas and Chinese fringe trees. Free guided walking tours are offered many days, and self-guided tours are available here.
A hint to photographers: with so many exotic and beautiful things to look at, bring every lens you can get your hands on, from macro to telephoto. This is an ideal place for a photo expedition.
The Arnold Arboretum is free and open from sunrise to sunset 365 days a year. The visitors center is open Monday through Friday, 9 a.m. to 4 p.m., Saturday, 10 a.m. to 4 p.m., and Sunday, noon to 4 p.m. The arboretum is easily accessible by T: take the Orange Line to the Forest Hills station.
Devon Maloney can be reached at devon.maloney@gmail.com.